Valles Caldera National Preserve – Los Indios Hike
In Jemez Mountains Region
Map File Source: NG Topo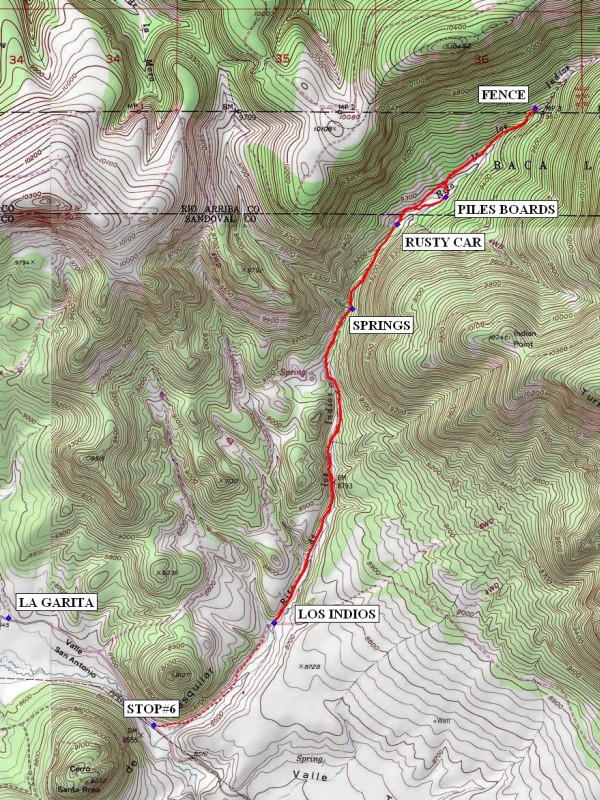 Hike Key:
H10446
Last Updated:
06/30/2021 12:00am
Last Updated By:
Marilyn Fixer
Hike Class:
C (Challenging)
Hike Distance:
6.3 mi
Minimum Elevation:
8649 ft
Elevation Change:
830 ft
Total Uphill:
830 ft
Total Downhill:
830 ft
Avg. Grade:
5 %
Route Type:
InOut
On Trail:
Yes
Paved or Gravel Roads:
Yes
GPS Advised:
No
Hiker Limit (NF/BLM/NP):
15 (National Preserve)
Drive Distance Round Trip:
200 mi
Drive Time One-Way:
2:30
Hiking Seasons:
Spring, Summer, and Fall
New Mexico Game Unit:
6B
Hike Status:
In Process
Access Description:
Valles Caldera North Access
Highlights
A walk along a stream with loads of wildflowers.
Cautions
In the Las Conchas burn scar.
Trailhead Directions
Take I-25 north and exit on to Hwy 550. In San Ysidro, take Hwy 4 to Jemez Pueblo and Jemez Springs. Follow Hwy 4 at fork at La Cueva (stay right). The Valles Caldera Preserve is about 22 miles from Jemez Springs. Look for the Main Gate at Mile Marker 39.2. Drive to the staging area to pay the fee ($10 adult, $8 senior). The trailhead is 14.2 mi from the Main Gate.
Actual Hike
Starting from the Los Indios trailhead, go up the road that veers to your left. For at least half-way, the hike follows the Rito de los Indios, a small spring-fed stream. There are many flowers and green grasses in meadows interspersed with pine/aspen forests. In early June we saw several different types of butterflies and heard many bird songs. Take a look backwards from time to time to get a view of the Valles Caldera behind you. There are several stream crossings. If you choose to investigate any of the side roads, stay clear of any old dwellings (possible hantavirus). At 1.7 mi look to your right and see water from SPRINGS flowing over the dark rocks down into the stream. Further up, you'll come across signs of past inhabitants such as a RUSTY CAR (2.2 mi) and PILES BOARDS (2.5 mi). The current inhabitants (mostly elk) clearly like this meadow too. Continue on up the hill to the FENCE (3.2 mi) which marks the northern boundary of the Valles Caldera. Have your lunch and then head back down the hill to the trailhead.
Comments
Needs to be revised to reflect National Preserve rules.
This description is based on driving the senior center van to the trailhead. If you start the hike from shuttle stop #6, add on another 1.5 mi to your round-trip hike distance. In either case, you could split the hiking group into two, one group for the La Garita hike and one group for the Los Indios hike. These hikes haven't been available until May 15 or later in the spring and closed for hunting season in the fall. Check the Valles Caldera website for current information.
The group is limited to 15 hikers unless you get a Special Use Permit.
Waypoints
PARK: N35 58.301, W106 28.853
SPRINGS: N35 59.651, W106 28.439
RUSTY CAR: N36 00.014, W106 28.202
PILES BOARDS: N36 00.131, W106 27.946
FENCE: N36 00.512, W106 27.471
Map Filename:
VallesCaldera-LosIndiosImage_MW.JPG
Hike GPS File Name:
VallesCaldera-LosIndiosWayTrack_MW.gpx
Hike GPS File:
Click
link
to download hike waytrack file
Text Author:
Marilyn Warrant
Map Author:
Marilyn Warrant
Waypoints Author:
Marilyn Warrant
Track Author:
Marilyn Warrant
Maintainer:
Cindy McConnell
Editor:
Howard Carr