Valles Caldera National Preserve – Coyote Call to Rabbit Ridge Hike
In Jemez Mountains Region
Map File Source: Garmin BaseCamp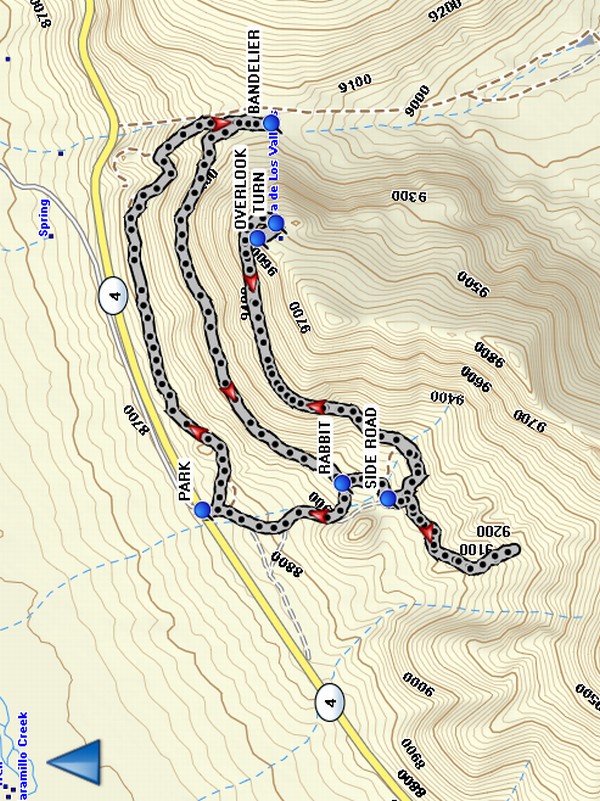 Hike Key:
H10444
Last Updated:
12/15/2020 12:00am
Last Updated By:
Marilyn Warrant
Hike Class:
C (Challenging)
Hike Distance:
6.4 mi
Minimum Elevation:
8724 ft
Elevation Change:
890 ft
Total Uphill:
1320 ft
Total Downhill:
1320 ft
Avg. Grade:
10 %
Route Type:
Messy
On Trail:
Yes
Paved or Gravel Roads:
Yes
GPS Advised:
Yes
Drive Distance Round Trip:
172 mi
Drive Time One-Way:
2:00
Hiking Seasons:
Spring, Summer, and Fall
New Mexico Game Unit:
6B
Hike Status:
Published
Access Description:
Valles Caldera North Access
Highlights
Views of the Valles Caldera, grassy areas with flowers, and the possibility of seeing some elk.
Cautions
In the Las Conchas burn scar.
Trailhead Directions
Take I-25 North and exit on to Hwy 550. In San Ysidro, take Hwy 4 to Jemez Pueblo and Jemez Springs. Follow Hwy 4 at fork at La Cueva (stay right). The Valles Caldera Preserve is about 22 miles from Jemez Springs. Look for the Main Gate at Mile Marker 39.2. Continue on Highway 4 past the Main Gate another 1.6 mi to a small parking area on the right by a gate and PARK (0.0 mi).
Actual Hike
The hike is a series of segments east or west parallel to the highway connected by short segments going north or south. Start from PARK going east then south uphill to the boundary with BANDELIER (1.4 mi). Go back north, then west to the junction with the trail to RABBIT (2.6 mi) Ridge. Go south, past the SIDE ROAD, then east again, then south to the TURN (3.8 mi) to go to the OVERLOOK (3.9 mi). This is a good place for lunch, with a view to the north of the Valles Caldera. Retrace your steps back to the SIDE ROAD (5.0 mi). Go up this road as far as you have time (we saw 4 elk there in June 2011). Go back to SIDE ROAD, then continue north to RABBIT and back to parking.
Comments
This is a beautiful hike. There are views of the Valles Caldera, grassy areas with flowers, and the possibility of seeing some elk, especially if you take the little side road before you head back to the van.
The group is limited to 15 hikers unless you get a Special Use Permit.
Waypoints
PARK: N35 50.896, W106 27.914
BANDELIER: N35 50.749, W106 26.883
RABBIT: N35 50.597, W106 27.843
SIDE ROAD: N35 50.499, W106 27.884
TURN: N35 50.739, W106 27.150
OVERLOOK: N35 50.778, W106 27.191
Map Filename:
CoyoteCallToRabbitRidgeBaseCamp_MW.jpg
Hike GPS File Name:
CoyoteCallToRabbitRidgeWayTrack_MW.gpx
Hike GPS File:
Click
link
to download hike waytrack file
Text Author:
Marilyn Warrant
Map Author:
Marilyn Warrant
Waypoints Author:
Marilyn Warrant
Track Author:
Marilyn Warrant
Maintainer:
Cindy McConnell
Editor:
Howard Carr