Tramway Bike Trail – Indian School to Montgomery Hike
In Albuquerque Region
Map File Source: DeLorme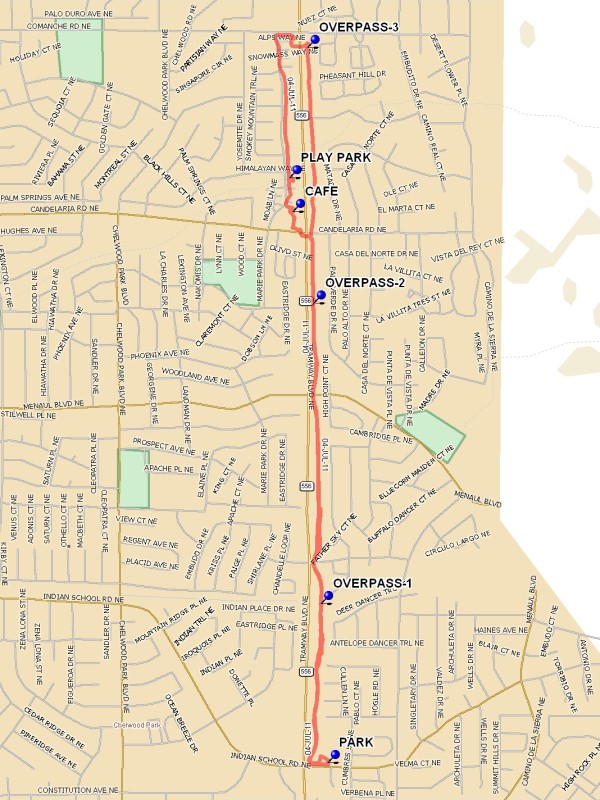 Hike Key:
H10454
Last Updated:
01/26/2023 9:17pm
Last Updated By:
Marilyn Warrant
Hike Class:
A (Easy)
Hike Distance:
4.3 mi
Minimum Elevation:
5797 ft
Elevation Change:
67 ft
Total Uphill:
67 ft
Total Downhill:
67 ft
Avg. Grade:
1 %
Route Type:
InOut
On Trail:
Yes
Paved or Gravel Roads:
Yes
GPS Advised:
No
Drive Distance Round Trip:
15 mi
Drive Time One-Way:
0:30
Hiking Seasons:
Spring, Summer, Fall, and Winter
New Mexico Game Unit:
8
Hike Status:
Waiting Editor
Attractions:
Views
Highlights
An easy hike on a bike trail in the foothills with views of the Sandias and the city.
Cautions
None.
Trailhead Directions
Take Tramway Blvd north to Indian School, turn east (right) on Indian School, and PARK in the CVS Pharmacy parking lot to your left.
Actual Hike
Hike north on the paved trail, keeping far to the right. You'll be sharing the trail with dog walkers, joggers, and bicyclists, so take care. For some of the trail, there's a narrow footpath on the east side. Go past two pedestrian overpasses (OVERPASS-1 (0.5 mi) and OVERPASS-2 (1.3 mi)). Cross over Tramway at OVERPASS-3 (2.0 mi) (Candelaria), and go left on the west side of the 2-story apartments that provide welcome shade. Pass PLAY PARK (2.5 mi). Continue up to Comanche and head east (right) to return to the bike trail to get back to your vehicle. You may take the OVERPASS-3 or cross at the traffic light.
Comments
The asphalt is harder on your legs and feet than what we usually hike on, so wear hiking boots and don't change your gait (it's tempting to go fast since there's not much elevation gain). People who frequent the trail have done a good job of keeping up with the dog poop. There are wildflowers blooming along the trail, and quite a bit of shade provided by trees and taller houses. The views of Albuquerque are almost as good as those from the foothills.
Waypoints
PARK: N35 05.695, W106 29.794
OVERPASS-1: N35 06.067, W106 29.813
OVERPASS-2: N35 06.771, W106 29.834
OVERPASS-3: N35 07.370, W106 29.851
PLAY PARK: N35 07.065, W106 29.902
Map Filename:
TramwayBikeTrail-IndianSchooltoComancheImage_MW.jpg
Hike GPS File Name:
TramwayBikeTrail-IndianSchooltoComancheWayTrack_MW.gpx
Hike GPS File:
Click
link
to download hike waytrack file
Text Author:
Marilyn Warrant
Map Author:
Marilyn Warrant
Waypoints Author:
Marilyn Warrant
Track Author:
Marilyn Warrant
Maintainer:
Marilyn Warrant
Editor:
Howard Carr