Paseo De Las Montanas South Hike
In Albuquerque Region
Map File Source: DeLorme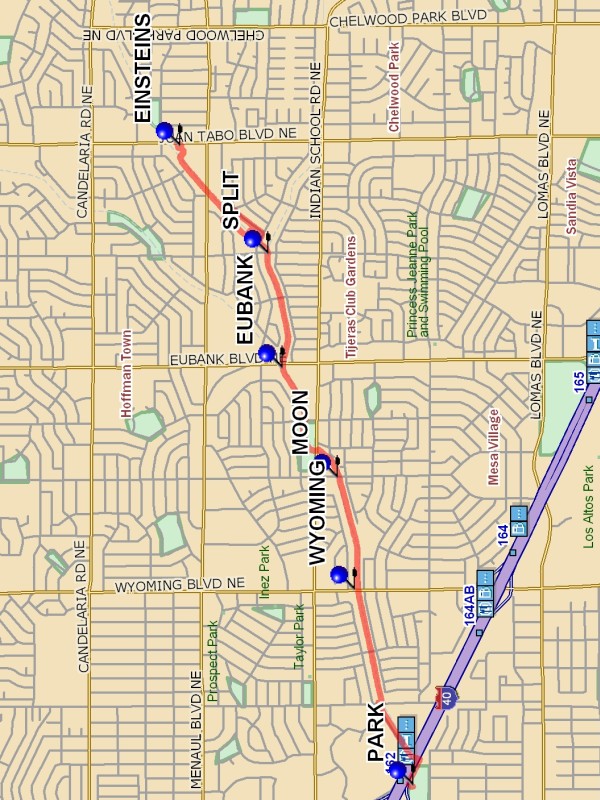 Hike Key:
H10349
Last Updated:
01/26/2023 2:28pm
Last Updated By:
Marilyn Warrant
Hike Class:
B (Moderate)
Hike Distance:
6.9 mi
Minimum Elevation:
5293 ft
Elevation Change:
295 ft
Total Uphill:
325 ft
Total Downhill:
325 ft
Avg. Grade:
1 %
Route Type:
InOut
On Trail:
Yes
Paved or Gravel Roads:
Yes
GPS Advised:
No
Drive Distance Round Trip:
10 mi
Drive Time One-Way:
0:15
Hiking Seasons:
Spring, Fall, and Winter
New Mexico Game Unit:
8
Hike Status:
Waiting Editor
Highlights
Hike on a paved bike trail through various Albuquerque neighborhoods.
Cautions
None.
Trailhead Directions
From the intersection of Constitution and San Mateo, go east on Constitution almost until it ends at I-40, then turn left into the Jerry Cline Park, and PARK (0.0 mi) there at the north parking lot, next to the pedestrian bridge.
Actual Hike
Take the pedestrian bridge over I-40, with the Winrock Shopping Center down to your left. The hike follows the Paseo de las Montanas bicycle-hiking trail. The trail is well marked, with bicycle-pedestrian crossings on major streets (WYOMING (1.0 mi), MOON (1.5 mi), and EUBANK (2.1 mi)). There's a 7-Eleven at Indian School and Moon if you need a pit-stop midway. The trail follows the arroyo system, starting with the Embudo Arroyo, then branches north at Morris (SPLIT (2.6 mi)) (take a jog around the school east of Morris) to follow the Piedra Lisa Arroyo. Continue along the arroyo to the back of the strip shopping mall on Juan Tabo to EINSTEINS (3.3 mi) Bagels. It's a good place for a hot drink, a pastry, or some brunch. (As of 1/2023 there isn't any inside dining. There are a few chairs outside.) Then return the way you came. You can cut through the schoolyard near Morris if school isn't in session.
Comments
The trail follows the arroyos, sometimes on one side then on the other. This is a relatively easy hike for winter, especially useful as a backup hike for days when you want to minimize driving (and the trailhead is close to the Highland Senior Center).
If you leave the center at 8:15 AM, expect to arrive at Einstein's around 10:00 AM. You'll finish the hike around noon.
Waypoints
PARK: N35 05.740, W106 33.967
WYOMING: N35 05.967, W106 33.043
MOON: N35 06.032, W106 32.516
EUBANK: N35 06.244, W106 31.998
SPLIT: N35 06.300, W106 31.461
EINSTEINS: N35 06.639, W106 30.950
Map Filename:
PaseoDeLasMontanasSouth_Dnew.jpg
Hike GPS File Name:
PaseoDeLasMontanasSouthWayTrack_MWMW.gpx
Hike GPS File:
Click
link
to download hike waytrack file
Text Author:
Marilyn Warrant
Map Author:
Marilyn Warrant
Waypoints Author:
Marilyn Warrant
Track Author:
Marilyn Warrant
Maintainer:
Marilyn Warrant
Editor:
Howard Carr