Corrales Lateral Hike
In Corrales Region
Map File Source: DeLorme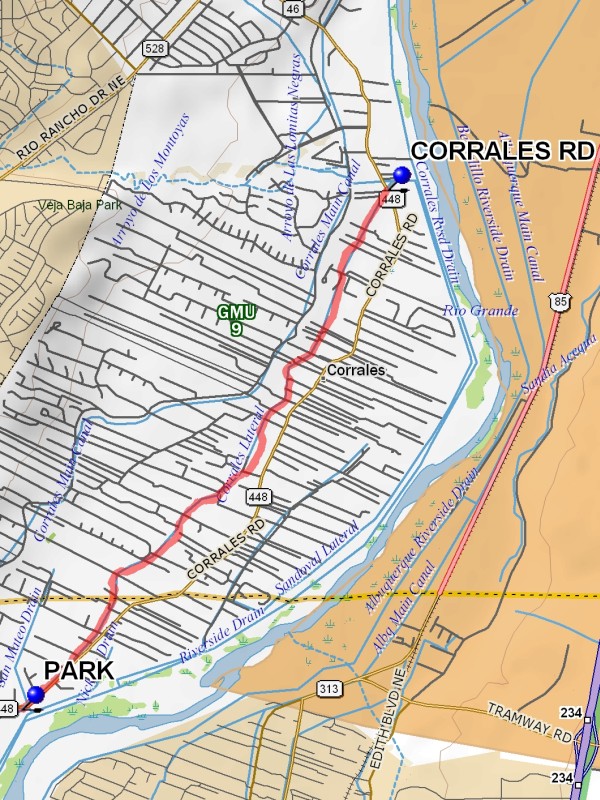 Hike Key:
H10367
Last Updated:
06/29/2021 12:00am
Last Updated By:
Marilyn Fixer
Hike Class:
C (Challenging)
Hike Distance:
9.1 mi
Minimum Elevation:
5000 ft
Elevation Change:
25 ft
Total Uphill:
30 ft
Total Downhill:
30 ft
Avg. Grade:
%
Route Type:
InOut
On Trail:
Yes
Paved or Gravel Roads:
Yes
GPS Advised:
No
Drive Distance Round Trip:
20 mi
Drive Time One-Way:
0:30
Hiking Seasons:
Spring, Fall, and Winter
New Mexico Game Unit:
9
Hike Status:
Published
Highlights
A walk along one of the irrigation ditches in Corrales. Varied scenery with Sandias and Rio Grande views, farms, horse ranches, funky houses, quail, rabbits, animal tracks, dense cottonwoods at times. Great for fall foliage.
Cautions
None.
Trailhead Directions
Go across the Alameda Bridge to the West Side and turn right on SR448, Corrales Road. Go north about 1/2 mile, beyond Cabezon Rd, and park on the east side of the road.
Actual Hike
Go across the road and walk the ditch bank as far as you want. Turn around and come back. The full hike goes to the intersection with Corrales Road.
Comments
The full length of the hike track is 9.1 miles out and back. You can make the hike an A or B hike by cutting it short. The hike is over level ground.
Recommend that you do the hike in reverse, starting at the north end at the Corrales Rd waypoint, since the northern part is more interesting.
Waypoints
PARK: N35 12.429, W106 38.459
CORRALES RD: N35 15.312, W106 35.967
Map Filename:
CorralesLateral_Dnew.jpg
Hike GPS File Name:
CorralesLateralWayTrack_DBDB.gpx
Hike GPS File:
Click
link
to download hike waytrack file
Text Author:
Dick Brown
Map Author:
Marilyn Warrant
Waypoints Author:
Dick Brown
Track Author:
Dick Brown
Maintainer:
Dawn McIntyre
Editor:
Marilyn Warrant