Bill Spring – Faulty – Oso Corredor Hike
In Sandia Mountain East Region
Map File Source: NG Topo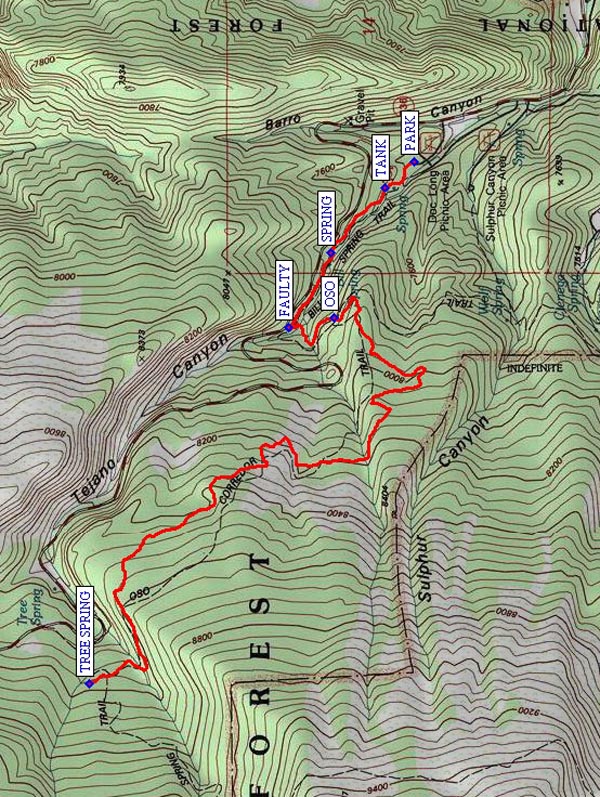 Hike Key:
H10347
Last Updated:
12/15/2020 12:00am
Last Updated By:
Marilyn Warrant
Hike Class:
C (Challenging)
Hike Distance:
7.3 mi
Minimum Elevation:
7400 ft
Elevation Change:
1200 ft
Total Uphill:
1271 ft
Total Downhill:
1271 ft
Avg. Grade:
8 %
Route Type:
InOut
On Trail:
Yes
Paved or Gravel Roads:
Yes
GPS Advised:
No
Drive Distance Round Trip:
50 mi
Drive Time One-Way:
0:45
Hiking Seasons:
Spring, Summer, and Fall
New Mexico Game Unit:
8
Hike Status:
Published
Highlights
A walk in the woods with a chance to see Abert squirrels.
Cautions
None.
Trailhead Directions
I-25 east to Tijeras exit, north on NM 14, west on Crest Road to PARK (0.0 mi) at west end of Doc Long Picnic Grounds. Put Golden Age Passport on dashboard.
Actual Hike
In the Picnic Area, take the leftmost road that becomes Bill Springs Trail. Then in a short distance, it ends at a long raised log (great for sitting for photos and a break). Hike up Bill Spring Trail 196 past a TANK (0.1 mi) and the SPRING (0.4 mi) itself until it ends at FAULTY (0.7 mi) Trail 195. You will come upon a tight fork with the left (Faulty) going down and the right going up. Take the right one. This is OSO (1.0 mi) Corredor Tr. 265 which eventually connects with TREE SPRING (3.7 mi) Trail 147. If hikers don't want to go as far as Tree Spring Trail, let them take lunch in the meadows just beyond the wooden bridge over the spring water. Return the way you came.
Comments
Oso Corredor means "Running Bear". Except for short rocky Faulty Trail, the footing is very good and elevation gain is very gradual. There are Albert squirrels in the Doc Long Picnic Ground that are quite large and tame and are remarkable for their grey and white coloring.
Waypoints
PARK: N35 10.645, W106 22.776
TANK: N35 10.725, W106 22.861
SPRING: N35 10.870, W106 23.078
FAULTY: N35 10.985, W106 23.324
OSO: N35 10.861, W106 23.293
TREE SPRING: N35 11.524, W106 24.501
Map Filename:
BillSpring-Faulty-OsoCorredorImage_MW.JPG
Hike GPS File Name:
BillSpring-Faulty-OsoCorredorWayTrack_MCMC.gpx
Hike GPS File:
Click
link
to download hike waytrack file
Text Author:
Roger Holloway
Map Author:
Marilyn Warrant
Waypoints Author:
Mike Coltrin
Track Author:
Mike Coltrin
Maintainer:
Dawn McIntyre
Editor:
Marilyn Warrant