Palomas Peak Downhill to Sandia Man Cave Hike
In Placitas Region
Map File Source: NG Topo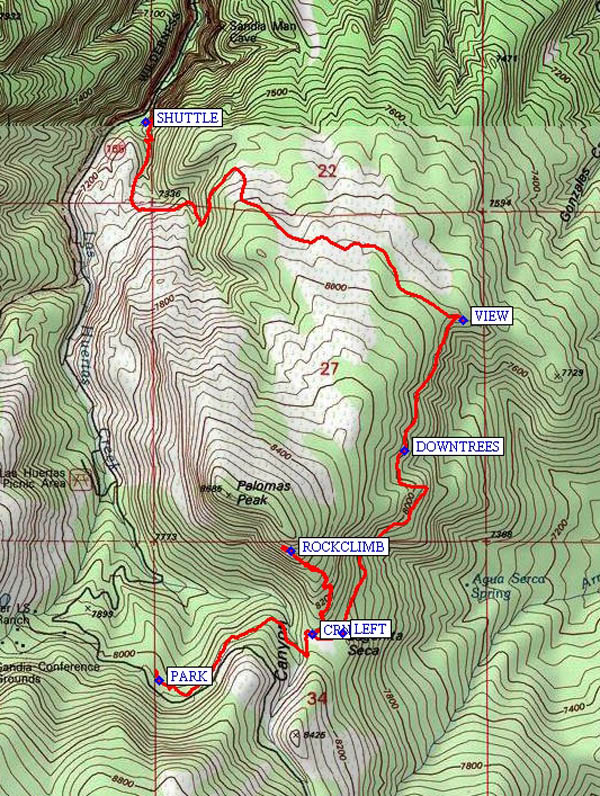 Hike Key:
H10361
Last Updated:
12/15/2020 12:00am
Last Updated By:
Marilyn Warrant
Hike Class:
B (Moderate)
Hike Distance:
4.9 mi
Minimum Elevation:
7070 ft
Elevation Change:
1390 ft
Total Uphill:
570 ft
Total Downhill:
1541 ft
Avg. Grade:
10 %
Route Type:
Oneway
On Trail:
No
Paved or Gravel Roads:
No
GPS Advised:
Yes
Drive Distance Round Trip:
60 mi
Drive Time One-Way:
0:45
Hiking Seasons:
Spring, Summer, and Fall
New Mexico Game Unit:
8
Hike Status:
Published
Highlights
Hike on an unofficial trail in the Sandias. Views to the north and east. Visit a rock climbing face.
Cautions
Hiking poles are helpful on the steep downhill sections. Some climbing over and under down trees.
Trailhead Directions
From Albuquerque drive I-25 North to Exit 242 and go East on NM165 to the village of Placitas (6 miles) and continue as the road turns south. Just beyond mile post 9 the pavement ends and NM165 becomes a rough, narrow gravel road. Continue to mile 11.5 and waypoint SHUTTLE on the left which is the parking area for Sandia Man Cave. Leave the shuttle car here (the shuttle driver goes with you) and continue uphill another 2.7 miles to waypoint PARK (mile 14.2) at the concrete barriers on the north side of the road. The trail begins 100 feet up the road from these jersey barriers and is on the left or downhill side of the road. This is an unofficial and unmaintained trail so there are no trail signs or markers. This means the trail may be overgrown in places and may have down trees blocking the trail requiring detours.
Actual Hike
Palomas Peak sits above the Sandia Man Cave (we will not climb to the peak). At a rock cairn (CRN (0.8 mi)), we will take a left turn and take a side trip up to the rock climbing area (ROCKCLIMB (1.2 mi)) on the west side of the peak. It is 0.4 mile and 17% grade up a rocky trail to the climbing area. Those who'd rather not do the uphill can wait at the cairn. After returning, stay to the LEFT (1.9 mi) through the meadow and then around the east side of the peak and encounter a number of fallen trees from DOWNTREES (2.6 mi) to a beautiful-view lunch area (VIEW (3.1 mi)). Continue northwesterly down the clear though unmarked trail ending at the Sandia Man Cave parking lot where you parked the SHUTTLE (4.9 mi). The hike is mostly in the woods and all on trails even though they are not mapped or maintained by the Forest Service. Parts of the trail are marked with diamond shaped blazes on the trees.
Comments
This hike requires a shuttle vehicle to retrieve the van from parking. Hiking sticks are helpful on the steep downhill sections. One fall hikers ran into a flock of about 20 wild turkeys on this hike.
Waypoints
PARK: N 35 13.559, W 106 24.554
CRN: N 35 13.679, W 106 24.066
ROCKCLIMB: N 35 13.897, W 106 24.137
LEFT: N 35 13.682, W 106 23.971
DOWNTREES: N 35 14.159, W 106 23.774
VIEW: N 35 14.498, W 106 23.588
SHUTTLE: N 35 15.013, W 106 24.596
Map Filename:
PalomasPeakDownhilltoSandiaManCaveImage_MW.JPG
Hike GPS File Name:
PalomasPeakDownhilltoSandiaManCaveWayTrack_MWMW.gpx
Hike GPS File:
Click
link
to download hike waytrack file
Text Author:
John Holmes
Map Author:
Marilyn Warrant
Waypoints Author:
Marilyn Warrant
Track Author:
Marilyn Warrant
Maintainer:
Ken Smith
Editor:
Randy Simons