Bandelier – Burnt Mesa Hike
In Los Alamos Region
Map File Source: NG Topo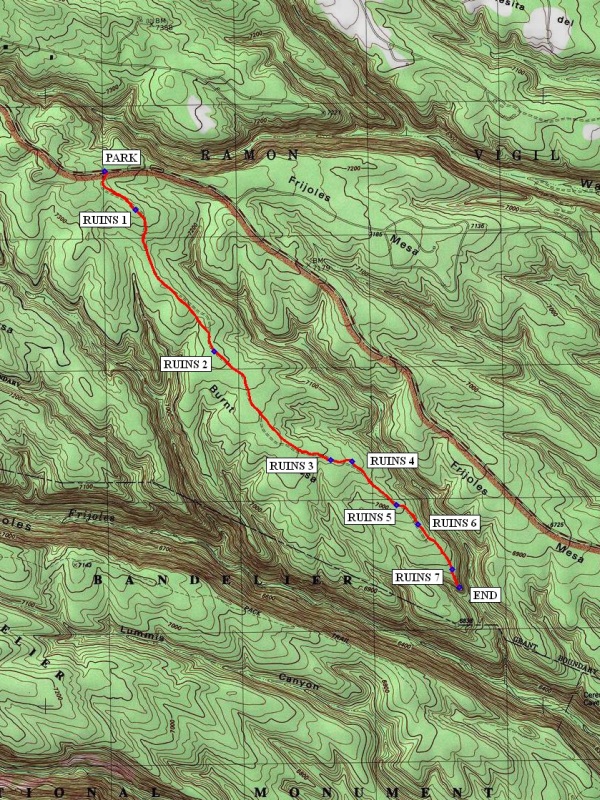 Hike Key:
H10460
Last Updated:
12/15/2020 12:00am
Last Updated By:
Marilyn Warrant
Hike Class:
B (Moderate)
Hike Distance:
5.6 mi
Minimum Elevation:
6816 ft
Elevation Change:
520 ft
Total Uphill:
520 ft
Total Downhill:
520 ft
Avg. Grade:
4 %
Route Type:
InOut
Protected:
Yes
On Trail:
Yes
Paved or Gravel Roads:
Yes
GPS Advised:
No
Drive Distance Round Trip:
180 mi
Drive Time One-Way:
2:15
Hiking Seasons:
Spring, Summer, and Fall
New Mexico Game Unit:
6C
Hike Status:
Published
Highlights
Demonstration of how an area can recover from a forest fire. Wildflowers.
Cautions
Not much shade, so can be hot.
Trailhead Directions
I-25 North, to exit 276 S.Fe Bypass 599. Then left for US 84/285 north to Pajoaque then SR 502 (Los Alamos) onto SR 4 South through White Rock. (Note: W.Rock Visitor's Center is an excellent bathroom stop. Winter hours 10:00-2:00 only, summer earlier & later). For the hike trailhead, follow SR 4 a couple miles past Bandelier entrance to milepost 51.5 where there is a parking lot on the left. 
Return trip: same but w/stop at Overlook Park both for the view and possible bathroom stop (in winter since Visitor's Center is closed). Directions: 2 lights past W.R. Visitor's Center is Rover. Take right here. Left onto Meadow. Left onto Overlook Road. Magnificent view.
Actual Hike
Hike along the well-marked trail that is sandy to fine gravel. There are a number of ruins along the trail to admire from a distance. Interesting overlook at the end of the trail viewing parts of Rio Frijoles canyon burned and others east of edge of the fire.
Comments
This area burned with a hot fire in 1977. Very interesting contrast to "cool" fires of later years. Grass is coming back fine; no big areas of flowers but a surprising number and variety. Oak and New Mexico locust are coming up from the base of the burned plants. In all, an interesting recovery story compared to the very hot fire in areas to the west on NM 4.
Limited bushes at the trailhead, though adequate. No problem at the far end. Very little cover on the trail, so it could get hot on the return trip.
Waypoints
PARK: N35 49.693, W106 19.741
RUINS 1: N35 49.534, W106 19.586 (0.3 mi)
RUINS 2: N35 48.953, W106 19.192 (1.1 mi)
RUINS 3: N35 48.506, W106 18.605 (1.9 mi)
RUINS 4: N35 48.500, W106 18.497 (2.0 mi)
RUINS 5: N35 48.323, W106 18.273 (2.3 mi)
RUINS 6: N35 48.243, W106 18.166 (2.45 mi)
RUINS 7: N35 48.057, W106 17.994 (2.7 mi)
END: N35 47.984 W106 17.956 (2.8 mi)
Map Filename:
BurntMesaImageRev_MW.JPG
Hike GPS File Name:
BurntMesaHike_Bandelier_ksks_30Aug2011.gpx
Hike GPS File:
Click
link
to download hike waytrack file
Text Author:
Theodore (Ted) Cooley
Map Author:
Marilyn Warrant
Waypoints Author:
Ken Smith
Track Author:
Ken Smith
Maintainer:
Not Assigned
Editor:
Howard Carr