Kayser Mill to Manzano Peak Hike
In Manzano Mountains East Region
Map File Source: NG Topo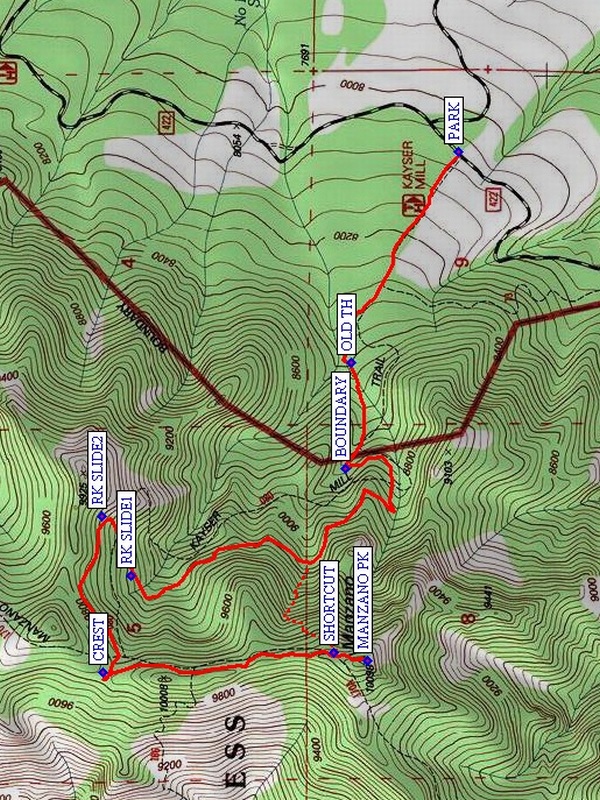 Hike Key:
H10463
Last Updated:
06/29/2021 12:00am
Last Updated By:
Marilyn Fixer
Hike Class:
D (Difficult)
Hike Distance:
8 mi
Minimum Elevation:
8058 ft
Elevation Change:
2000 ft
Total Uphill:
2000 ft
Total Downhill:
2000 ft
Avg. Grade:
12 %
Route Type:
InOut
On Trail:
Yes
Paved or Gravel Roads:
Yes
GPS Advised:
Yes
Drive Distance Round Trip:
130 mi
Drive Time One-Way:
1:45
Hiking Seasons:
Spring, Summer, and Fall
New Mexico Game Unit:
14
Hike Status:
Published
Highlights
A strenuous hike through burned logs and thorny bushes on a rocky trail, but with great views from Manzano Peak.
Cautions
Hiking poles and leather gloves recommended, as well as pants you don't mind getting dirty.
Trailhead Directions
I-40 east to Tijeras exit 175. South on 337 (14) to its end (mile 0). West on SR 55 through Tajique and Torreon. When you get to the town of Manzano look for a "Y" fork and a sign "To Red Canyon C.G. and SR 131". Take that right fork and go past Manzano State Park. About 3 more miles, at Red Canyon C.G. a road forks off to the right into the campground. Don't take it. Go straight ahead on what is or becomes FR 422 past Ox Canyon Trail and 0.1 mi. past turnoff (to the left) onto FR 275. Park near the primitive road which is blocked off.
Actual Hike
Walk up the primitive road past the OLD TH (0.8 mi). This area burned several years ago, so there are many fallen trees across the road. After the summer rains, there is tall green grass growing between the burned black tree trunks. Continue on to the wilderness BOUNDARY (1.1 mi). The trail continues to climb through the woods, making a long swing out to the north. RK SLIDE1 (2.5 mi) and RK SLIDE2 (2.6 mi) provide some views. Finally you reach the CREST (3.2) trail and follow it to MANZANO PK (4.0 mi). Return the same way, or take the steep off trail shortcut. This will save time and distance, unless someone twists an ankle – that is, I don't recommend it for ASCHG trips. I saw a mother bear and cub when I took this shortcut.
Comments
There's a shortcut shown in a red dashed line on the map. It cuts off about 2 mi of the return, but is very steep.
Waypoints
PARK: N34 35.472, W106 25.801
OLD TH: N34 35 29.8, W106 25 54.5 (0.8 mi)
BOUNDARY: N34 35 30.6, W106 26 13.8 (1.1 mi)
RK SLIDE1: N34 36 02.9, W106 26 33.5 (2.5 mi)
RK SLIDE2: N34 36 07.3 W106 26 22.7(2.6 mi)
CREST: N34 36 07.3, W106 26 51.1 (3.2 mi)
MANZANO PK: N34 35 27.3, W106 26 48.9 (4.0)
SHORTCUT: N34 35 32.4, W106 26 47.4 (4.15 mi)
Map Filename:
KayserMillToManzanoPeakImage_MW.JPG
Hike GPS File Name:
KayserMillWayTrackAll_RS.gpx
Hike GPS File:
Click
link
to download hike waytrack file
Text Author:
Randy Simons
Map Author:
Marilyn Warrant
Waypoints Author:
Randy Simons
Track Author:
Randy Simons
Maintainer:
Randy Simons
Editor:
Howard Carr