Atalaya Mountain Hike
In Santa Fe Region
Map File Source: Garmin BaseCamp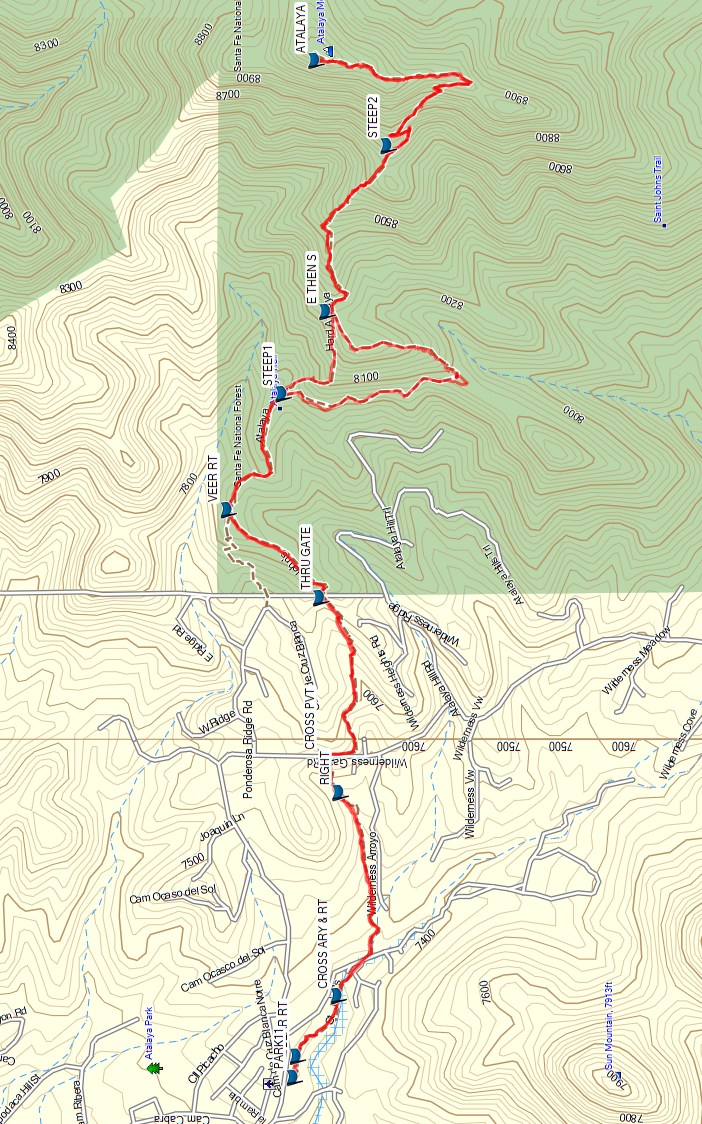 Hike Key:
H10357
Last Updated:
12/15/2020 12:00am
Last Updated By:
Marilyn Warrant
Hike Class:
D (Difficult)
Hike Distance:
6.9 mi
Minimum Elevation:
7340 ft
Elevation Change:
1750 ft
Total Uphill:
2040 ft
Total Downhill:
2040 ft
Avg. Grade:
13 %
Route Type:
InOut
On Trail:
Yes
Paved or Gravel Roads:
Yes
GPS Advised:
Yes
Drive Distance Round Trip:
120 mi
Drive Time One-Way:
1:15
Hiking Seasons:
Spring and Fall
New Mexico Game Unit:
44
Hike Status:
In Process
Highlights
This challenging hike climbs through pinon scrub and rust-red ponderosa pine before topping out 2,000 feet above Santa Fe.
Cautions
Steep; hiking poles are recommended.
Trailhead Directions
I-25 N to exit 284. Turn left onto Pecos, right onto E Zia Rd., left onto Old Santa Fe Trail, right onto Camino del Monte Sol, and right onto Camino De Cruz Blanca. Park at St. John's College; trailhead is at the end of the lot.
Actual Hike
From PARK, follow signs towards the Atalaya Trail. BEAR RT (0.0 mi) at the 3-way intersection of trails. CROSS ARY (0.2 mi) and bear right past the sign (Trail 174). Go RIGHT (0.6 mi) at the 3-way intersection, up a steep pitch. Cross a private road at CROSS PVT (0.8 mi); look back for a view of St. John's and photo-perfect saddle. Go straight THRU GATE (1.1 mi) on the right. VEER RT (1.4 mi) at the 3-way intersection. At STEEP1 there are two alternate paths to the crest of Atalaya Mountain. The path to the right is about 0.75 miles longer but not as steep as the path to the left. From E THEN S (2.7 mi), the trail dips east then south; it is slippery in winter. At STEEP2 (3.1 mi) the original trail (to the left) is closed off for revegetation. Take the trail to the right at STEEP2 (3.1 mi) to the summit is near at ATALAYA (3.5 mi); much-deserved rest and picnic spot with extraordinary views.
Return the way you came or take the opposite path (from the one taken on the way up) at E THEN S.
Comments
Care should be taken on the way down due to loose gravel on some of the steep sections.
Waypoints
PARK: N35 40.108, W105 54.721
BEAR RT: N35 40.103, W105 54.676
CROSS ARY: N35 40.032, W105 54.549
RIGHT: N35 40.029, W105 54.123
CROSS PVT: N35 40.055, W105 54.048
THRU GATE: N35 40.062, W105 53.715
VEER RT: N35 40.223, W105 53.530
STEEP1: N35 40.128, W105 53.287
E THEN S: N35 40.052, W105 53.115
STEEP2: N35 39.945, W105 52.767
ATALAYA: N35 40.071, W105 52.588
Map Filename:
AtalayaMap_JC.jpg
Hike GPS File Name:
Atalaya Mtn JC.gpx
Hike GPS File:
Click
link
to download hike waytrack file
Text Author:
John Cooper
Map Author:
John Cooper
Waypoints Author:
Marilyn Warrant
Track Author:
John Cooper
Maintainer:
John Cooper
Editor:
Howard Carr