Aldridge Petroglyphs Hike
In El Malpais Region
Map File Source: DeLorme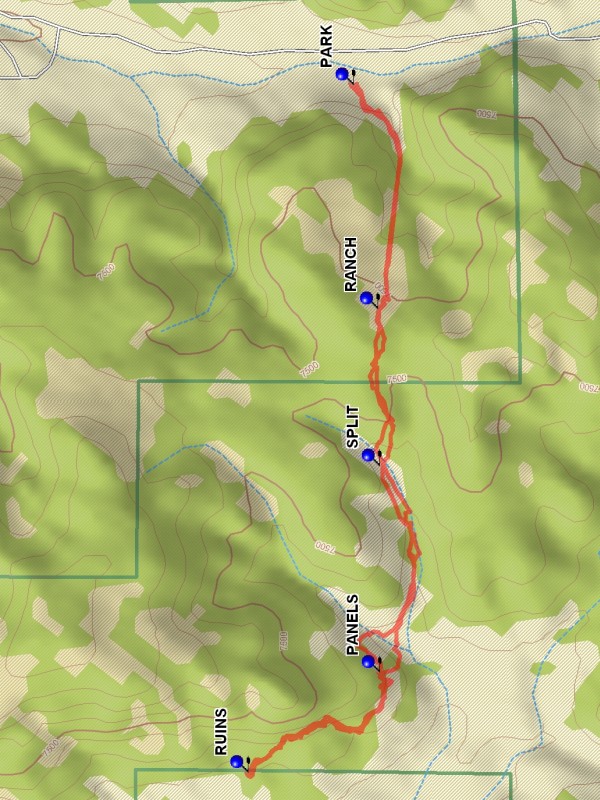 Hike Key:
H10053
Last Updated:
12/15/2020 12:00am
Last Updated By:
Marilyn Warrant
Hike Class:
C (Challenging)
Hike Distance:
5 mi
Minimum Elevation:
7320 ft
Elevation Change:
220 ft
Total Uphill:
820 ft
Total Downhill:
820 ft
Avg. Grade:
7 %
Route Type:
InOut
Protected:
Yes
On Trail:
No
Paved or Gravel Roads:
No
GPS Advised:
Yes
Drive Distance Round Trip:
210 mi
Drive Time One-Way:
2:00
Hiking Seasons:
Spring, Summer, and Fall
New Mexico Game Unit:
13
Hike Status:
Published
Highlights
Outstanding petroglyph panels, ranch ruin, pueblo ruin.
Cautions
None.
Trailhead Directions
From Albuquerque take I-40 west for about 70 miles to Exit 89 at Grants. Go south on SR 117 for 26 miles to a [DIRT ROAD] on your left. Take that road 3 miles to the [ROAD Y]. Go to the right for about 1.5 miles and PARK (0.0 mi).
Be especially careful of driving on the dirt road from waypoint ROAD Y if rain or snow is forecast, there has been recent precipitation, or it's possible to have a frozen road in the morning that can thaw during your hike. There is no cell phone reception until you are near the Narrows hike trailhead on the main highway.
Actual Hike
Hike west, and after 0.8 miles there will be a RANCH (0.7 mi) ruins to explore. Continue to the point where the petroglyph PANELS (1.8 mi) are located. On a prior visit a beautiful red fox was seen in the cliffs area, but he was too quick to get a picture of. Then continue to the Indian RUINS (2.4 mi). On the return be careful to stay right up the hill at the SPLIT (3.8), rather than into the canyon to the left.
Comments
The hike is located in the El Malpais NCA, Cebolla Canyon. Dirt road may be slippery & rutted when wet. If the weather is poor, an alternative is to cross the fence from the paved road at SHORTCUT to go to the RUINS and PANELS.
Waypoints
DIRT ROAD: N34 46.794, W107 56.349
ROAD Y: N34 44.208, W107 55.690
SHORTCUT: N34 43.476, W107 58.565
PARK: N34 42.943, W107 55.629
RANCH: N34 42.888, W107 56.245
SPLIT: N34 42.885, W107 56.677
PANELS: N34 42.884, W107 57.245
RUINS: N34 43.182, W107 57.521
Map Filename:
AldridgePetroglyphs_Dnew.jpg
Hike GPS File Name:
AldridgePetroglyphsWayTrack_DBDB.gpx
Hike GPS File:
Click
link
to download hike waytrack file
Text Author:
Dick Brown
Map Author:
Marilyn Warrant
Waypoints Author:
Dick Brown
Track Author:
Dick Brown
Maintainer:
Dawn McIntyre
Editor:
Marilyn Warrant