Ball Ranch South Hike
In Santo Domingo Region
Map File Source: Garmin BaseCamp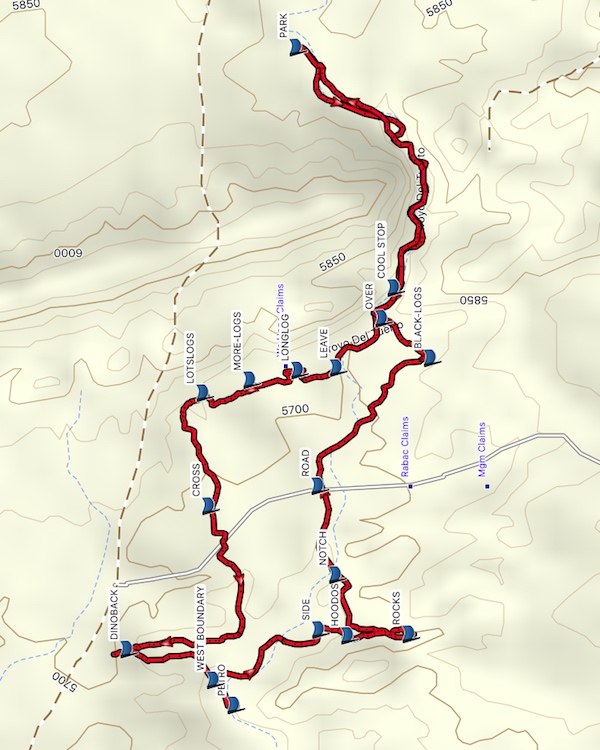 Hike Key:
H10050
Last Updated:
06/27/2021 12:00am
Last Updated By:
Marilyn Fixer
Hike Class:
C (Challenging)
Hike Distance:
6 mi
Minimum Elevation:
5625 ft
Elevation Change:
237 ft
Total Uphill:
1232 ft
Total Downhill:
1243 ft
Avg. Grade:
4 %
Route Type:
Loop
Protected:
Yes
On Trail:
No
Paved or Gravel Roads:
No
GPS Advised:
Yes
Drive Distance Round Trip:
80 mi
Drive Time One-Way:
1:30
Hiking Seasons:
Spring and Fall
New Mexico Game Unit:
8
Hike Status:
Published
Access Description:
Ball Ranch Access
Highlights
Interesting notch, hoodoos, fields of petrified wood, sandstone formations, huge petrified tree sections, "dinoback" rock formation.
Cautions
The roads, after you pass through the locked gate, are all dirt and impassable when wet.
Most of this hike involves walking in sand so it can be tiring; therefore the hike class is now rated C.
Trailhead Directions
Go north from Albuquerque on I-25 to the Santo Domingo interchange (Exit 259). Exit and go south 5.9 miles to the SOUTH GATE on the right. Go through the gate, being sure to lock it after you. It now becomes a dirt road. Drive about 1 mi, turn left at the brown BLM sign. (Straight ahead is San Felipe Pueblo land marked with yellow and no trespassing signs. Stay off this fork which may or may not be gated.) Proceed about 1.2 mi, pass through a wire gate, closing it after you. Shortly after this gate, look to your left for a dirt road going steeply down to a windmill at ROAD DN. If the road looks OK, drive down to the windmill and PARK. Otherwise, park off the main dirt road and walk down. It is 0.5 mi to the windmill so this will add 1.0 mi to overall hike, if you walk from the road.
Actual Hike
Go to the southwest for about 400 feet into an arroyo. Follow this arroyo to the east entrance to the notch which runs through Espinosa Ridge. After about 1.2 miles from the start of the hike, LEAVE the main arroyo on the right side using a very small arroyo just after a big red patch of dirt, heading for the LONGLOG (1.4 mi). This is the longest piece of log on this hike. Continue to MORE LOGS (1.5 mi), then a slope with LOTSLOGS (1.6 mi). Pass over the ridge and into the arroyo and go west. After 0.3 miles, CROSS (2.0 mi) a road. Continue west, finding a way through the brush and around the south end of the low ridge. Beyond the end of the ridge pick up a trail and go north toward the DINOBACK (2.6 mi) area to view this amazing formation. Go back down the arroyo heading south toward large cottonwood trees and the WEST BOUNDARY (3.0 mi). Continue west a short distance and hidden behind trees on the left are rocks with petroglyphs PETRO (3.1 mi). Some are from 1800's, some older and also graffiti. This is a good place for lunch because it has shade.
Return to cottonwoods, back to the main Arroyo del Tuerto, and hike south to SIDE (3.5 mi). Take the side arroyo south to the HOODOOS (3.6 mi), then continue on the side arroyo to ROCKS (3.8 mi). Enjoy wandering among rock formations.
Return down the arroyo to the area of the HOODOOS and turn northwest to NOTCH (4.0 mi). Look for an easy place to drop into the main arroyo. Follow the main arroyo to ROAD (4.4 mi) and cross. Watch GPS track carefully and go off trail to the BLACK LOGS (4.8 mi), where there are a number of the largest (in circumference) logs in the area. Leave this log area and go northeast, going OVER (5.0 mi) the low ridge into Arroyo del Tuerto near the west end of the notch through Espinosa Ridge. Return through the wash or follow wild horse trails that parallel the wash back to PARK (6.0 mi).
Comments
The entry point described has a sign Ball Ranch, Area of Critical Environmental Concern, Entrance by Permit Only, Contact the Bureau of Land Management, Albuquerque Field Office, 505 761 8700. There is a lock on the gate and a key must be obtained from the Albuquerque BLM office at 100 Sun Ave NE (see map). A key can be taken for up to 5 days. Be sure to call in advance.
Waypoints
SOUTH GATE: N35 23.500, W106 16.202
PARK: N35 23.159, W106 18.149
COOL STOP: N35 22.949, W106 18.779
LEAVE: N35 23.072, W106 18.988
LONGLOG: N35 23.155, W106 18.995
MORE LOGS: N35 23.258, W106 19.020
LOTSLOGS: N35 23.359, W106 19.054
CROSS: N35 23.346, W106 19.350
DINOBACK: N35 23.522, W106 19.725
WEST BOUNDARY: N35 23.336, W106 19.806
PETRO: N35 23.292, W106 19.872
SIDE: N35 23.111, W106 19.674
HOODOOS: N35 23.048, W106 19.690
ROCKS: N35 22.917, W106 19.686
NOTCH: N35 23.074, W106 19.530
ROAD: N35 23.111, W106 19.298
BLACK LOGS: N35 22.870, W106 18.963
OVER: N35 22.975, W106 18.860
Map Filename:
Ball Ranch South Map.jpg
Hike GPS File Name:
BallRanchSouth_MWDM.gpx
Hike GPS File:
Click
link
to download hike waytrack file
Text Author:
Dawn McIntyre
Map Author:
Dawn McIntyre
Waypoints Author:
Dawn McIntyre
Track Author:
Marilyn Warrant
Maintainer:
Dawn McIntyre
Editor:
Howard Carr