Ball Ranch North Hike
In Santo Domingo Region
Map File Source: DeLorme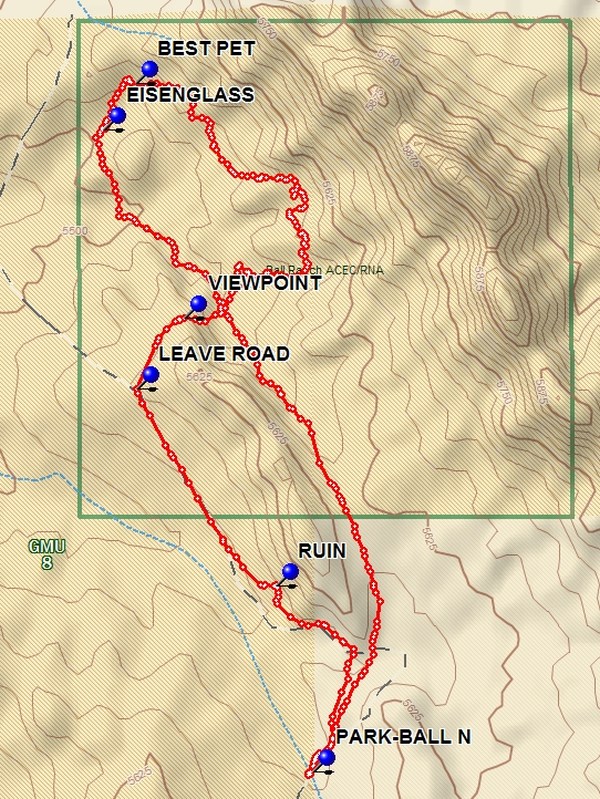 Hike Key:
H10059
Last Updated:
06/27/2021 12:00am
Last Updated By:
Marilyn Fixer
Hike Class:
B (Moderate)
Hike Distance:
4.1 mi
Minimum Elevation:
5480 ft
Elevation Change:
140 ft
Total Uphill:
300 ft
Total Downhill:
300 ft
Avg. Grade:
3 %
Route Type:
Loop
Protected:
Yes
On Trail:
No
Paved or Gravel Roads:
No
GPS Advised:
Yes
Drive Distance Round Trip:
80 mi
Drive Time One-Way:
1:30
Hiking Seasons:
Spring and Fall
New Mexico Game Unit:
8
Hike Status:
Inactive
Access Description:
Ball Ranch Access
Highlights
Yellow and red rock formations, hoodoos, petrified wood.
Cautions
None.
Trailhead Directions
Go north from Albuquerque on I-25 to the Santo Domingo interchange (Exit 259). Exit and go southeast 5.9 miles (this becomes a dirt road) to the SOUTH GATE on the right. Continue on the access track to PARK-BALL N (also referred to as BALL NORTH on the access map).
Actual Hike
Once at the trailhead go through the fence gate and follow the road for 0.3 miles where there will be RUINS on your right. Continue to the 1 mile point and LEAVE ROAD (1.0 mi) to the right and head toward the low ridge finding an animal path which goes to the VIEWPOINT (1.2 mi) and down the north side of the ridge to the bottom. Go northeast to the WATER TROUGH (1.4 mi) where there are interesting formations. Go north, following the loop until the BEST PET (2.3 mi) petrified wood area is reached. Enjoy the logs and profusion of small pieces. Then go to the EISENGLASS (2.4 mi) area, a nice place for lunch and investigation the profusion of "mica" of various colors. After this point go over the low rise to the left and join a two track which goes back to the water trough. From there go south along the north side of the low ridge and follow a faint two track to the south end of the low ridge where the road is rejoined. This road leads back to parking.
Comments
The entry point described has a sign Ball Ranch, Area of Critical Environmental Concern, Entrance by Permit Only, Contact the Bureau of Land Management, Albuquerque Field Office 505-761-8700. There is a lock on the gate and a key must be obtained from the Albuquerque BLM office. A key can be taken for up to 5 days. If they don't have any keys at the front desk, ask for one of the recreational specialists.
NOTE Removal of materials from the Ball Ranch area is forbidden by Federal Law.
Waypoints
SOUTH GATE: N35 23.500, W106 16.202
PARK: N35 24.796, W106 20.267
RUIN: N35 25.124, W106 20.346
LEAVE ROAD: N35 25.470, W106 20.646
VIEWPOINT: N35 25.593, W106 20.543
WATER TROUGH: N35 25.673, W106 20.430
BEST PET: N35 26.005, W106 20.647
EISENGLASS: N35 25.924, W106 20.717
Map Filename:
BallRanchNorthMap_MW.jpg
Hike GPS File Name:
BallRanchNorthWayTrackMod_DBDB.gpx
Hike GPS File:
Click
link
to download hike waytrack file
Text Author:
Dick Brown
Map Author:
Marilyn Warrant
Waypoints Author:
Dick Brown
Track Author:
Dick Brown
Maintainer:
Marilyn Warrant
Editor:
Marilyn Warrant