Timber Peak Hike
In Socorro Region
Map File Source: Garmin BaseCamp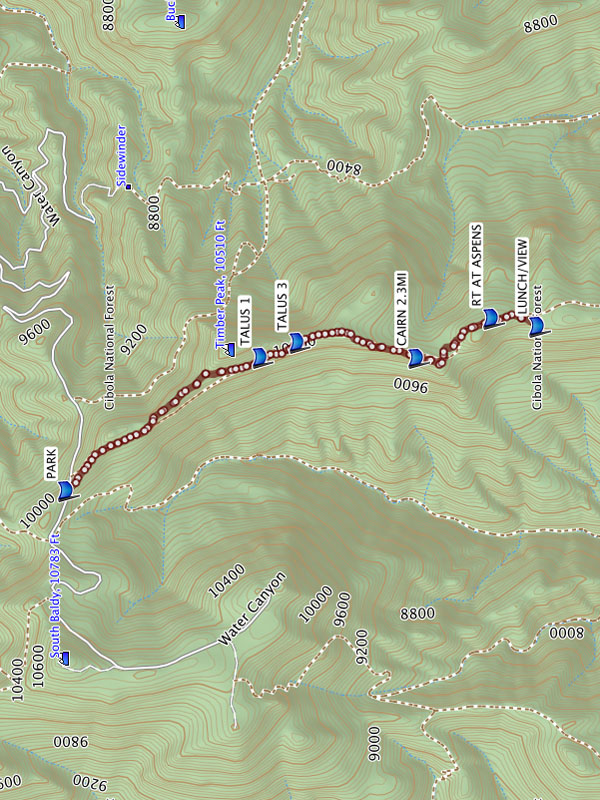 Hike Key:
H10326
Last Updated:
06/30/2021 12:00am
Last Updated By:
Marilyn Fixer
Hike Class:
D (Difficult)
Hike Distance:
5.9 mi
Minimum Elevation:
9800 ft
Elevation Change:
400 ft
Total Uphill:
1460 ft
Total Downhill:
1460 ft
Avg. Grade:
10 %
Route Type:
InOut
On Trail:
Yes
Paved or Gravel Roads:
Yes
GPS Advised:
Yes
Drive Distance Round Trip:
210 mi
Drive Time One-Way:
2:15
Hiking Seasons:
Spring and Fall
New Mexico Game Unit:
17
Hike Status:
Published
Highlights
A cool high elevation hike in the Magdalenas. Mountains, forests, and wildflowers. 360 degree views. Great fall foliage hike.
Cautions
Some hiking on talus slopes, so wear boots with ankle support and good soles. Hiking poles recommended. Elevations at 10,000 ft and above.
Trailhead Directions
From Albuquerque take I-25 south to Socorro Exit 147, then follow signs to US-60. Travel west about 16 mi. to FR-235, marked with a sign for Water Canyon Campground, and turn left. Reach the campground & toilets at the end of the paved road at 5 mi. Continue on FR-235, a steep, gravel, mostly one-lane road with hairpins, that is prone to washouts but is maintained to allow access to the Langmuir Laboratory (lightning research) up higher in the mountains. Road signs warn, 4 wheel drive vehicles only, but vans have enough clearance to make the trip. The Timber Creek trailhead is 6.7 mi. from the end of the pavement, on the left (south) side of the road. PARK at the trailhead (room for two vans, if necessary).
Actual Hike
This is an InOut hike along a trail that is visible in most areas with a worn path, stones that line the trail, double blazes on trees, or cairns.
The trail starts at PARK and begins a steady ascent up a trail lined with stones, through a grass meadow along the west side of a ridge with great views in all directions. Views extend as far south as Elephant Butte Reservoir. The trail crosses three TALUS fields (1.3 mi), then through an aspen forest with scrub oak, through a meadow to the north side of the ridge. Trail becomes less distinct in the woods and meadows where the trail sometimes appears to split and may be difficult to follow. The most difficult parts of the trail to find are marked with a cairn at 2.3MI and RIGHT AT ASPENS (2.7 mi). LUNCH/VIEW (5.9 mi) is a good spot for a rest before you return the way you came. This is a rigorous hike with 4 steep grades and almost 1500′ total vertical.
Comments
Check weather reports before doing this hike. Do not do this hike during the monsoon season. The mountain topography creates its own weather systems so there are thunderstorms in this area every day (the reason the Langmuir Laboratory is located here for lightning research). Always carry rain gear. Weather changes very quickly and without warning. In Sept 09, at the hike start, there were no clouds in the sky but within 1.5 hours, thunderheads moved in and we had to turn back. On the hike out, we had rain, saw lightning bolts nearby, and found pea-sized hail on the ground near the vans.
You'll want hiking boots with ankle support. Hiking poles are recommended especially for hiking on talus. It's a beautiful area, especially in contrast to the desert below. Very colorful in the fall. There's a lot of total vertical for a hike at 10,000 ft and the trail is rough with lots of rocks and scree crossings, so the hike rating has been raised to a "D".
Waypoints
PARK: N33 59.423, W107 10.377
TALUS 1: N33 58.581, W107 09.657
TALUS 3: N33 58.420, W107 09.575
CAIRN 2.3MI: N33 57.900, W107 09.659
RT AT ASPENS: N33 57.575, W107 09.445
LUNCH/VIEW: N33 57.376, W107 09.489
Map Filename:
TimberPeakMap_DM.jpeg
Hike GPS File Name:
TimberPeak_DMDM19OCT2010.gpx
Hike GPS File:
Click
link
to download hike waytrack file
Text Author:
Dawn McIntyre
Map Author:
Dawn McIntyre
Waypoints Author:
Dawn McIntyre
Track Author:
Dawn McIntyre
Maintainer:
Dawn McIntyre
Editor:
Marilyn Warrant