Three Gun Spring to Oso Pass Hike
In Sandia Mountain East Region
Map File Source: NG Topo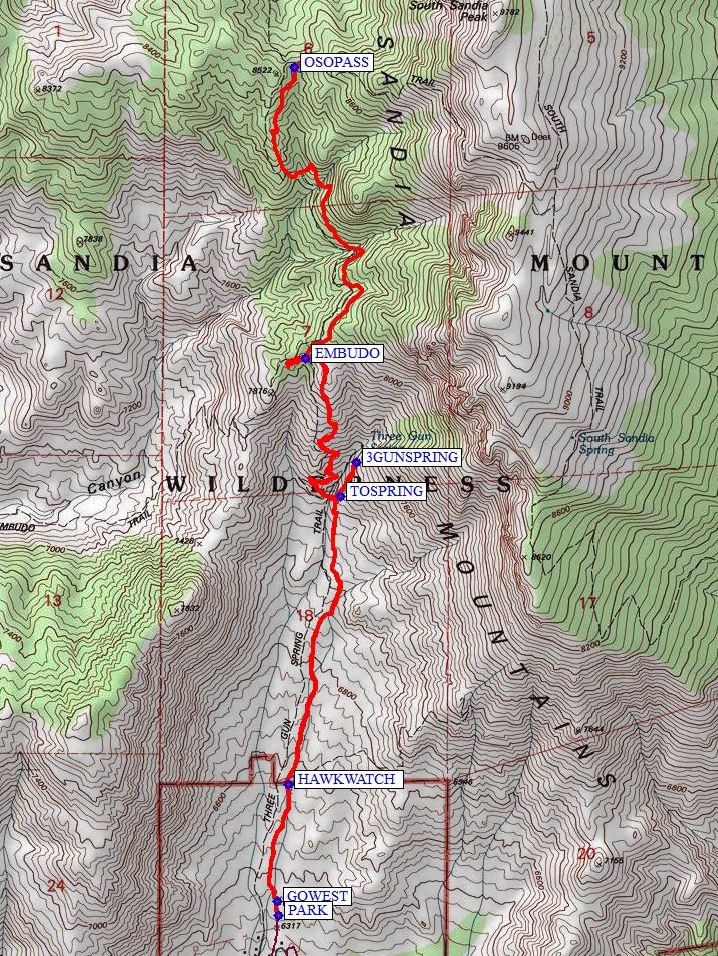 Hike Key:
H10697
Last Updated:
03/20/2023 2:43pm
Last Updated By:
Marilyn Fixer
Hike Class:
E (Most difficult)
Hike Distance:
8.5 mi
Minimum Elevation:
6325 ft
Elevation Change:
2115 ft
Total Uphill:
2650 ft
Total Downhill:
2650 ft
Avg. Grade:
14 %
Route Type:
InOut
On Trail:
Yes
Paved or Gravel Roads:
Yes
GPS Advised:
No
Hiker Limit (NF/BLM/NP):
15 (Sandia Wilderness)
Drive Distance Round Trip:
35 mi
Drive Time One-Way:
0:30
Hiking Seasons:
Summer and Fall
New Mexico Game Unit:
8
Hike Status:
In Process
Cautions
None.
Trailhead Directions
I-40 east to Carnuel exit 170, which is the first exit past Tramway, onto old Rte 66, now SR 333. East 1.5 miles to MONTICELLO Drive on left, Whittier is on right. Follow Monticello Drive thru Monticello subdivision, then left on Allegre St., 522, to the end, then north on Siempre Verde, bearing right on Tres Pistolas, and dead-ending in a cul-de-sac parking area at the mouth of the arroyo and PARK (0.0 mi).
Actual Hike
Shortly after leaving the parking area, take the left option at GOWEST (0.1 mi). You'll pass the intersection with the HAWKWATCH (0.5 mi) trail and the short spur TOSPRING (1.5 mi) to 3GUNSPRING (1.7 mi). The trail follows quite steeply in a generally north direction, with a few switch backs up to the intersection with the EMBUDO (2.6 mi) trail. Continue north enjoying the views all the way to OSO PASS (4.3 mi). Return the way you came.
Waypoints
Access
MONTICELLO N35 03.933 W106 26.495 0.00 ft
Hike
PARK: N35 04.577, W106 26.648
GOWEST: N35 04.617, W106 26.652 (0.1 mi)
HAWKWATCH: N35 04.960, W106 26.614 (0.5 mi)
TOSPRING: N35 05.805, W106 26.427 (1.5 mi)
3GUNSPRING: N35 05.905, W106 26.370 (1.7 mi)
EMBUDO: N35 06.210, W106 26.554 (2.6 mi)
OSOPASS: N35 07.064, W106 26.593 (4.3 mi)
Map Filename:
ThreeGunSprToOsoPass.JPG
Hike GPS File Name:
ThreeGunSprToOsoPass_MW.gpx
Hike GPS File:
Click
link
to download hike waytrack file
Text Author:
Nan Burke
Map Author:
Marilyn Warrant
Waypoints Author:
Marilyn Warrant
Track Author:
Marilyn Warrant
Maintainer:
Randy Simons
Editor:
Dawn McIntyre