South Peak Via Forest Park, Faulty, Larry's and Crest Trails Hike
In Sandia Mountain East Region
Map File Source: NG Topo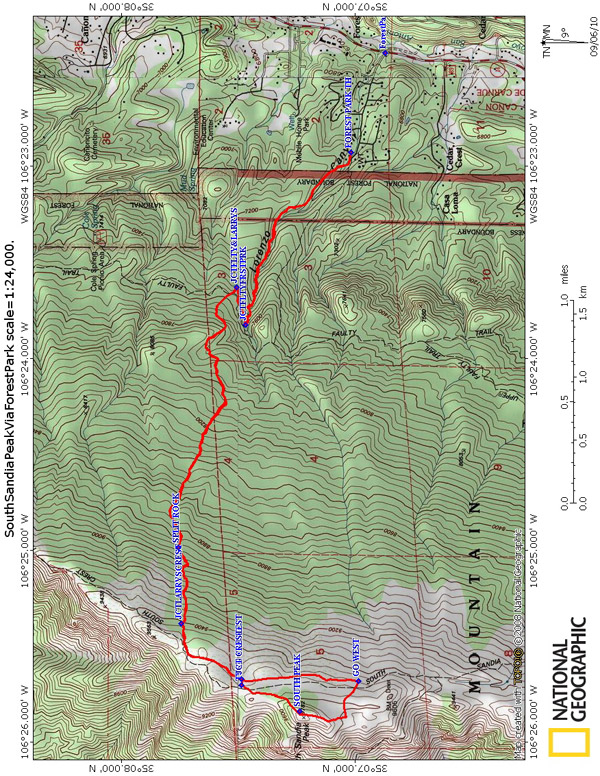 Hike Key:
H10376
Last Updated:
03/20/2023 2:40pm
Last Updated By:
Marilyn Fixer
Hike Class:
E (Most difficult)
Hike Distance:
9.3 mi
Minimum Elevation:
6898 ft
Elevation Change:
2886 ft
Total Uphill:
3004 ft
Total Downhill:
3004 ft
Avg. Grade:
14 %
Route Type:
Lollypop
On Trail:
No
Paved or Gravel Roads:
Yes
GPS Advised:
Yes
Hiker Limit (NF/BLM/NP):
15 (Sandia Wilderness)
Drive Distance Round Trip:
27 mi
Drive Time One-Way:
0:30
Hiking Seasons:
Spring and Fall
New Mexico Game Unit:
8
Hike Status:
Inactive
Highlights
Hike to South Peak; a most beautiful and remote part of the Sandia Mountains.
Cautions
Larry's trail is an unofficial trail up a steep ravine – avoid this route in rainy or snowy weather. The public access to Lorenzo Canyon via Forest Park Rd. has been closed. This hike is now INACTIVE.
Trailhead Directions
From Albuquerque, go east on I-40 to exit 175 (Tijeras) and follow the signs to NM14 North and Turquoise Trail. From the traffic light when you begin going north on NM14, drive 2.0 miles to Forest Park Road on the left. Turn left or west here, and drive about 0.5 miles to the tiny parking area and the trailhead at FOREST PARK TH. This is the turnaround area for the end of the road and is really small, with room for only 2 or 3 cars.
The public access to Lorenzo Canyon via Forest Park Rd. has been revoked by the landowner. This hike is now inactive.
Actual Hike
This hike is in/out with a clockwise loop at the end. From FOREST PARK TH (0.0 mi) find the trail heading west just left of the private property fence. The Forest Park Trail soon enters National Forest and turns northwest and follows the bottom of Lorenzo Canyon. The trail is not well maintained but just stay in or near the bottom of the canyon as you climb upward to reach a junction with Faulty Trail at JCTFLTYFRSTPRK (1.2 mi). Turn right and follow Faulty Trail east northeast for a 0.2 miles to find a junction with Larry's Trail at JCTFLTY&LARRYS (1.4 mi), (7550 ft elevation). The junction to Larry's Trail is not marked and Larry's Trail is not an official USFS trail but you came this way for the adventure and challenge, right? Leave Faulty trail going left or northwest as Larry's Trail takes you westward up the mountain toward the Crest Trail#130. Larry's Trail begins a rather relentless climb and at the 8900 ft level you will reach a large fractured rock called SPLIT ROCK (3.0 mi). From here, the trail continues a bit more steeply (21% grade) up this last 500 foot elevation gain and you will begin to see aspen trees as you near the junction with the Crest Trail at JCTLARRYSCREST (3.45 mi). You now have climbed over 2500 ft. up this mountain, and this is a good place for a break here in the cool tall timber and while you're here make note of this junction, you will return this way.
Turn left or south on the Crest Trail #130S and enjoy the gentle terrain as the aspen and conifer woods open up to beautiful meadows filled with wildflowers of every kind. The trail is well defined and you continue southward with South Sandia Peak on your right. You will leave the Crest #130 trail and turn right or west at GO WEST (4.6 mi) and continue to a dim trail turning to the right or northward along the western side bluffs of South Sandia Peak. Follow this trail northward and upward and when you near the highest point, turn right or east and scramble up the last few feet to the top at SOUTH PEAK (5.0 mi), (9782 ft elevation). You have reached a remote and beautiful part of the Sandia Mountains, and I hope you take some time here to enjoy the awesome views from this high point.
When ready to continue, go back down your previous short scramble and turn right and go north as the trail descends into the woods and then follows the north slope of the Peak for about 0.5 mi to TURN TO CREST (5.5 mi) and turn right or east for a 50 yard off trail bush-whack and join the Crest #130S Trail at JCT CREST (5.5 mi). Continue left or north on the Crest #130S trail about another 0.5 miles to Larry's Trail at JCTLARRYSCREST (5.9 mi). Now turn right and go downhill and eastward on Larry's Trail, and keep a sharp eye as the trail becomes faint in several places. You will join Faulty Trail at JCTFLTY&LARRYS (7.9 mi) and turn right for 0.2 miles to meet Forest Park Trail at JCTFLTYFRSTPRK (8.1 mi). Turn left onto Forest Park Trail and continue down the canyon to your car at FOREST PARK TH (9.3 mi).
Comments
This hike is currently the second hardest hike in our collection (round trip on La Luz is the hardest). The end to end average percent grade is 14%. From TH to JCT FLTY FRST PARK it is 15%, from JCT FLTY LARRYS to SPLIT ROCK it is 17%, and from SPLIT ROCK to JCT LARRYS CREST it an impressive 21%. It is a very strenuous hike and requires a high level of fitness and hiking experience. Good navigation skills with a GPS and/or map and compass are essential for a successful and safe hike. Thanks to Bear Canyon Senior Hikers for showing the way.
Waypoints
Forest Park Road: N35 06.871, W106 22.411
FOREST PARK TH: N35 07.017, W106 22.927 (0.0 mi), (9.3 mi)
JCT FLTY FRST PARK: N35 07.468, W106 23.827 (1.2 mi), (8.1 mi)
JCT FLTY & LARRYS: N35 07.507, W106 23.629 (1.4 mi), (7.9 mi)
SPLIT ROCK: N35 07.757, W106 24.986 (3.0 mi), (6.35 mi)
JCT LARRYS CREST: N35 07.744, W106 25.384 (3.45 mi), (5.9 mi)
GO WEST: N35 06.986, W106 25.684 (4.6 mi)
SOUTH PEAK: N35 07.236, W106 25.841 (5.0 mi)
TURN TO CREST: N35 07.485, W106 25.704 (5.5 mi)
JCT CREST: N35 07.487, W106 25.673 (5.5 mi)
Map Filename:
SouthSandiaPeakViaForestPark,Faulty,Larrys,&CrestTrailsWeb.jpg
Hike GPS File Name:
SouthSandiaPeakViaForestPark,Faulty,Larrys,&CrestTrails.gpx
Hike GPS File:
Click
link
to download hike waytrack file
Text Author:
Ken Smith
Map Author:
Ken Smith
Waypoints Author:
Ken Smith
Track Author:
Ken Smith
Maintainer:
Ken Smith
Editor:
Howard Carr