Stable Canyon Hike
In Jemez Mountains Region
Map File Source: NG Topo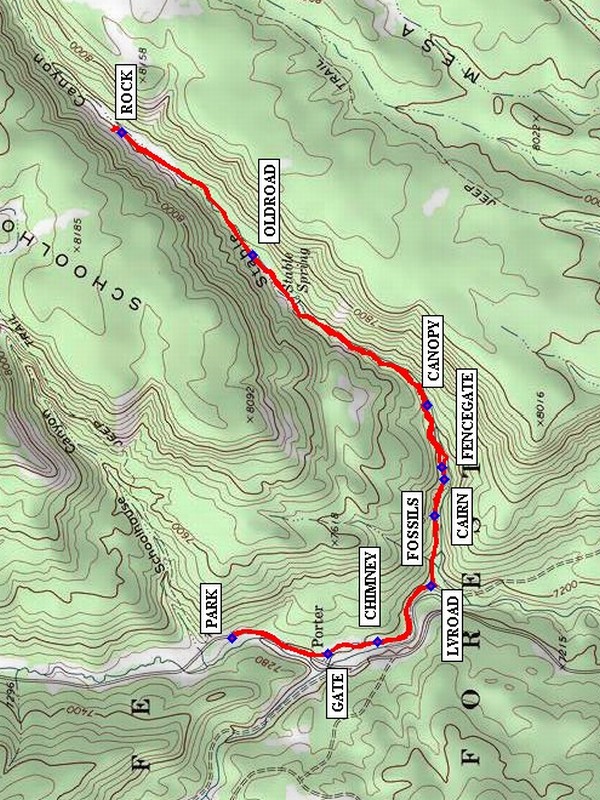 Hike Key:
H10383
Last Updated:
06/30/2021 12:00am
Last Updated By:
Marilyn Fixer
Hike Class:
B (Moderate)
Hike Distance:
5.2 mi
Minimum Elevation:
7150 ft
Elevation Change:
639 ft
Total Uphill:
730 ft
Total Downhill:
730 ft
Avg. Grade:
7 %
Route Type:
InOut
On Trail:
No
Paved or Gravel Roads:
Yes
GPS Advised:
Yes
Drive Distance Round Trip:
120 mi
Drive Time One-Way:
1:45
Hiking Seasons:
Spring, Summer, and Fall
New Mexico Game Unit:
6A
Hike Status:
Published
Highlights
Cool shady hike along the Guadalupe River then up a green canyon. Wildflowers, trees, and a stream. Views of those gorgeous Jemez rocks.
Cautions
Lots of thorny bushes you'll have to walk through, so wear long pants and a long-sleeved shirt.
Trailhead Directions
From Albuquerque take I-25 north to Exit 242 at Bernalillo. Exit and go west on US 550 to San Ysidro. Go right (north) on SR 4 to SR 485. Turn left onto SR 485 and drive through the Gilman Tunnels. Follow the road (it becomes FR 376) for about 7 miles and PARK (0.0 mi) at a largish parking area on the left (west) side of the road. If nobody is parking there already, you could park instead at a turnout close to the GATE and shorten the hike.
Actual Hike
Walk down the road south to GATE (0.3 mi) then on an old road along a stream past an old CHIMNEY (0.5 mi). Leave the road at LVROAD (0.8 mi). The trail starts out fairly distinct, marked with at least one CAIRN (1.0 mi). Start looking for marine fossils in the rocks at FOSSILS (1.1 mi). Go through a FENCEGATE (1.1 mi), and under a CANOPY (1.4 mi) of branches. There are animal trails on both sides of the little stream, so pick what looks good to you. Not until the canyon narrows down does the trail become an OLDROAD (2.1 mi) on the north side (left) of the stream and easy to follow. Continue to the disintegrating ROCK (2.6 mi), and find a nice place under the towering rocks for lunch. Return the way you came.
Comments
While nearby Schoolhouse Canyon is rocky and sunny, Stable Canyon is lush, shady, and cool with water flowing from Stable Spring (watch out for poison ivy near the stream). There may be kingfishers on the Guadalupe River (known by their rattling call and large head). Also look for the beaver dams in the river. This hike is described in the book "Hiking Adventures in Northern New Mexico", by Joan and Gary Salzman. The rating for this hike has been kept to B, since the hike is easy and you'll often be able to park closer to the canyon mouth.
Waypoints
PARK: N35 49.395, W106 47.199
GATE: N35 49.163, W106 47.246
CHIMNEY: N35 49.044, W106 47.210
LVROAD: N35 48.914, W106 47.044
CAIRN: N35 48.907, W106 46.837
FOSSILS: N35 48.883, W 10646.729
FENCEGATE: N35 48.887, W106 46.693
CANOPY: N35 48.925, W106 46.510
OLDROAD: N35 49.347, W106 46.061
ROCK: N35 49.661, W106 45.698
Map Filename:
StableCanyonToRock_MW.JPG
Hike GPS File Name:
StableCanyonWayTrack_MW.gpx
Hike GPS File:
Click
link
to download hike waytrack file
Text Author:
Frances Arnold
Map Author:
Marilyn Warrant
Waypoints Author:
Marilyn Warrant
Track Author:
Marilyn Warrant
Maintainer:
Marilyn Warrant
Editor:
Howard Carr