Sierra Negra Badlands Hike
In Ghost Ranch Region
Map File Source: DeLorme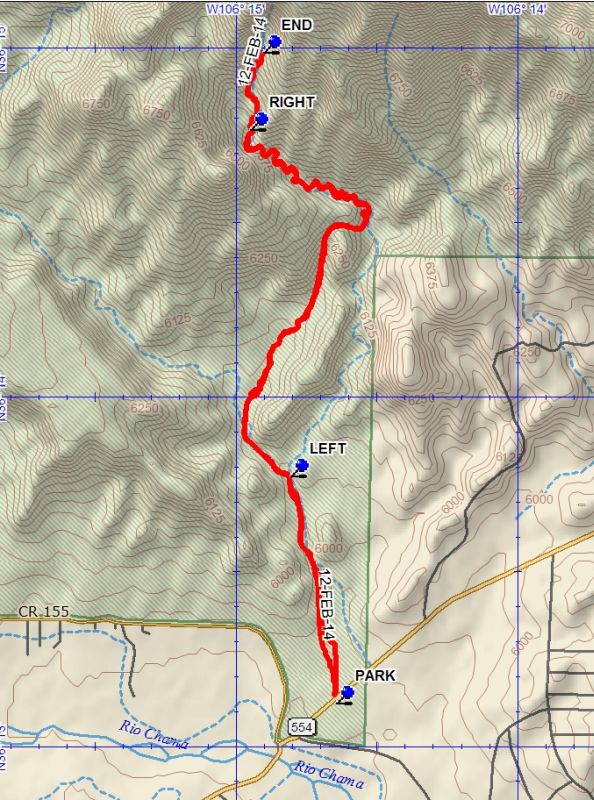 Hike Key:
H10537
Last Updated:
11/23/2021 12:00am
Last Updated By:
Marilyn Fixer
Hike Class:
C (Challenging)
Hike Distance:
6.2 mi
Minimum Elevation:
5905 ft
Elevation Change:
775 ft
Total Uphill:
775 ft
Total Downhill:
775 ft
Avg. Grade:
8 %
Route Type:
InOut
On Trail:
No
Paved or Gravel Roads:
Yes
GPS Advised:
Yes
Drive Distance Round Trip:
210 mi
Drive Time One-Way:
1:45
Hiking Seasons:
Spring and Fall
New Mexico Game Unit:
51
Hike Status:
Inactive
Highlights
Hike up an arroyo with many interesting columns and cliff-side features.
Cautions
The upper part of this hike requires getting around or over boulder obstructions in the arroyo. The grade on this part of the hike is 12%.
Trailhead Directions
From Albuquerque, take I-25 to Santa Fe, then US 84/285 to Espanola. Continue north on US 84/285 north, staying on US 84 when US 285 splits off about 5 mi from town. Continue about 14 miles to Abiquiu. In Abiquiu turn right on to the road to El RITO (SR554). Go 0.9 miles and PARK at the pullout on the left side of the road.
Actual Hike
From parking crawl under the fence. Be sure that you are on the west side of a fence running at right angles and going straight north (away from parking). You will pick up an arroyo. Stay in or on the left side of the arroyo. At LEFT (0.8 mi) there will be a branch. Go to the left. You will pass through a very large bowl area and then go up a steep wash and drop back into the original arroyo. Continue up the arroyo to a second branch at RIGHT (2.7 mi) Stay right. The arroyo will become steeper and cluttered with boulders. Eventually arrive at the cliff wall at END (3.1 mi). Turn around and go back the way you came.
Comments
The use of a GPS is recommended.
Waypoints
PARK: N36 13.125, W106 14.646
LEFT: N36 13.775, W106 14.809
RIGHT: N36 14.768, W106 14.952
END: N36 14.989, W106 14.905
Map Filename:
SierraNegraBadlandsImage_DB.jpg
Hike GPS File Name:
SierraNegraBadlandsWayTrack_DBDB.gpx
Hike GPS File:
Click
link
to download hike waytrack file
Text Author:
Dick Brown
Map Author:
Dick Brown
Waypoints Author:
Dick Brown
Track Author:
Dick Brown
Maintainer:
Not Assigned
Editor:
Howard Carr