Sandia Crest – Rocky Point Loop Hike
In Sandia Mountain East Region
Map File Source: DeLorme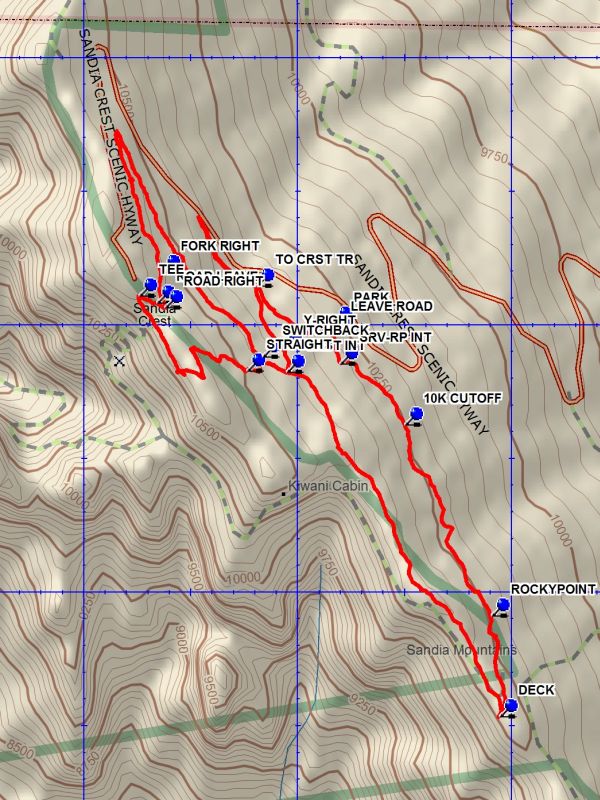 Hike Key:
H10100
Last Updated:
12/15/2020 12:00am
Last Updated By:
Marilyn Warrant
Hike Class:
B (Moderate)
Hike Distance:
4.3 mi
Minimum Elevation:
10200 ft
Elevation Change:
435 ft
Total Uphill:
514 ft
Total Downhill:
514 ft
Avg. Grade:
8 %
Route Type:
Loop
On Trail:
Yes
Paved or Gravel Roads:
Yes
GPS Advised:
No
Drive Distance Round Trip:
60 mi
Drive Time One-Way:
1:00
Hiking Seasons:
Summer and Fall
New Mexico Game Unit:
8
Hike Status:
Published
Highlights
Views from Crest, pleasant wooded trails, visit to Tram and Ski Area top terminals.
Cautions
Rain gear recommended for late summer hikes.
Trailhead Directions
From Albuquerque go west to the SR 14 exit and go north to Cedar Crest. At SR 536 (the road to the crest) turn left and go up the crest road to The Ellis Trailhead parking on the left at PARK (0.0 mi). A three dollar fee or Golden Age Pass is required.
Actual Hike
Go about 100 feet south from parking on the tram service road to LEAVE ROAD (0.0 mi) and take the trail uphill to an intersection TO CRST TR (0.2 mi) and go left, then to a Y-RIGHT (0.4 mi). Bear uphill at this point. After about 300 feet the trail meets the Crest Trail at CRST INT (0.5 mi). Turn right onto the Crest trail and go about 300 feet at which point the Crest Trail turns uphill at SWITCHBACK. Go straight on this trail which is marked as a cross-country Ski Tail, but is also known as the Switchback Trail. The trail goes for .7 miles before turning back and reaching FORK RIGHT (1.5 mi). Turn uphill and reach ROAD RIGHT (1.6 mi). Go right for 100 feet and leave the road, going left up a steep pitch to the TEE (1.7 mi). Go right to visit the tourist trap and the highest point on the mountain, or left to go toward the tram area. Distances beyond this point assume you do not go right. Walk south along the edge, enjoying the views until the trail goes up through a rocky slot and joins the Crest Trail going south. At STRAIGHT (2.2 mi) the road to the right is an out-and-back side trip to Kiwanis Cabin, about .5 miles round trip. Continue for about 300 feet on the Crest Trail where CRST INT is again reached. Continue on the crest trail to where there is a DECK (3.2 mi), a good place for lunch, with the tram terminal a short distance further on. From this point turn back north. Go down the steps on the north side of the restaurant and walk the service road north to ROCKYPOINT (3.5 mi), a marked trail on the right which enters the woods and runs north paralleling the access road to SRV-RP INT (4.2 mi) on the access road. It is about 300 feet north to parking from this point.
Waypoints
LEAVE ROAD: N 35 12.488, W 106 26.457
PARK: N 35 12.505, W 106 26.450
TO CRST TR: N 35 12.576, W 106 26.633
Y-RIGHT: N 35 12.461, W 106 26.569
CRST INT: N 35 12.415, W 106 26.562
SWITCHBACK: N 35 12.443, W 106 26.619
FORK RIGHT: N 35 12.601, W 106 26.853
ROAD LEAVE: N 35 12.544, W 106 26.865
ROAD RIGHT: N 35 12.535, W 106 26.846
TEE: N 35 12.556, W 106 26.907
STRAIGHT: N 35 12.417, W 106 26.654
DECK: N 35 11.769, W 106 26.064
ROCKYPOINT: N 35 11.958, W 106 26.083
10K CUTOFF: N 35 12.316, W 106 26.285
SRV-RP INT: N 35 12.430, W 106 26.437
Map Filename:
SandiaCrest-RockyPointLoopImage_DB.jpg
Hike GPS File Name:
SandiaCrest-RockyPointLoopWayTrack_DBDB.gpx
Hike GPS File:
Click
link
to download hike waytrack file
Text Author:
Dick Brown
Map Author:
Dick Brown
Waypoints Author:
Dick Brown
Track Author:
Dick Brown
Maintainer:
Ken Smith
Editor:
Marilyn Warrant