Bernalillito Mesa Hike
In Ojito Region
Map File Source: NG Topo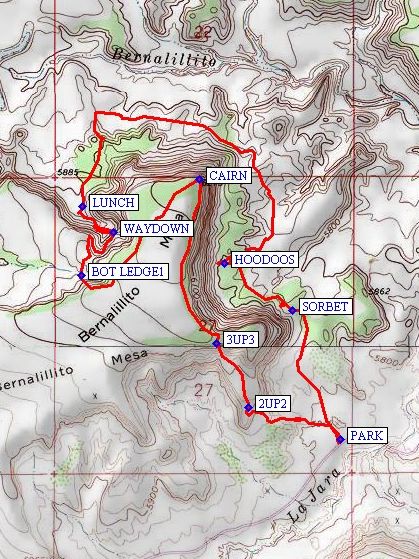 Hike Key:
H10103
Last Updated:
12/15/2020 12:00am
Last Updated By:
Marilyn Warrant
Hike Class:
C (Challenging)
Hike Distance:
5.1 mi
Minimum Elevation:
5798 ft
Elevation Change:
419 ft
Total Uphill:
560 ft
Total Downhill:
560 ft
Avg. Grade:
7 %
Route Type:
CW Loop
Protected:
Yes
On Trail:
No
Paved or Gravel Roads:
No
GPS Advised:
Yes
Drive Distance Round Trip:
100 mi
Drive Time One-Way:
1:00
Hiking Seasons:
Spring, Fall, and Winter
New Mexico Game Unit:
9
Hike Status:
Published
Access Description:
Ojito Wilderness Area Access
Highlights
Badlands hike with views from the mesa.
Cautions
Steep path up to and down from the mesa. Hiking poles recommended.
Trailhead Directions
I-25 north to exit 242. West on US 550 to milepost 21. Turn left at sign for Cabezon Rd. Go through the gate. Check odometer – the destination is 11.5 miles from here. The road forks immediately. Take the left fork (Cabezon Rd.) and not the right one (White Mesa). Cabezon Rd. crosses Zia land, then at the cattle guard enters Public Land. The dirt road is slick and dangerous when wet. Drive about 10.5 miles to a "Parking Area" sign. That is the trailhead for Dinosaur Dig. Drive about a mile further and park for Bernalillito.
Actual Hike
Walk westward and climb the mesa. It is a three-tiered process to the top, and is very steep (2UP2 (0.4 mi) and 3UP3 (0.7 mi)). Proceed along the mesa top for views of the valleys to the north and east. After the CAIRN (1.3 mi), head southwest on the mesa, and start down to BOT LEDGE1 (1.9 mi). Caution: you're not down yet! There are many ways down from here, none of which are ideal. You might try WAYDOWN (2.2 mi), or perhaps find an easier way. Have LUNCH (2.6 mi) at the valley floor. Then proceed on the foot trail around the northeastern end and the south to visit the "bird" HOODOOS (4.1 mi) and the SORBET (4.6 mi) rocks (named because of the lemon, raspberry, and blueberry colors). Then keep going on to the van.
Comments
Rated C hike due to difficult terrain.
Waypoints
PARK: N35 29.732, W106 55.278
2UP2: N35 29.828, W106 55.608
3UP3: N35 30.014, W106 55.723
CAIRN: N35 30.495, W106 55.783
BOT LEDGE1: N35 30.215, W106 56.207
WAYDOWN: N35 30.338, W106 56.094
LUNCH: N35 30.415, W106 56.205
HOODOOS: N35 30.249, W106 55.693
SORBET: N35 30.111, W106 55.450
Map Filename:
BernalillitoMesaImage_MW.jpg
Hike GPS File Name:
BernalillitoMesaWayTrack_MWMW.gpx
Hike GPS File:
Click
link
to download hike waytrack file
Text Author:
Roger Holloway
Map Author:
Marilyn Warrant
Waypoints Author:
Marilyn Warrant
Track Author:
Marilyn Warrant
Maintainer:
Marilyn Warrant
Editor:
Howard Carr