Salinas Pueblo Missions National Monument + Hike
In Los Lunas Region
Map File Source: Other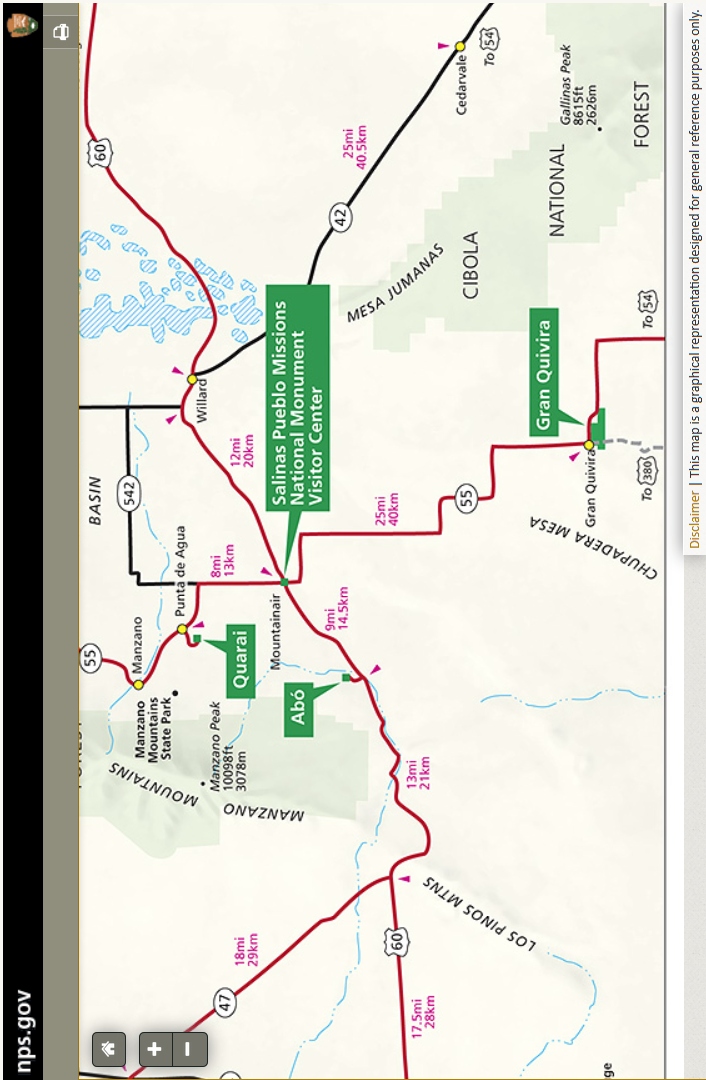 Hike Key:
H10546
Last Updated:
12/15/2020 12:00am
Last Updated By:
Marilyn Warrant
Hike Class:
A (Easy)
Hike Distance:
3.6 mi
Minimum Elevation:
0 ft
Elevation Change:
0 ft
Total Uphill:
0 ft
Total Downhill:
0 ft
Avg. Grade:
%
Route Type:
On Trail:
Yes
Paved or Gravel Roads:
Yes
GPS Advised:
No
Drive Distance Round Trip:
200 mi
Drive Time One-Way:
2:00
Hiking Seasons:
Spring, Summer, Fall, and Winter
New Mexico Game Unit:
18
Hike Status:
In Process
Highlights
Visit 3 pueblo ruins south of Albuquerque.
Cautions
None.
Trailhead Directions
Drive south of Tijeras on Hwy. 337 then west and south on Hwy. 55 through Tajique, Torreon and Manzano. See "Actual Hike" for detailed driving directions.
Actual Hike
This trip involves several stops. (1) At Puta de Agua go west to the Quarari ruins. (2) After exploring the Quarai ruins go south on Hwy. 55 for 8 miles to Mountainair and stop at the Salinas Pueblo Missions National Monument Visitor Center where you can watch videos about the 3 ruins and their history plus obtain literature. (3) Next drive south 25 miles on Hwy. 55 to the Gran Quivira ruins. (4) Drive back north to Mountainair and then west 9 miles on Hwy. 60 to the turn off north to the Abo ruins. After the Abo ruins return by continuing west on Hwy 60 then north on I-25 or NW on Hwy. 47 through Belen to I-25.
Comments
For more information call 505-847-2585 or visit www.nps.gov/sapu It is also possible to arrange for a private tour of the 3 sites by making arrangements ahead of time.
The Main Visitor Center in Mountainair is open daily 8:00 a.m. – 5:00 p.m.
The three park Mission Units (Abo, Quarai, and Gran Quivira) are open daily with summer hours (Memorial Day – Labor Day) 9:00 a.m. – 6:00 p.m., and winter hours (rest of the year) 9:00 a.m. – 5:00 p.m.
Salinas Pueblo Missions are closed three days out of the year: Thanksgiving Day, Christmas Day, and New Years Day. The park may also be closed due to inclement weather. Call ahead to check the status on days of heavy wintry weather.
Map Filename:
SalinasPuebloMissionsMap1_MW.jpg
Text Author:
Frank Ernst
Map Author:
Marilyn Warrant
Waypoints Author:
Track Author:
Maintainer:
Frank Ernst
Editor:
Howard Carr