Piedra Lisa North To South Hike
In Placitas Region
Map File Source: DeLorme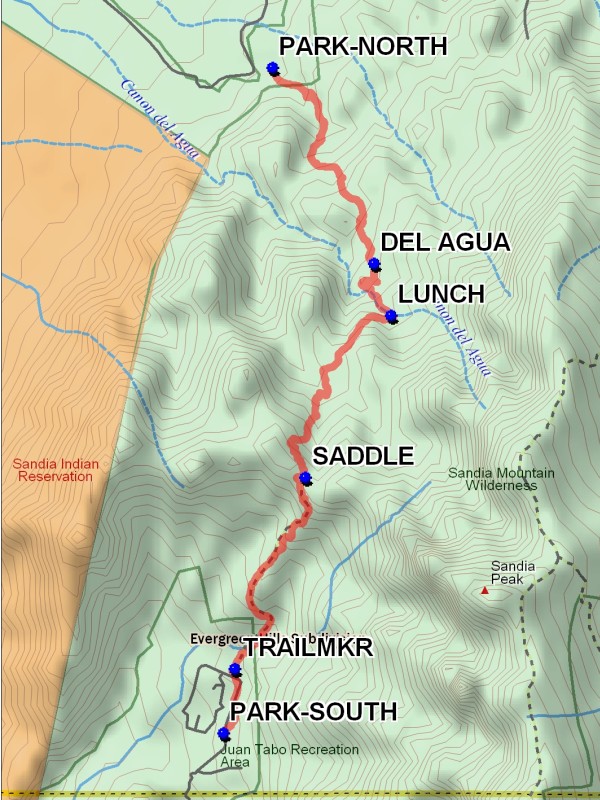 Hike Key:
H10432
Last Updated:
03/20/2023 2:35pm
Last Updated By:
Marilyn Fixer
Hike Class:
D (Difficult)
Hike Distance:
6 mi
Minimum Elevation:
6050 ft
Elevation Change:
2134 ft
Total Uphill:
2282 ft
Total Downhill:
1383 ft
Avg. Grade:
13 %
Route Type:
Oneway
On Trail:
Yes
Paved or Gravel Roads:
Yes
GPS Advised:
No
Hiker Limit (NF/BLM/NP):
15 (Sandia Wilderness)
Drive Distance Round Trip:
50 mi
Drive Time One-Way:
0:45
Hiking Seasons:
Spring and Fall
New Mexico Game Unit:
8
Hike Status:
Published
Highlights
An enjoyable, challenging trek in the Sandias from Placitas to the northern outskirts of the city. Views to the west and east, with a beautiful, shady spot for lunch.
Cautions
Trekking poles recommended for the many steep sections.
Trailhead Directions
I-25 north to Placitas exit (exit 242). Go east on SR 165 to the second Forest Rd 445 just after milepost 3. The road makes a loop but you want the eastern one because it is much shorter. After paying a fee, follow FR 445 south two miles and you'll take FR 445A off to the left to the trailhead PARK-NORTH (0.0 mi) area.
Actual Hike
Piedra Lisa Spring Trail 135 takes you in a generally south-easterly direction steeply up the mountain. You will intersect the DEL AGUA (1.7 mi) Trail (Trail 248). After you can look through Del Agua Canyon and see Bernalillo (less than an hour and half), the trail will head downward. Look for intersection just after two 4-foot boulders straddling the trail. We have our LUNCH (2.2 mi) at the stream about twenty minutes further up the trail. Continue uphill past the SADDLE (4.0 mi). It's all downhill after that. Go by the TRAILMKR (5.6 mi) then down to the southern trailhead at PARK-SOUTH (6.0 mi) near the Juan Tabo picnic area.
Comments
This hike can be done as a cross-over hike with most hikers starting from the southern trailhead or as a shuttle hike.
Waypoints
PARK-NORTH: N 35 16.743, W 106 28.707
DEL AGUA: N 35 15.751, W 106 28.076
LUNCH: N 35 15.488, W 106 27.970
SADDLE: N 35 14.671, W 106 28.504
TRAILMKR: N 35 13.702, W 106 28.940
PARK-SOUTH: N 35 13.376, W 106 29.011
Map Filename:
PiedraLisaNorthToSouth_Dnew.jpg
Hike GPS File Name:
PiedraLisaNorthToSouthWayTrack_MWMW.gpx
Hike GPS File:
Click
link
to download hike waytrack file
Text Author:
Frances Arnold
Map Author:
Marilyn Warrant
Waypoints Author:
Marilyn Warrant
Track Author:
Marilyn Warrant
Maintainer:
Ken Smith
Editor:
Marilyn Warrant