Old Cuba Road Mesa Hike
In Cuba Region
Map File Source: NG Topo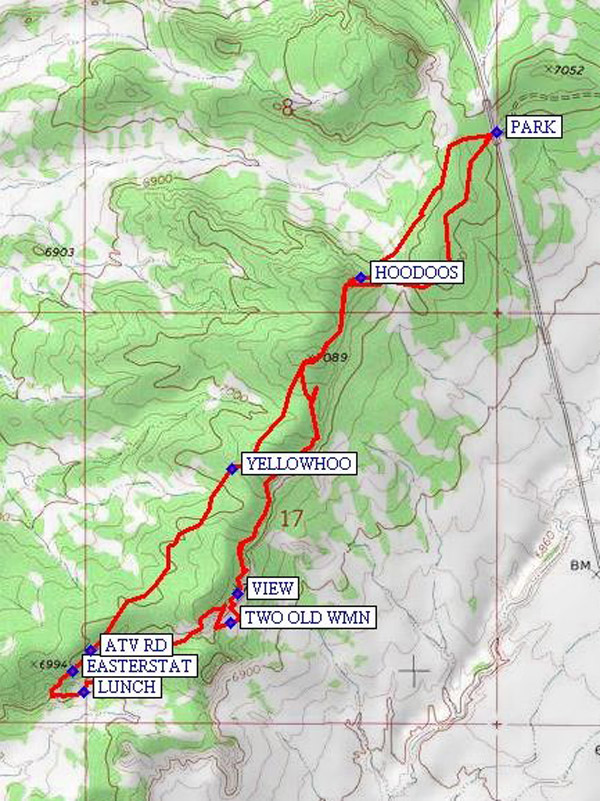 Hike Key:
H10370
Last Updated:
03/23/2021 12:00am
Last Updated By:
Marilyn Fixer
Hike Class:
B (Moderate)
Hike Distance:
4.5 mi
Minimum Elevation:
6901 ft
Elevation Change:
185 ft
Total Uphill:
360 ft
Total Downhill:
360 ft
Avg. Grade:
7 %
Route Type:
Loop
Protected:
Yes
On Trail:
No
Paved or Gravel Roads:
Yes
GPS Advised:
Yes
Drive Distance Round Trip:
170 mi
Drive Time One-Way:
1:45
Hiking Seasons:
Spring, Fall, and Winter
New Mexico Game Unit:
6A
Hike Status:
Published
Highlights
Walk among the pines on a carpet of needles and return along the mesa edge with its many sandstone formations. Good views of the west edge of the Jemez to the east.
Cautions
Several fence crossings (over/under).
Trailhead Directions
I-25 north to Bernalillo exit 242, west on US 550 (old SR 44), right on CR 11 (Old Cuba Road) just after another road to right that is closed (about 30 mi north of San Ysidro after you leave the Jemez Reservation). There's a gap in the wildlife fencing to drive through. This road is now paved all the way to Cuba. Go past the tire dump about 3 more miles and park at the turnaround to your right at the top of the hill. (If you come to Duke City Rd. you've gone too far.)
Actual Hike
Go over, around, or through the fence gate on the west side of the road, and hike a southwesterly direction. Walk along the edge of the cliffs to see HOODOOS (0.5 mi), colorful rocks, twisted gnarly trees, Moki marbles, and great views of the valley, Cabezon, and Mt. Taylor. You may see fresh elk and deer sign, and a C-130 flying down the valley. Shortly after a VIEW (1.7 mi), you'll come across a set of hoodoos that looks like TWO OLD WMN (1.8 mi) talking and another like a rock-encrusted spaceship. Continue on out to the edge of the formation for LUNCH (2.3 mi). When you head back, don't miss the EASTERSTAT (2.5 mi) hoodoo just a little to the north west of the lunch spot. You can return the way you came, or instead walk northwest along an ATV RD (2.6 mi) through sagebrush. In either case, stop by the yellow hoodoos (YELLOWHOO (3.2 mi)). If you choose to follow the ridge on the way back, there's a more gradual slope downhill to the right of the hoodoos near the trailhead.
Comments
According to the 2003 Los Alamos BLM map, the hike is on BLM public land.
Waypoints
Access
Hwy 11: N35 51.499, W106 58.157 (access from the south)
INT 550-Hwy11: N36 00.691, W106 58.088 (access from the north)
Hike:
PARK: N35 58.641, W106 57.320
HOODOOS: N35 58.333, W106 57.676
VIEW: N35 57.666, W106 57.995
TWO OLD WMN: N35 57.605, W106 58.013
LUNCH: N35 57.458, W106 58.397
EASTERSTAT: N35 57.500, W106 58.426
ATV RD: N35 57.546, W106 58.378
YELLOWHOO: N35 57.929, W106 58.010
Map Filename:
OldCubaRoadMesaImage_MW.JPG
Hike GPS File Name:
OldCubaRoadMesaWayTrackRev_MW.gpx
Hike GPS File:
Click
link
to download hike waytrack file
Text Author:
Marilyn Warrant
Map Author:
Marilyn Warrant
Waypoints Author:
Marilyn Warrant
Track Author:
Marilyn Warrant
Maintainer:
Carl Gervais
Editor:
Howard Carr