Oat – Hay – Pony Canyons Loop Hike
In Jemez Mountains Region
Map File Source: NG Topo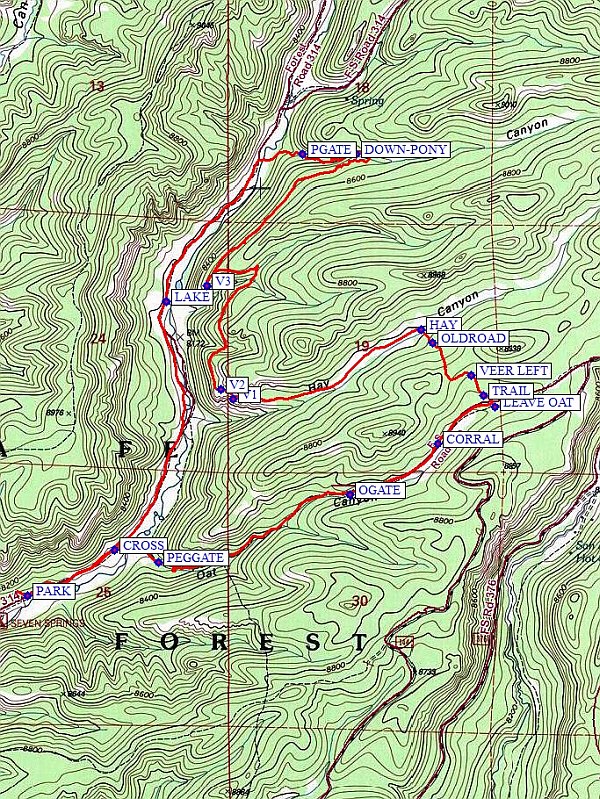 Hike Key:
H10530
Last Updated:
12/15/2020 12:00am
Last Updated By:
Marilyn Warrant
Hike Class:
C (Challenging)
Hike Distance:
8 mi
Minimum Elevation:
8060 ft
Elevation Change:
718 ft
Total Uphill:
1115 ft
Total Downhill:
1115 ft
Avg. Grade:
7 %
Route Type:
CCW Loop
Protected:
Yes
On Trail:
No
Paved or Gravel Roads:
No
GPS Advised:
Yes
Drive Distance Round Trip:
160 mi
Drive Time One-Way:
1:45
Hiking Seasons:
New Mexico Game Unit:
6A
Hike Status:
Published
Highlights
Jemez colorful rocks, green meadows, views down a canyon, a flowing stream, flowers, and the Elk Superhighway.
Cautions
Hiking poles recommended.
Trailhead Directions
North on I-25 to exit 242 (Bernalillo), west on US 550 to San Ysidro. North on SR 4 to La Cueva. Take SR 126 west about 9 mi. to Fenton Lake, keep going north 4 mi. until you come to the HATCHGATE with the Fish Hatchery off to the right. Continue through the gate a very slow mile or so until you come to a fence and corral and PARK (0.0 mi) there.
Actual Hike
Hike from the campground, CROSS (0.4 mi) the stream, and enter Oat Canyon through a PEGGATE (0.7 mi). Hike up the old road past OGATE (1.6 mi) and a CORRAL (2.0 mi) on the right. You will come to a place where another (minor) road veers off to the right. A little ways beyond that, look for a big stump on the right and a power pole with the lower set of wires tied off. Here, turn left and LEAVE OAT (2.3 mi). Go into the little meadow, keeping the trees to your immediate left, and you'll shortly find a game TRAIL (2.4 mi). VEER LEFT (2.5 mi) to go over the saddle and follow game trails until you find the OLDROAD (2.8 mi), which leads to the lovely valley of HAY (2.9 mi) Canyon. You may want to have a partial lunch here. Follow Hay Canyon down to your left (west) until it brings you to a tremendous towering spire of rock. Have the rest of your lunch at one of the overlooks of the Cebolla (Onion) River and beaver pond far below at V1 (3.8 mi) or V2 (3.9 mi). Then proceed north on the sometimes faint path christened the "Elk Superhighway" because of all the elk scat on it. Stop at V3 (4.45 mi) for another view down Cebolla Canyon. Continue on the Elk Superhighway all the way to DOWN-PONY (5.4 mi). Go down Pony Canyon through PGATE (5.7 mi) to reach Cebolla Canyon. Walk along the stream. The LAKE (6.6 mi) is a good place for a short break to watch the ducks and swallows. Walk on either side of the stream from here, past the mouths of Hay and Oat Canyons, back to the van.
Comments
Check ahead to verify that the gate at the Fish Hatchery to the day-use area is open. You can call the hatchery at 1-575-829-3740 to inquire. In previous years, the gate has remained closed until Memorial Day. If the gate is closed, you can park there and do the hike but add another 2 mi.
Waypoints
HATCHGATE: N35 55.684, W106 42.100
PARK: N35 56.144, W106 40.996
CROSS: N35 56.295, W106 40.636 (0.4 mi)
PEGGATE: N35 56.253, W106 40.457 (0.7 mi)
OGATE: N35 56.480, W106 39.668 (1.6 mi)
CORRAL: N35 56.650, W106 39.308 (2.0 mi)
LEAVE OAT: N35 56.775, W106 39.074 (2.3 mi)
TRAIL: N35 56.813, W106 39.120 (2.4 mi)
VEER LEFT: N35 56.880, W106 39.172 (2.5 mi)
OLDROAD: N35 56.989, W106 39.328 (2.8 mi)
HAY: N35 57.033, W106 39.378 (2.9 mi)
V1: N35 56.801, W106 40.150 (3.8 mi)
V2: N35 56.831, W106 40.199 (3.9 mi)
V3: N35 57.177, W106 40.256 (4.45 mi)
DOWN-PONY: N35 57.619, W106 39.644 (5.4 mi)
PGATE: N35 57.619, W106 39.865 (5.7 mi)
LAKE N35 57.126, W106 40.422 (6.6 mi)
Map Filename:
Oat-Hay-PonyMapRev1_MW.JPG
Hike GPS File Name:
Oat-Hay-PonyWayTrackRev1_MW.gpx
Hike GPS File:
Click
link
to download hike waytrack file
Text Author:
Marilyn Warrant
Map Author:
Marilyn Warrant
Waypoints Author:
Marilyn Warrant
Track Author:
Marilyn Warrant
Maintainer:
Marilyn Warrant
Editor:
Howard Carr