Lorenzo Canyon to Cole Spring Hike
In Sandia Mountain East Region
Map File Source: Garmin BaseCamp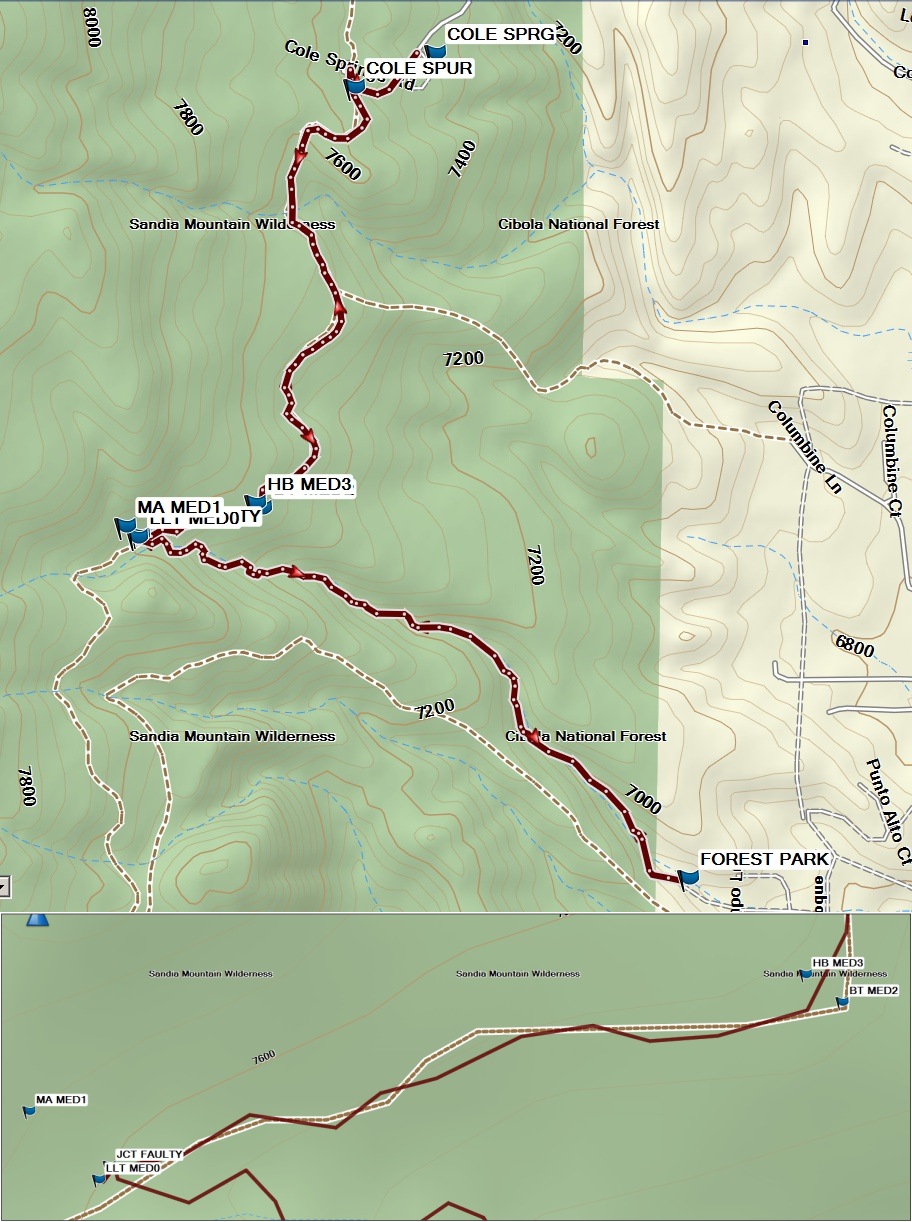 Hike Key:
H10657
Last Updated:
03/20/2023 2:31pm
Last Updated By:
Marilyn Fixer
Hike Class:
C (Challenging)
Hike Distance:
4.9 mi
Minimum Elevation:
6920 ft
Elevation Change:
710 ft
Total Uphill:
1160 ft
Total Downhill:
1160 ft
Avg. Grade:
10 %
Route Type:
InOut
On Trail:
Yes
Paved or Gravel Roads:
Yes
GPS Advised:
No
Hiker Limit (NF/BLM/NP):
15 (Sandia Wilderness)
Drive Distance Round Trip:
27 mi
Drive Time One-Way:
0:30
Hiking Seasons:
Spring and Fall
New Mexico Game Unit:
8
Hike Status:
Inactive
Highlights
Cole Spring and 4 medallion trees along the trail.
Cautions
Rocky, steep ascent and descent along Lorenzo Canyon. Bring hiking poles.
Trailhead Directions
From Albuquerque, go east on I-40 to exit 175 (Tijeras) and follow the signs to NM14 North and Turquoise Trail. From the traffic light when you begin going north on NM14, drive 2.0 miles to Forest Park Road on the left. Turn left or west here, and drive about 0.5 miles to the tiny parking area and the trailhead at FOREST PARK TH. This is the turnaround area for the end of the road and is really small, with room for only one van.
Actual Hike
From the FOREST PARK trailhead find the trail just left of private property fence. This is an in/out hike. The Forest Park trail soon enters the National Forest and follows the bottom of Lorenzo Canyon. The trail is not well maintained. You climb uphill to reach junction with a Faulty Trail (JCTFAULTY) at 1.2 miles. Turn right and follow Faulty Trail to junction with Cole Spring spur trail (COLE SPUR, 2.3 mi). A large cairn marks this juncture. Turn right and follow this trail downhill to Cole Spring (COLE SPRG, 2.5 mi). Enjoy lunch at the picnic tables in this area. Trac Back to return the way you came.
To locate the 4 Medallion Trees along Faulty Trail (see the blowup under the hike map), just before you reach JCTFAULTY, look left to find Lorenzo Log Water Trough medallion tree (LLT MED0). Search SE part of this trough to find the tiny rusted Medallion. At JCTFAULTY turn left a short distance to find Marie Antoinette Death Tree (MA MED1). This tree is dead and lying on the ground but the medallion is still intact. As you continue along Faulty Trail, before you reach the Cole Spur Trail, two more medallions are easily located. The Binomial Theorem Tree (BT MED2) is on right side of trail. A short distance north of this tree, you will see a huge ponderosa pine left of the trail. This is the Hudson Bay Co. tree (HB MED3).
Comments
Set inactive because of homeowner complaint about parking.
Nice tree-covered hike. Cole Spring is typically running year-round and the spring water is cold.
The initial track is based on tracks from Mike Coltrin's website and our own South Peak Via Forest Park, Faulty, Larry's and Crest Trails hike.
Waypoints
FOREST PARK: N35 07.017, W106 22.927
JCTFAULTY: N35 07.468, W106 23.827
LLT MED0: N35 07.465, W106 23.830
MA MED1: N35 07.480, W106 23.849
BT MED2: N35 07.504, W106 23.627
HB MED3: N35 07.510, W106 23.637
COLE SPUR: N35 08.057, W106 23.474
COLE SPRG: N35 08.102, W106 23.342
Map Filename:
LorenzoCnynToColeSpringCompMap4_MW.jpg
Hike GPS File Name:
LorenzoCnynToColeSpringWayTrack2_PNMC.gpx
Hike GPS File:
Click
link
to download hike waytrack file
Text Author:
Vivian Heyward
Map Author:
Marilyn Warrant
Waypoints Author:
Pat Newman
Track Author:
Mike Coltrin
Maintainer:
Not Assigned
Editor:
Howard Carr