Rio Bravo Bosque – North Hike
In Albuquerque Region
Map File Source: Garmin BaseCamp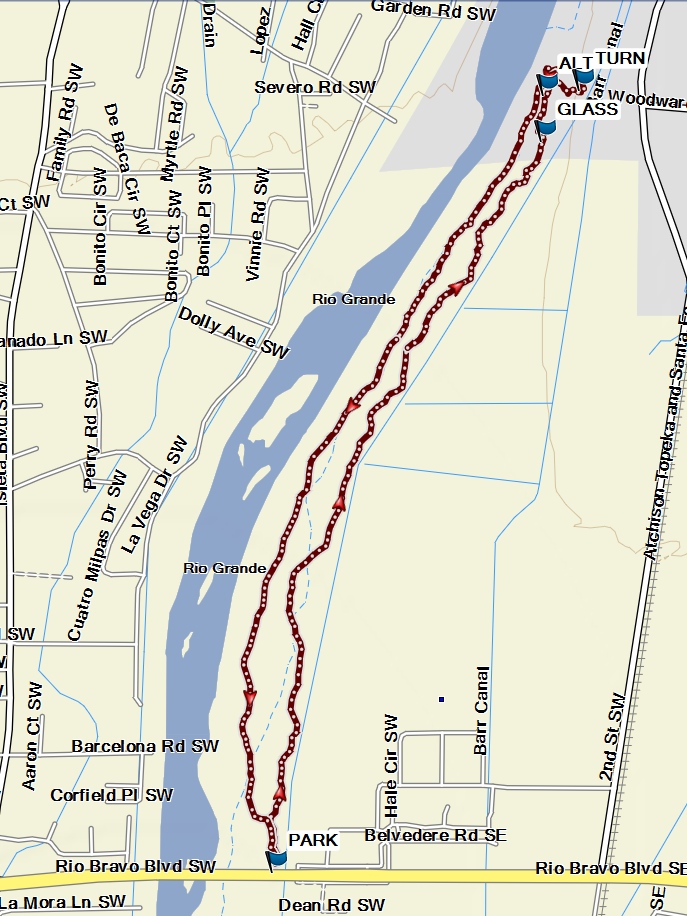 Hike Key:
H10652
Last Updated:
03/07/2021 12:00am
Last Updated By:
Marilyn Fixer
Hike Class:
A (Easy)
Hike Distance:
4 mi
Minimum Elevation:
4911 ft
Elevation Change:
20 ft
Total Uphill:
20 ft
Total Downhill:
20 ft
Avg. Grade:
1 %
Route Type:
CW Loop
On Trail:
Yes
Paved or Gravel Roads:
Yes
GPS Advised:
No
Drive Distance Round Trip:
30 mi
Drive Time One-Way:
0:45
Hiking Seasons:
Spring, Fall, and Winter
New Mexico Game Unit:
9
Hike Status:
Published
Highlights
Acres of chards of glass and ceramics, from a former dump many decades ago, to explore. There are some old medicine and perfume bottles still intact.
Cautions
You will be walking on broken glass in some areas.
Trailhead Directions
Take I-25 south to the Rio Bravo exit, then Rio Bravo west to a sign for the Rio Bravo picnic area. Turn right on Poco Loco. Park east of the Rio Grande, north side of Rio Bravo Blvd., at the Rio Bravo picnic area.
Actual Hike
Head north from PARK on main trail to waypoint GLASS where you can search through dirt mounds for chards of glass, ceramics and some whole bottles. Continue north to TURN where you start back and can look through acres of glass and ceramic chards plus some whole bottles in this former dump of many decades ago. Next start south at ALT trail and get a different view of the Bosque, birds on the river and many signs of former beaver activity. There are many other side trails to choose from.
Comments
For the history of the former dumps see the Walking on broken glass website.
Waypoints
PARK: N35 01.656, W106 40.189
GLASS: N35 02.925, W106 39.611
TURN: N35 03.014, W106 39.529
ALT: N35 03.005, W106 39.607
Map Filename:
RioBravoBosqueNorthMap_MW.jpg
Hike GPS File Name:
RioBravoBosqueNorthWayTrack_FE.gpx
Hike GPS File:
Click
link
to download hike waytrack file
Text Author:
Frank Ernst
Map Author:
Marilyn Warrant
Waypoints Author:
Frank Ernst
Track Author:
Frank Ernst
Maintainer:
Frank Ernst
Editor:
Marilyn Warrant