Lava Falls Loop Hike
In El Malpais Region
Map File Source: Garmin BaseCamp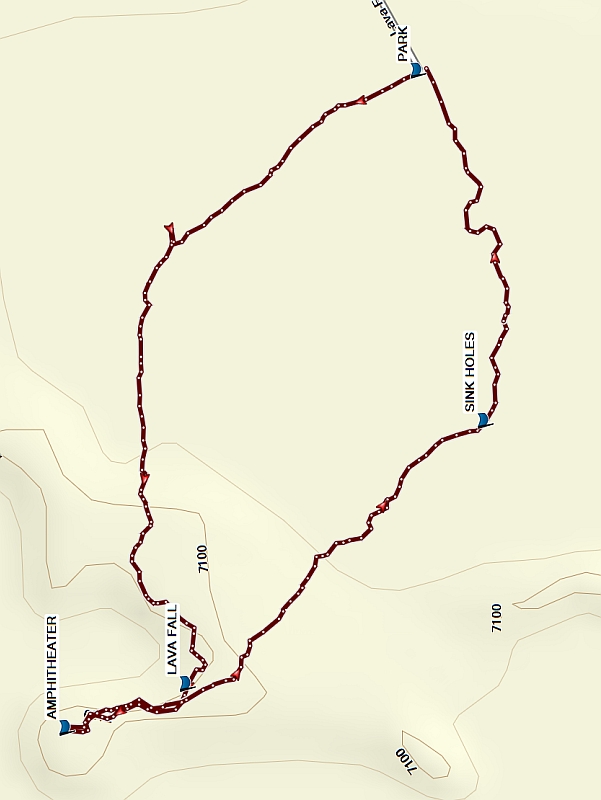 Hike Key:
H10619
Last Updated:
02/07/2022 12:00am
Last Updated By:
Marilyn Fixer
Hike Class:
B (Moderate)
Hike Distance:
1.1 mi
Minimum Elevation:
7109 ft
Elevation Change:
62 ft
Total Uphill:
100 ft
Total Downhill:
100 ft
Avg. Grade:
1 %
Route Type:
CCW Loop
On Trail:
No
Paved or Gravel Roads:
Yes
GPS Advised:
No
Drive Distance Round Trip:
103 mi
Drive Time One-Way:
1:45
Hiking Seasons:
Spring, Fall, and Winter
New Mexico Game Unit:
13
Hike Status:
Waiting Editor
Access Description:
El Malpais North Access
Highlights
An easy to moderate hike through part of McCartys Crater lava flow, the youngest lava flow at El Malpais National Monument. Observe collapses, cinder cones, miles of black lava as well as a pygmy forest of ponderosa and pinion trees and other plants that have managed to survive in this environment.
Cautions
Difficult walking on lava rock with loose rock and cracks; trekking poles and sturdy boots recommended.
Trailhead Directions
From Albuquerque take I-40 west to exit 89 near Grants. Go south on SR 117 about 28.7 miles. Signage for Lava Falls will be on the right (HWY117/LAVAFALLSRD).
Actual Hike
Pick up interpretive guides at the trailhead for the 1 mile loop that begins at PARK. Follow the signs that lead you to the rock cairn route that takes you into the pahoehoe lava of the McCartys flow, which was active about 3000 years ago.
Be sure to not leave one cairn until the next is in sight!
This short loop gives you the opportunity to observe a wide variety of lava features in a compact area. The trail crosses over cracks, ripples, lava toes, ridges, and collapses that have shrunk into empty cavities and impossible looking formations. Notice the gnarly vegetation that has been able to survive this inhospitable environment. Enjoy great views of the cinder cone volcanoes called the Chain of Craters and points of interest as you walk along.
Of special interest is a small LAVAFALL (0.5 mi) that was created as lava flowed over the edge of a previous flow. The next stop is a natural AMPHITHEATER (0.6 mi) created when lava formed a circular ridge. As you continue following cairns, notice the pygmy forest of pinons and ponderosa pine. Stop to observe SINKHOLES (0.9 mi) and take in the views of sandstone ridges as you you return to the PARK (1.1 mi) trailhead.
Lava Falls Trail Guides are available at the trailhead or online here: Lava Falls Area Trail Guide.
Waypoints
Access:
HWY117/LAVAFALLSRD: N34 44.469, W107 57.853
Hike:
PARK: N34 44.194, W107 58.576
LAVA FALL: N34 44.298, W107 58.925
AMPHITHEATER: N34 44.353, W107 58.950
SINK HOLES: N34 44.163, W107 58.775
Map Filename:
LavaFallsLoopMap1_DM.jpg
Hike GPS File Name:
LavaFallsLoop_DMDM.GPX
Hike GPS File:
Click
link
to download hike waytrack file
Text Author:
Dawn McIntyre
Map Author:
Dawn McIntyre
Waypoints Author:
Dawn McIntyre
Track Author:
Dawn McIntyre
Maintainer:
Dawn McIntyre
Editor:
Marilyn Warrant