GPS Training Hike
In Albuquerque Region
Map File Source: Garmin BaseCamp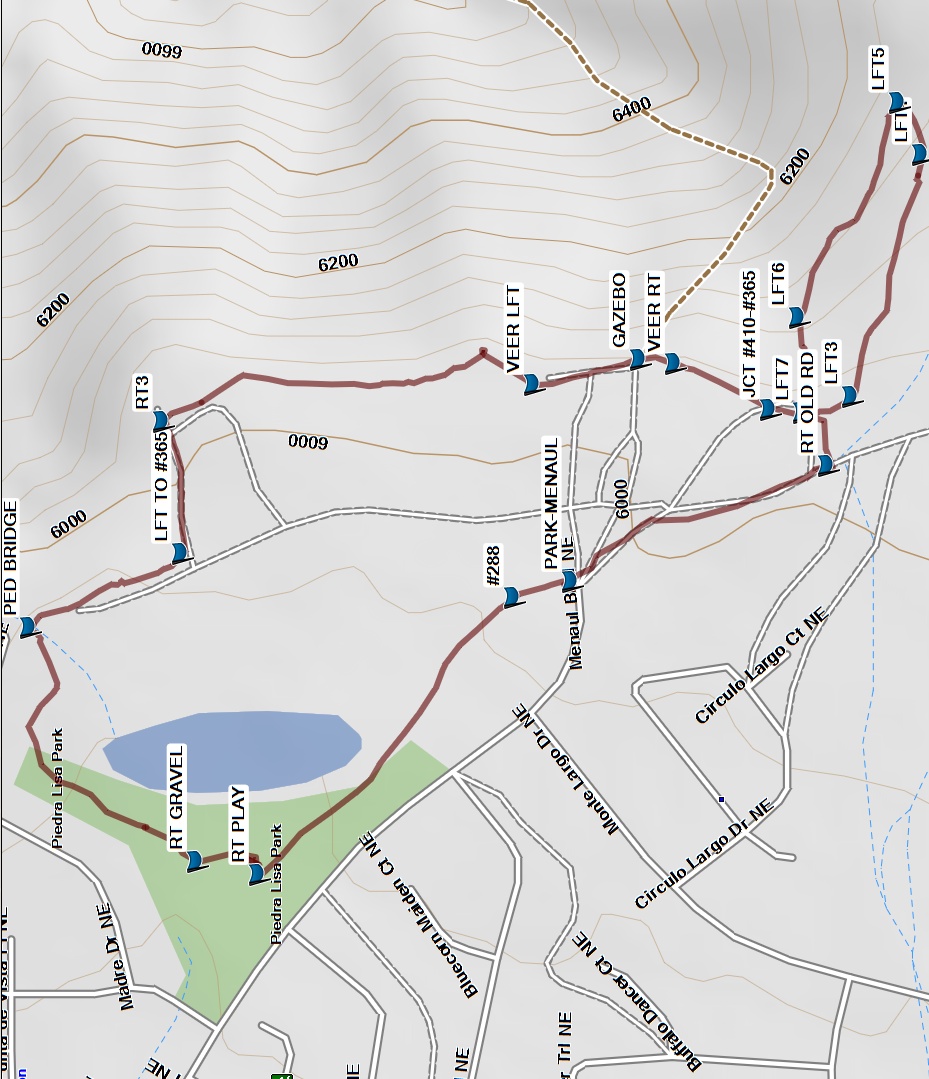 Hike Key:
H10617
Last Updated:
02/17/2021 12:00am
Last Updated By:
Marilyn Fixer
Hike Class:
A (Easy)
Hike Distance:
1.7 mi
Minimum Elevation:
5900 ft
Elevation Change:
150 ft
Total Uphill:
270 ft
Total Downhill:
270 ft
Avg. Grade:
1 %
Route Type:
Messy
On Trail:
Yes
Paved or Gravel Roads:
Yes
GPS Advised:
Yes
Drive Distance Round Trip:
0 mi
Drive Time One-Way:
Hiking Seasons:
Spring, Fall, and Winter
New Mexico Game Unit:
8
Hike Status:
In Process
Highlights
Views of Albuquerque; nice walk in the foothills.
Cautions
None.
Trailhead Directions
Take Tramway to Menaul, then go east to a parking area at the end of Menaul.
Actual Hike
From the parking area, go north on trail #288 to Piedra Lisa Park. Go around the east side of the playground next to the dam with a colorful design painted on it and turn RT GRAVEL (0.3 mi). Turn right after crossing the PED BRIDGE (0,5 mi). Go LEFT TO #365 (0.6 mi), then in a short distance turn RT3 (0.7 mi). Hike along the base of the hills, then VEER LEFT (0.9 mi). Pass a couple of GAZEBOs (1.0 mi), then VEER RIGHT (1.0 mi). Just after JCT #410-#365 (1.1 mi), go through the next junction of trails to continue south, then turn LFT3 (1.1 mi). Go steadily uphill, turn LFT4 (1.3 mi), then reach the high point of the hike at LFT5 (1.3 mi). Turn left here, then go back west along a loop, turn LFT6 (1.5 mi), then to the junction of trails and turn left at LFT7 (1.5 mi). In a very short distance, turn RT OLD RD (1.6 mi) at an old 2-track and continue back to PARK.
Map Filename:
GPSTrainingHikeMapBaseCamp1.jpg
Hike GPS File Name:
GPSTrainingFieldTripEd.gpx
Hike GPS File:
Click
link
to download hike waytrack file
Text Author:
Marilyn Warrant
Map Author:
Marilyn Warrant
Waypoints Author:
Marilyn Warrant
Track Author:
Marilyn Warrant
Maintainer:
Marilyn Warrant
Editor:
Howard Carr