Las Milpas Long Loop 2 Hike
In Ojito Region
Map File Source: Garmin BaseCamp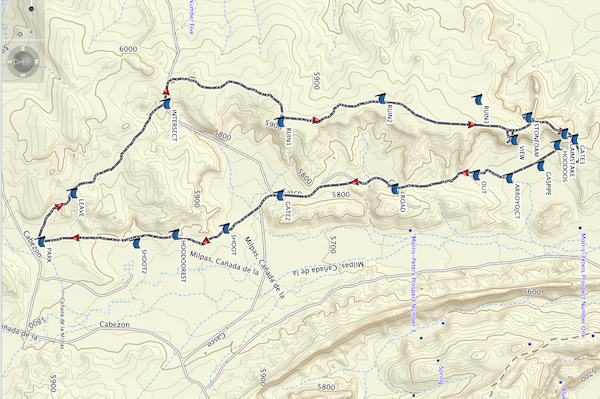 Hike Key:
H10618
Last Updated:
12/15/2020 12:00am
Last Updated By:
Marilyn Warrant
Hike Class:
C (Challenging)
Hike Distance:
8.3 mi
Minimum Elevation:
5684 ft
Elevation Change:
304 ft
Total Uphill:
1028 ft
Total Downhill:
1049 ft
Avg. Grade:
1 %
Route Type:
CW Loop
On Trail:
No
Paved or Gravel Roads:
No
GPS Advised:
Yes
Drive Distance Round Trip:
110 mi
Drive Time One-Way:
1:00
Hiking Seasons:
Spring, Fall, and Winter
New Mexico Game Unit:
9
Hike Status:
Published
Highlights
A mesa hike past sandstone formations, badlands, several ruins, and old mine claim stake. Dramatic 360 degree views of the eastern part of Ojito.
Cautions
Road is slick and dangerous when wet. Area is used by target shooters all year, especially along the road and SE portion of hike. Avoid this area on weekends when there may be 20+ shooters.
Trailhead Directions
I-25 north to exit 242. West on US 550 to milepost 21. Turn left at sign for Cabezon Rd. Go through the gate (ignore Zia Pueblo, No Trespassing sign). The road forks immediately. Take the left fork (Cabezon Rd.) and not the right one (White Mesa). Cabezon Rd. goes thru Zia land for about 4 miles, then at the cattle crossing enters Public Land (Ojito WSA). Continue approximately 2 more miles for a total of approximately 6 miles from US 550. Just past the White Mesa Bike Trails Area, take the first dirt road that turns off to the right. The side road is deeply rutted so you cannot drive very far. Find a wide spot to pull over and PARK. Do not block the road, this area is used daily by target shooters.
Actual Hike
Hike the road in a roughly northern direction. At the first three forks, go right. You will cross remnants of a pipeline. There are three pre-Columbian ruins (RUIN1 (2.1 mi), RUIN2 (2.8 mi), and RUIN3 (3.4 mi)) with Ruin 1 being the largest of the three. Ruins 2 and 3 are relatively minor, and Ruin 3 is about 200 feet west of the road. VIEW (3.8mi) is a great lunch spot, especially when the wind is from the NW. Even on windy days, there is some shelter from the wind. The next waypoint STONEDAM (4.1mi) could also be used for lunch spot when the winds are from the east. See if you can find the partially buried grouping of stones this waypoint is named for. The rocks may have been used as a sort of dam to catch water before it went over the edge of the mesa. This is another viewpoint that looks to the west/NW with views of Mesa Bernalillito, Cucho Mesa, and interesting rock formations in the distance and below. On the north side of this viewpoint, you can see remnants of a non-pueblo ruin below. CLAIMSTAKE (4.4mi), named for a mining claim, is on a small hill a short distance away. Notice the tall stake in the tree with an old rusted can that once held the miners claim as well as the thick post marker nearby. From here, the trail starts to turn downhill to the valley floor. You will need to climb over a locked GATE (4.5mi) and follow the road as it heads south. Along the rutted road, observe colored HOODOOS (4.8mi) to the west and a GASPIPE (4.9mi) with interesting wording welded onto it, about 50 feet east of the road. Continue on the road to ARROYOJCT (5.1mi) where the trail turns right into a deeply eroded arroyo. Follow this for a time, then exit at OUT (5.4mi) and follow cow paths for awhile. In this area, you will find interesting colorful rocks that resemble brain matter. Eventually, you will come back to the road. Shortly after GATE2 (6.7mi), you will leave the road and continue off trail in a southerly direction. HOODOOREST (7.5mi) is a good spot to take a short rest break. As you proceed south, you may soon encounter target shooters so proceed with caution as you make your way back to PARK.
Comments
This hike is in between White Mesa and Dinosaur Dig and located between Cañada de las Milpas on the east and Querencia Arroyo on the west. The road on top of the mesa follows the eastern boundary of the Ojito Wilderness Area. At the beginning of the hike to the west, there are some attractive cliffs and hoodoos in creamy white. On a clear day it offers 360 degree views of White Mesa, the Tierra Amarilla Anticline, Cabezon, Red Mesa, Redondo Peak, Bernalillito Mesa, Sierra Nacimiento to the north, the Sandias and an amazing palette of rock colors. The name "Las Milpas" was chosen because we look down into "Canada de Las Milpas" or "Valley of the Cornfields" (maize) just to the east.
Waypoints
PARK: N35 29.043, W106 51.446
LEAVE: N35 29.208, W106 51.756
INTERSECT: N35 29.682, W106 52.324
RUIN1: N35 30.265, W106 52.210
RUIN2: N35 30.781, W106 52.357
RUIN3: N35 31.274, W106 52.349
VIEW: N35 31.456, W106 52.095
STONEDAM: N35 31.529, W106 52.237
CLAIMSTAKE: N35 31.712, W106 52.133
GATE1: N35 31.764, W106 52.098
HOODOOS: N35 31.675, W106 52.062
GASPIPE: N35 31.591, W106 51.929
ARROYOJCT: N35 31.432, W106 51.851
OUT: N35 31.261, W106 51.869
ROAD: N35 30.847, W106 51.782
GATE2: N35 30.261, W106 51.740
SHOOT: N35 29.985, W106 51.529
HOODOOREST: N35 29.727, W106 51.492
SHOOT2: N35 29.528, W106 51.435
Map Filename:
Las Milpas Long Loop Map_DM.jpg
Hike GPS File Name:
LasMilpasLongLoop_DMDM.gpx
Hike GPS File:
Click
link
to download hike waytrack file
Text Author:
Dawn McIntyre
Map Author:
Dawn McIntyre
Waypoints Author:
Dawn McIntyre
Track Author:
Dawn McIntyre
Maintainer:
Dawn McIntyre
Editor:
Howard Carr