Las Huertas Open Space Hike
In Placitas Region
Map File Source: Roger Holloway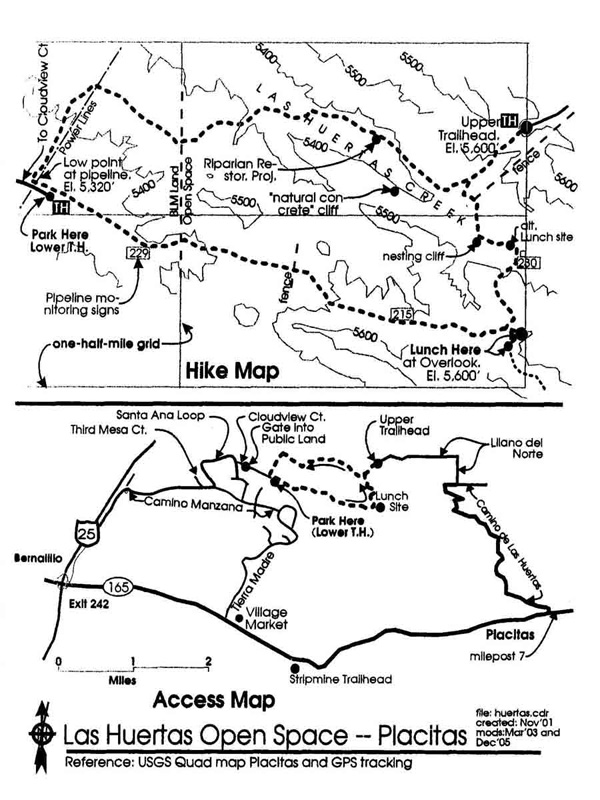 Hike Key:
H10088
Last Updated:
06/27/2021 12:00am
Last Updated By:
Marilyn Warrant
Hike Class:
B (Moderate)
Hike Distance:
5 mi
Minimum Elevation:
5326 ft
Elevation Change:
334 ft
Total Uphill:
673 ft
Total Downhill:
673 ft
Avg. Grade:
5 %
Route Type:
Loop
On Trail:
No
Paved or Gravel Roads:
No
GPS Advised:
Yes
Drive Distance Round Trip:
60 mi
Drive Time One-Way:
0:45
Hiking Seasons:
Spring, Fall, and Winter
New Mexico Game Unit:
8
Hike Status:
Published
Highlights
Pleasant loop hike where you will encounter tame "wild" horses and hike arroyos and ridges.
Cautions
None.
Trailhead Directions
To get to the lower trailhead (less driving): I-25 north to Bernalillo exit 242. Follow frontage road north to La Fargo Co.'s Sand and Gravel operation. Just beyond their gate is Camino Manzana. Follow it east past Third Mesa Ct. and turn left onto Santa Ana Loop which starts off going north and makes several turns. After Seasons Cir., it heads south. Watch for Cloudview Ct on the left. Turn east there and there is a gate into public lands a short distance away. Go through the gate and park at the turn around circle at the end of the road.
Actual Hike
You will notice two cliffs on the south side of the creek that are quite sheer. The hike visits the easternmost one. They are of "natural concrete" which looks just like real concrete with stones and gravel in a cement-like matrix. The lunch site offers a nice overlook of some unusual private homes. One is a sod-covered hogan with skylight. The grounds also house a llama, pigeons, horses, goats and other creatures. Another optional lunch site is in a grassy area in the creek that would offer more shelter if there is wind.
Comments
This great winter hike is part of Albuquerque's Open Space Program yet it is in the town of Placitas which has responsibility for its oversight. There is a Riparian Restoration Project ongoing with the goal of getting Las Huertas (The Orchards) Creek to slow down, meander and get more trees and shrubs growing.
See the Open Space map revised in 2019.
Waypoints
PARK-LOWER: N35 20.214, W106 29.089
PARK-UPPER: N35 20.379, W106 27.628
Map Filename:
LasHuertasOpenSpaceImage_RH.jpg
Hike GPS File Name:
LasHuertasOpenSpaceWayTrackRev_JBJB.gpx
Hike GPS File:
Click
link
to download hike waytrack file
Text Author:
Roger Holloway
Map Author:
Roger Holloway
Waypoints Author:
John Boyd
Track Author:
John Boyd
Maintainer:
Dawn McIntyre
Editor:
Marilyn Warrant