Seven Springs Hike
In Jemez Mountains Region
Map File Source: NG Topo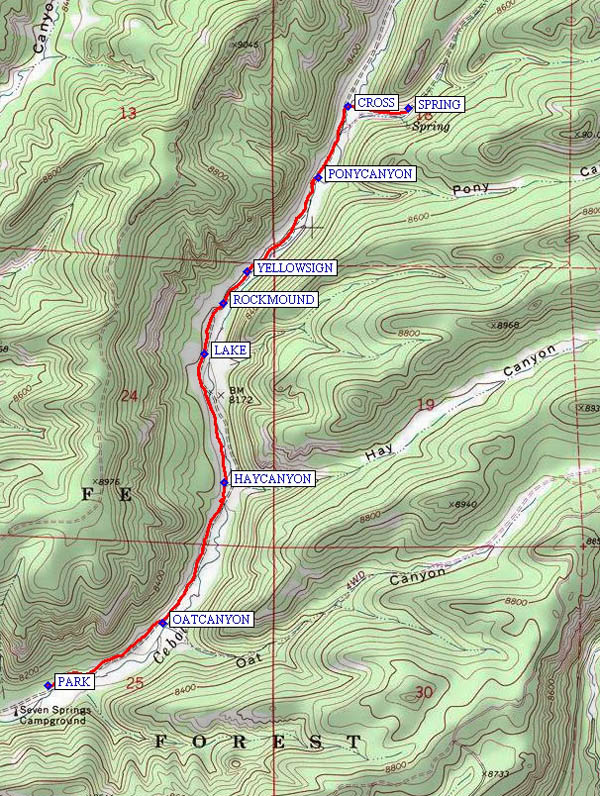 Hike Key:
H10083
Last Updated:
12/15/2020 12:00am
Last Updated By:
Marilyn Warrant
Hike Class:
B (Moderate)
Hike Distance:
5.7 mi
Minimum Elevation:
8068 ft
Elevation Change:
277 ft
Total Uphill:
302 ft
Total Downhill:
302 ft
Avg. Grade:
4 %
Route Type:
InOut
On Trail:
Yes
Paved or Gravel Roads:
No
GPS Advised:
No
Drive Distance Round Trip:
165 mi
Drive Time One-Way:
1:45
Hiking Seasons:
Spring, Summer, and Fall
New Mexico Game Unit:
6A
Hike Status:
Published
Highlights
Stream through open green valley lined by pines and sandstone cliffs. Wildflowers and fish.
Cautions
Cattle graze in the riparian area so beware the many cow pies.
Trailhead Directions
Take SR 126 west from SR 4 at La Cueva. Take a right on FR 314, which is 3.2 miles beyond the end of the bridge that crosses the marsh at Fenton Lake, to the Seven Springs fish hatchery. Continue past the fish hatchery to the day use area, and PARK (0.0 mi).
Actual Hike
Hike Trail 68 past OATCANYON (0.5 mi) and HAYCANYON (1.0 mi) to a LAKE (1.5 mi), then on past a ROCKMOUND (1.7 mi) and PONYCANYON (2.3 mi) until taking an opportunity to CROSS (2.6 mi) the stream and visit the SPRING (2.8 mi). On the way back, when you get to the lake, you can go down the other side of the stream for a little variety. If you'd like to avoid crossing the stream more than twice, you can stick to the western side of the stream until near the spring.
Comments
Jim Giachino says this was a hideout for Al Capone. Grassy meadows, nice little lake and babbling brook, craggy rocks with many birds and other wildlife. Ex: elk, deer, beaver, squirrel, mallard, vulture, Golden eagle, Marsh and Red-tailed hawks, Steller's jays. We even saw a big fish in the middle of the road (spilled out of hatchery truck.) Calaveras Canyon is the next canyon over on your left. Stop at the fish hatchery on the way home to see fingerlings and larger fish. Check ahead to verify that the gate at the Fish Hatchery to the day-use "campground" is open. You can call the hatchery at 1-575-829-3740 to inquire. In previous years, the gate has remained closed until Memorial Day.
Waypoints
PARK: N35 56.144, W106 40.996
OATCANYON: N35 56.329, W106 40.574
HAYCANYON: N35 56.743, W106 40.351
LAKE: N35 57.126, W106 40.422
ROCKMOUND: N35 57.276, W106 40.354
YELLOWSIGN: N35 57.369, W106 40.269
PONYCANYON: N35 57.648, W106 40.008
CROSS: N35 57.859, W106 39.900
SPRING: N35 57.854, W106 39.681
Map Filename:
SevenSpringsImage_MW.JPG
Hike GPS File Name:
SevenSpringsWayTrack_MWMW.gpx
Hike GPS File:
Click
link
to download hike waytrack file
Text Author:
Roger Holloway
Map Author:
Marilyn Warrant
Waypoints Author:
Marilyn Warrant
Track Author:
Marilyn Warrant
Maintainer:
Marilyn Warrant
Editor:
Howard Carr