Guadalupe Mesa Hike
In Jemez Mountains Region
Map File Source: DeLorme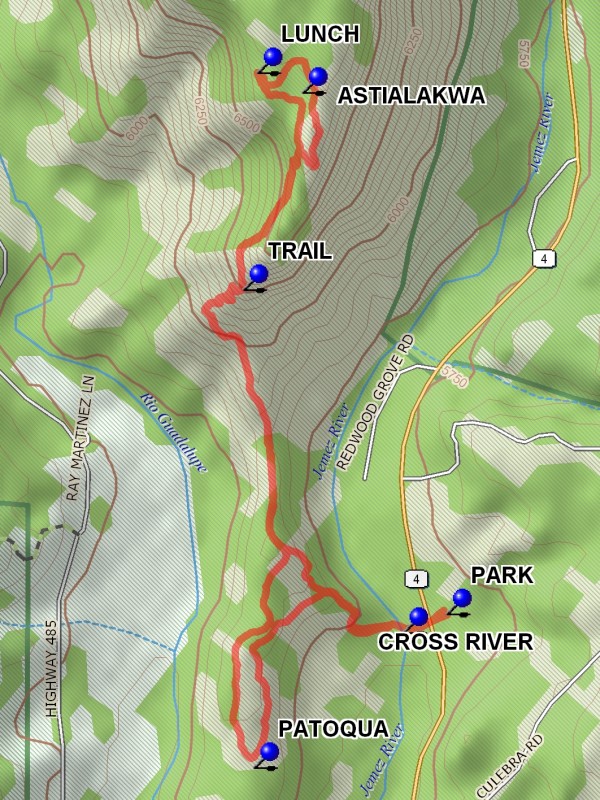 Hike Key:
H10045
Last Updated:
06/29/2021 12:00am
Last Updated By:
Marilyn Fixer
Hike Class:
C (Challenging)
Hike Distance:
3.9 mi
Minimum Elevation:
5712 ft
Elevation Change:
981 ft
Total Uphill:
1138 ft
Total Downhill:
1138 ft
Avg. Grade:
13 %
Route Type:
Loop
Protected:
Yes
On Trail:
No
Paved or Gravel Roads:
Yes
GPS Advised:
Yes
Drive Distance Round Trip:
100 mi
Drive Time One-Way:
1:00
Hiking Seasons:
New Mexico Game Unit:
6A
Hike Status:
Published
Highlights
Visit to extensive Pueblo ruins with views down to the Jemez River. See two articles: general and history.
Cautions
Very steep sections with some loose rock, requiring hiking poles.
Trailhead Directions
This hike is located at the confluence of the Guadalupe River (the one that flows past the Gilman Tunnels) and the Jemez River. We will PARK in one of the parking areas below the mesa along SR 4 and cross the Jemez River to begin the hike.
Actual Hike
From parking, CROSS RIVER (0.1 mi) and go generally northeast, then north. At about 0.8 mi, start going steeply up towards a mesa top. There's a TRAIL (1.0 mi). When you reach the mesa top, look for the ASTIALAKWA ruins (1.5 mi) near the cliffs to the east. Have LUNCH (1.7 mi) overlooking the cliffs to the west. Return south the way you came, but instead of returning to PARK, at 2.8 mi continue south to the PATOQUA ruins (3.3 mi), again near the east cliffs, then return to PARK.
Comments
This is a very short hike but it is very steep (up to 26% grade), hence the C rating. Hikers are cautioned to wear their best hiking boots, bring hiking sticks, and be prepared to go slowly both uphill and downhill. Those with bad knees should think twice about coming on this one.
Waypoints
PARK: N 35 40.852, W 106 44.231
CROSS RIVER: N 35 40.823, W 106 44.314
TRAIL: N 35 41.356, W 106 44.620
ASTIALAKWA: N 35 41.661, W 106 44.506
LUNCH: N 35 41.692, W 106 44.593
PATOQUA: N 35 40.614, W 106 44.600
Map Filename:
GuadalupeMesa_Dnew.jpg
Hike GPS File Name:
GuadalupeMesaWayTrackRev_DBMW.gpx
Hike GPS File:
Click
link
to download hike waytrack file
Text Author:
Roger Holloway
Map Author:
Marilyn Warrant
Waypoints Author:
Marilyn Warrant
Track Author:
Dick Brown
Maintainer:
Randy Simons
Editor:
Marilyn Warrant