Piedra Lisa All Hike
In Sandia Mountain West Region
Map File Source: DeLorme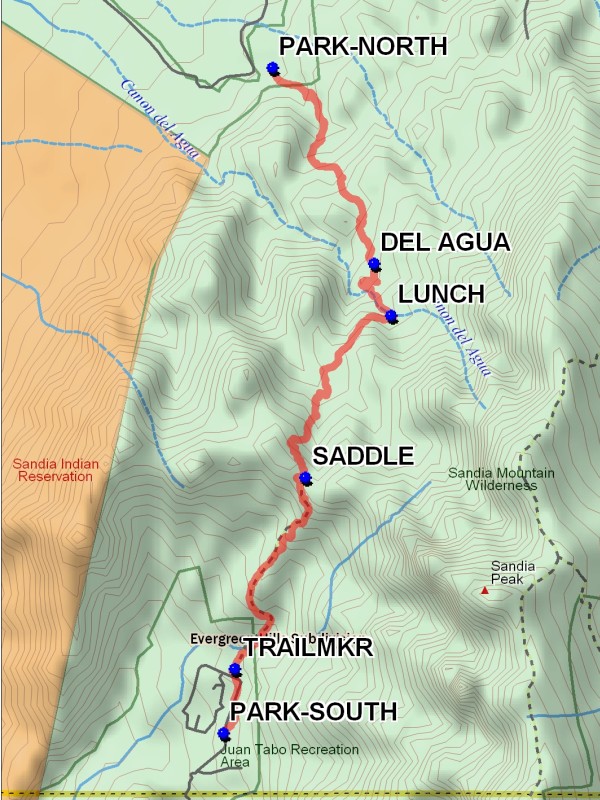 Hike Key:
H10032
Last Updated:
03/20/2023 2:33pm
Last Updated By:
Marilyn Fixer
Hike Class:
D (Difficult)
Hike Distance:
6 mi
Minimum Elevation:
6930 ft
Elevation Change:
2066 ft
Total Uphill:
2282 ft
Total Downhill:
2282 ft
Avg. Grade:
13 %
Route Type:
Crossover
On Trail:
Yes
Paved or Gravel Roads:
Yes
GPS Advised:
No
Hiker Limit (NF/BLM/NP):
15 (Sandia Wilderness)
Drive Distance Round Trip:
30 mi
Drive Time One-Way:
0:45
Hiking Seasons:
Spring and Fall
New Mexico Game Unit:
8
Hike Status:
Published
Highlights
Multiple hikes as a crossover from the Piedra Lisa North and South trailheads.
Cautions
A long, challenging hike. Trekking poles recommended.
Trailhead Directions
Most hikers usually start from the southern trailhead. One van driver drives his car and another driver drives the van. Both take Tramway Blvd north past Tramway Rd. The car driver parks his car at south trailhead at [PARK-SOUTH], and drives the van and a few hikers to the north trailhead at [PARK-NORTH] near Placitas. To see the trailhead directions for Piedra Lisa North To South, click here and for Piedra Lisa South To North, click here for details.
Actual Hike
See the descriptions for Piedra Lisa North To South and Piedra Lisa South To North for details.
Comments
The [LUNCH] spot is a good place to return the van keys to the van driver. The hike data listed above are for the north to south hike. The south to north hike is a C hike, with total vertical of 1183 ft.
Waypoints
PARK-SOUTH: N35 13.376, W106 29.011
TRAILMKR: N35 13.702, W106 28.940
SADDLE: N35 14.671, W106 28.504
LUNCH: N35 15.488, W106 27.970
DEL AGUA: N35 15.751, W106 28.076
PARK-NORTH: N35 16.743, W106 28.707
Map Filename:
PiedraLisaAll_Dnew.jpg
Text Author:
Frances Arnold
Map Author:
Marilyn Warrant
Waypoints Author:
Marilyn Warrant
Track Author:
Marilyn Warrant
Maintainer:
Randy Simons
Editor:
Howard Carr