Goblin Rocks And Ponderosa Indian Ruins Hike
In Jemez Mountains Region
Map File Source: NG Topo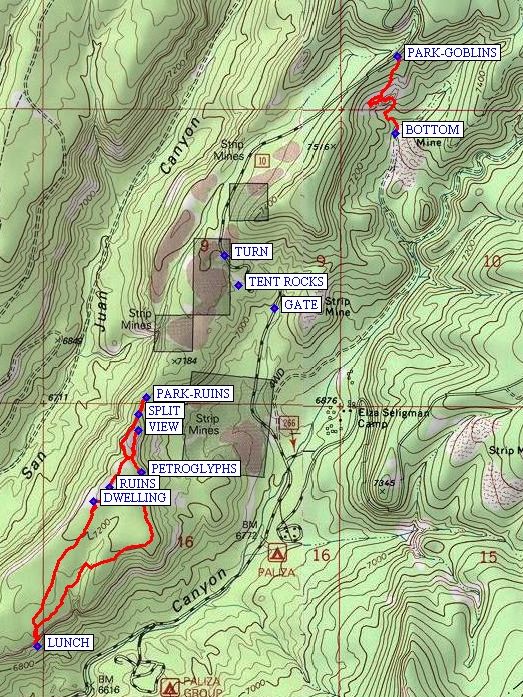 Hike Key:
H10397
Last Updated:
02/16/2021 12:00am
Last Updated By:
Marilyn Fixer
Hike Class:
C (Challenging)
Hike Distance:
3.5 mi
Minimum Elevation:
6960 ft
Elevation Change:
332 ft
Total Uphill:
780 ft
Total Downhill:
780 ft
Avg. Grade:
%
Route Type:
InOut
On Trail:
Paved or Gravel Roads:
GPS Advised:
Drive Distance Round Trip:
110 mi
Drive Time One-Way:
1:15
Hiking Seasons:
Spring, Summer, and Fall
New Mexico Game Unit:
6A
Hike Status:
Inactive
Highlights
Goblin rocks formations, extensive Pueblo ruins on Ponderosa Mesa.
Cautions
Not much shade, so can be hot.
Trailhead Directions
I-25 north, US 550 west, SSR 4 north, SR 290 east past Ponderosa. From Bernalillo take US 550 to San Ysidro. Take SR 4 north to the intersection with SR 290. Turn right onto SR 290 and proceed through the town of Ponderosa and past the Paliza campgrounds to a branch in the road. Go left, this is FR 10. It is 2.2 miles from the bridge after Paliza campground to the hoodoos. Hopefully, the GATE will be open. Park at a small turnout at PARK-GOBLINS on the right side of the road.
Actual Hike
For the Goblin part of the hike, climb down the hogback to the left, which gives a great view of the rest of the hoodoos across the canyon. Continue down the end of the hogback at BOTTOM and circle back up the hill to the van. The Goblin part of the hike is about one mile and 300′ climbing elevation.
For the Ponderosa Indian Ruins part of the hike, load up and drive the van south on FR10 a little less than one mile. Before you reach the TENT ROCKS, TURN onto a rough road and go to PARK-RUINS. At SPLIT, keep to the right, and climb around the west side to the south to get to the old Indian RUINS on Ponderosa Mesa that are covered with cholla cacti. There are two distinct plazas (see DWELLING) surrounded by 2′ to 5′ walls. Continue south through the village along the west rim and then crossover to the southeast rim for LUNCH overlooking the valley below then return to the van, stopping for a VIEW. The Ponderosa Mesa part of the hike is about 2.5 miles and 480 ft. climbing elevation.
Comments
The Goblin Rocks have been shaped by wind and water into gigantic "Easter Island" heads. There are two gates along FR10 that are locked during the winter that the Ranger Station opens between April 15 and May 15, depending on conditions. If you try this hike in the spring, call the ranger station to make sure that the gate at the Paliza Group Campground is open. There are other hikes on Ponderosa Mesa that visit the ruins and hike more of the mesa itself.
Hike set inactive because this access road to Ponderosa Mesa is difficult for a van.
Waypoints
BOTTOM: N 35 43.435, W 106 37.210
DWELLING: N 35 42.358, W 106 38.291
GATE: N 35 42.923, W 106 37.642
LUNCH: N 35 41.931, W 106 38.493
PARK-GOBLINS: N 35 43.662, W 106 37.203
PARK-RUINS: N 35 42.661, W 106 38.104
PETROGLYPHS: N 35 42.443, W 106 38.122
RUINS: N 35 42.398, W 106 38.236
SPLIT: N 35 42.613, W 106 38.131
TENT ROCKS: N 35 42.990, W 106 37.773
TURN: N 35 43.080, W 106 37.824
VIEW: N 35 42.564, W 106 38.133
Map Filename:
GoblinRocksAndPonderosaIndianRuinsImage_MW.JPG
Hike GPS File Name:
GoblinRocksAndPonderosaIndianRuinsWayTrack_RCRC.gpx
Hike GPS File:
Click
link
to download hike waytrack file
Text Author:
Roger Holloway
Map Author:
Marilyn Warrant
Waypoints Author:
Rodger Carlson
Track Author:
Rodger Carlson
Maintainer:
Marilyn Warrant
Editor:
Howard Carr