El Cerro de Los Lunas – Bowl Hike
In Los Lunas Region
Map File Source: NG Topo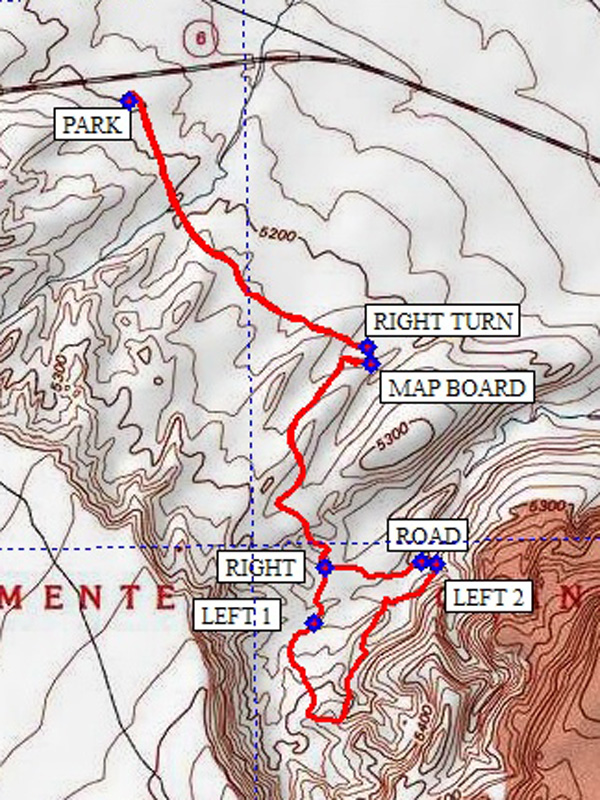 Hike Key:
H10532
Last Updated:
06/29/2021 12:00am
Last Updated By:
Marilyn Fixer
Hike Class:
A (Easy)
Hike Distance:
3.5 mi
Minimum Elevation:
5204 ft
Elevation Change:
230 ft
Total Uphill:
420 ft
Total Downhill:
420 ft
Avg. Grade:
5 %
Route Type:
Lollypop
On Trail:
Yes
Paved or Gravel Roads:
Yes
GPS Advised:
Yes
Drive Distance Round Trip:
60 mi
Drive Time One-Way:
1:30
Hiking Seasons:
Spring, Fall, and Winter
New Mexico Game Unit:
13
Hike Status:
Published
Highlights
Interesting rock formations on three sides of Bowl. Wildflowers in season. Views to North and West not usually seen.
Cautions
None.
Trailhead Directions
South on I-25 to Los Lunas. West on State 6 about 4 miles (just beyond mile marker 30) to trail head parking. Left into parking lot. Both parking area and entrance have good signs for the public.
Actual Hike
Los Lunas Open Space has several good trail markers in this space. Most waypoints are at these markers. From parking lot PARK follow graveled road to RIGHT TURN, cross blocked drainage to MAP BOARD, examine rules of Los Lunas open space and continue West and South past trailhead marked Overlook to trailhead on right marked Bowl, RIGHT. Follow trail on old road to LEFT 1 (Marker present) then on foot trail through Bowl (some elevation change on this section) to trail marker LEFT 2. Hike leaves Los Lunas Bowl trail at this point to cross over blocked drainage to ROAD. Make left at ROAD and return on this road to graveled road and parking lot.
Comments
This is a good replacement hike when a winter hike has to be canceled due to road conditions North, East, or West out of Albuquerque.
Waypoints
PARK: N 34 49.357, W 106 48.695
RIGHT TURN: N 34 48.968, W 106 48.235
MAP BOARD: N 34 48.942, W 106 48.229
RIGHT: N 34 48.618, W 106 48.317
LEFT 1: N 34 48.530, W 106 48.338
LEFT 2: N 34 48.623, W 106 48.105
ROAD: N 34 48.628, W 106 48.133
Map Filename:
El Cerro de Los Lunas_Bowl Hike_ks.jpg
Hike GPS File Name:
El Cerro de Los Lunas_Bowl Hike_KSKS.gpx
Hike GPS File:
Click
link
to download hike waytrack file
Text Author:
Theodore (Ted) Cooley
Map Author:
Ken Smith
Waypoints Author:
Ken Smith
Track Author:
Ken Smith
Maintainer:
Cathy Intemann
Editor:
Howard Carr