Coyote Trail Hike
In Cedro Peak Region
Map File Source: DeLorme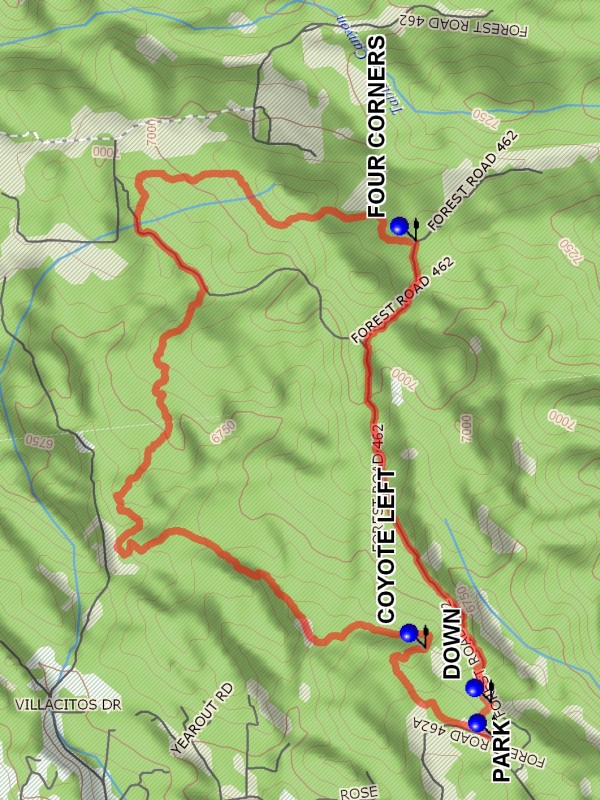 Hike Key:
H10393
Last Updated:
12/15/2020 12:00am
Last Updated By:
Marilyn Warrant
Hike Class:
C (Challenging)
Hike Distance:
7.3 mi
Minimum Elevation:
6540 ft
Elevation Change:
600 ft
Total Uphill:
800 ft
Total Downhill:
800 ft
Avg. Grade:
5 %
Route Type:
CW Loop
On Trail:
Yes
Paved or Gravel Roads:
Yes
GPS Advised:
No
Drive Distance Round Trip:
40 mi
Drive Time One-Way:
0:45
Hiking Seasons:
Spring, Summer, and Fall
New Mexico Game Unit:
14
Hike Status:
Published
Highlights
A good fall and spring hike, or a winter hike if there is no snow.
Cautions
None.
Trailhead Directions
From Albuquerque take I-40 west to the Tijeras exit. Take SR 337 south through the traffic light for about 1.6 miles to Chamisoso Canyon Rd on your left. Take this dirt road east for about 0.8 mile and park at PARK (0.0 mi).
Actual Hike
At the gate to the right there is a two track diverging from the road. Take this track. After a few hundred feet there is a "No Dumping" sign and a trail off to the right. Do not take this trail, but stay on the two track. Take COYOTE LEFT (0.6 mi). The trail descends down an arroyo, then proceeds up and down, twisting and turning for 4.6 miles. This section is sometimes smooth and open, sometimes wooded and rocky. Look back for views of the Sandias. Eventually FOUR CORNERS (2.8 mi) is reached. This is a big intersection in the Cedro Peak area. Turn right onto FR 462 (unmarked of course). This is the rocky road back down, with views of Cedro Peak and Chamisoso Canyon. This road is driven only by the most foolish of vehicle drivers. Go DOWN (4.7 mi) (right) taking the heavily burned "road" to the outgoing part of the hike and left to parking.
Comments
A good fall and spring hike, or a winter hike if there is no snow. This hike is not a walk in the park. As a bike route it is rated strenuous.
Waypoints
PARK: N 35 03.917, W 106 22.133
COYOTE LEFT: N 35 04.129, W 106 21.793
FOUR CORNERS: N 35 04.159, W 106 20.251
DOWN: N 35 03.926, W 106 22.002
Map Filename:
CoyoteTrail_Dnew.jpg
Hike GPS File Name:
CoyoteTrailWayTrack_DBDB.gpx
Hike GPS File:
Click
link
to download hike waytrack file
Text Author:
Dick Brown
Map Author:
Marilyn Warrant
Waypoints Author:
Dick Brown
Track Author:
Dick Brown
Maintainer:
Bill Gloyd
Editor:
Marilyn Warrant