Canoncito De Las Cabras Loop Hike
In Socorro Region
Map File Source: DeLorme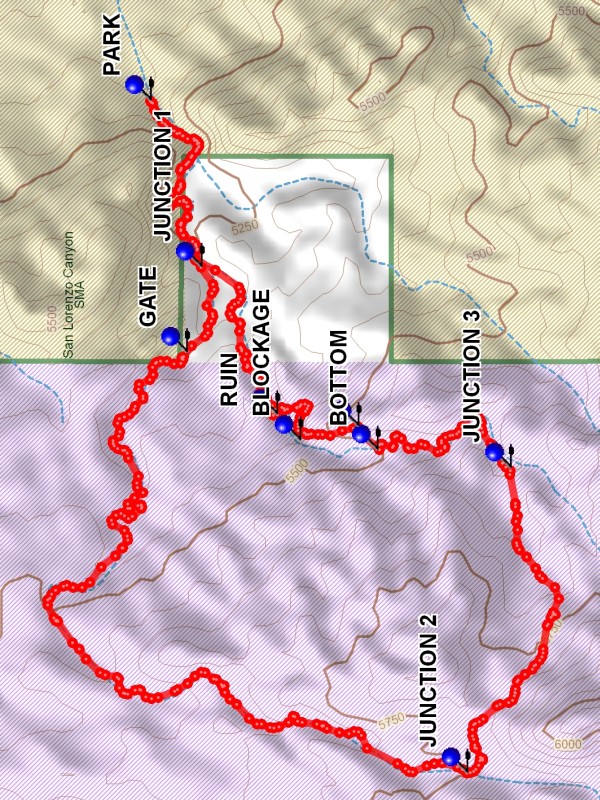 Hike Key:
H10395
Last Updated:
12/15/2020 12:00am
Last Updated By:
Marilyn Warrant
Hike Class:
B (Moderate)
Hike Distance:
6.1 mi
Minimum Elevation:
5208 ft
Elevation Change:
589 ft
Total Uphill:
650 ft
Total Downhill:
650 ft
Avg. Grade:
5 %
Route Type:
CCW Loop
On Trail:
Paved or Gravel Roads:
GPS Advised:
Drive Distance Round Trip:
140 mi
Drive Time One-Way:
1:30
Hiking Seasons:
Spring, Fall, and Winter
New Mexico Game Unit:
13
Hike Status:
Inactive
Highlights
An interesting slot canyon with good views of the San Lorenzo Canyon area, Polvadera Mountain to the south, and the Sevilleta National Wildlife Refuge to the north.
Cautions
Intrudes on private land, unavoidable.
Trailhead Directions
From Albuquerque take I-25 south to the San Acacia exit. Proceed to the East side of I-25 and take the access road South to the road that goes under I-25 and turn right. After going under I-25, at the bend in the road go straight onto the dirt road. Do not turn at the San Lorenzo Canyon right turn sign. Go to the PARK (0.0 mi) waypoint, about 4 miles and just before entering a notch.
Actual Hike
From parking go through the notch, which is quite scenic. At JUNCTION 1 (0.6 mi) go to the right, continuing in the main arroyo. The arroyo will turn to the south and arrive at JUNCTION 2 (3.1 mi). At this point leave the main arroyo and proceed up the road to the top of a ridge. This point provides good views to the east. Continue down to road to JUNCTION 3 (4.0 mi) and bear left. Go down the deeping arroyo to BOTTOM (4.6 mi) where you must leave the arroyo, going up to the right. Still going north find a way back down into the arroyo past the BLOCKAGE (4.8 mi), arriving at the RUIN (5.0 mi), then continue to JUNCTION 1 and go back to parking.
Comments
INACTIVE HIKE – Notch area is private land and is now posted
When doing the hike counterclockwise leave the canyon at the BOTTOM (4.6 mi) point as the BLOCKAGE (4.8 mi) is impassable. When doing the hike clockwise leave the canyon at the RUIN point as the BLOCKAGE is impassable.
Waypoints
PARK: N34 13.491, W106 58.854
JUNCTION 1: N34 13.386, W106 59.270
GATE: N34 13.416, W106 59.484
JUNCTION 2: N34 12.835, W107 00.538
JUNCTION 3: N34 12.745, W106 59.774
BOTTOM: N34 13.020, W106 59.729
TOP: N34 13.060, W106 59.669
BLOCKAGE: N34 13.181, W106 59.704
RUIN: N34 13.229, W106 59.639
Map Filename:
CanoncitoDeLasCabrasLoop_Dnew.jpg
Hike GPS File Name:
CanoncitoDeLasCabrasLoopWayTrack_DBDB.gpx
Hike GPS File:
Click
link
to download hike waytrack file
Text Author:
Dick Brown
Map Author:
Marilyn Warrant
Waypoints Author:
Dick Brown
Track Author:
Dick Brown
Maintainer:
Marilyn Warrant
Editor:
Howard Carr