ABQ Art, History, Architecture: Nob Hill & UNM Hike
In Albuquerque Region
Map File Source: Garmin BaseCamp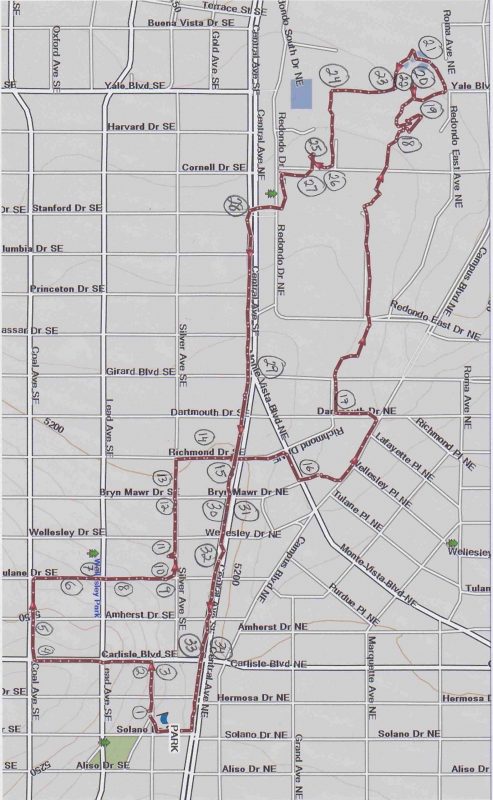 Hike Key:
H10548
Last Updated:
12/15/2020 12:00am
Last Updated By:
Marilyn Warrant
Hike Class:
A (Easy)
Hike Distance:
3.9 mi
Minimum Elevation:
5157 ft
Elevation Change:
112 ft
Total Uphill:
140 ft
Total Downhill:
140 ft
Avg. Grade:
%
Route Type:
Loop
On Trail:
Yes
Paved or Gravel Roads:
Yes
GPS Advised:
No
Drive Distance Round Trip:
10 mi
Drive Time One-Way:
0:15
Hiking Seasons:
Spring and Fall
New Mexico Game Unit:
9
Hike Status:
Published
Highlights
A walking tour of Nob Hill and the UNM campus highlighting history, architecture, landscaping, and Public Art installations.
Cautions
Most of the walk will be on concrete surfaces. Wear comfortable shoes.
Trailhead Directions
Hike will begin at the free parking lot behind the Nob Hill shopping center (La Montanita Coop). It is on Silver, between Carlisle and Amherst.
Actual Hike
The hike will encompass two interesting areas of Southeast Albuquerque. Brief commentary will be presented at many waypoints, but we will walk briskly and far enough to qualify as exercise. In the Nob Hill section, we will compare residences of several characteristic architectural styles as well as historic churches and commercial areas. On the UNM campus, we will view some of the iconic original buildings, take note of many public sculptures, and rest at the Duck Pond. We will return to our starting point via Central Avenue (Route 66), to see how old and new have developed into the eclectic mix of today's Nob Hill neighborhood.
Comments
The hike is approximately 4 miles, and will take 2.5 – 3 hours. The last mile is straight along Central. If you get tired, you could opt to take the bus (Rapid Ride) for $.35 back to the starting point.
Hike data were determined using a Garmin GPSMap 60CSx and Garmin BaseCamp's DEM for TOPO US 24K Southwest.
Map Filename:
NobHill_Art&ArchitectureMap1_JWMW.jpg
Hike GPS File Name:
NobHill_Art&ArchitectureWayTrack_MW.gpx
Hike GPS File:
Click
link
to download hike waytrack file
Additional File 1 Link
Click
link
to download an additional file.
Text Author:
Joan Weissman
Map Author:
Joan Weissman
Waypoints Author:
Marilyn Warrant
Track Author:
Marilyn Warrant
Maintainer:
Joan Weissman
Editor:
Howard Carr