ABQ Art, History, Architecture: Downtown-Old Town Hike
In Albuquerque Region
Map File Source: Other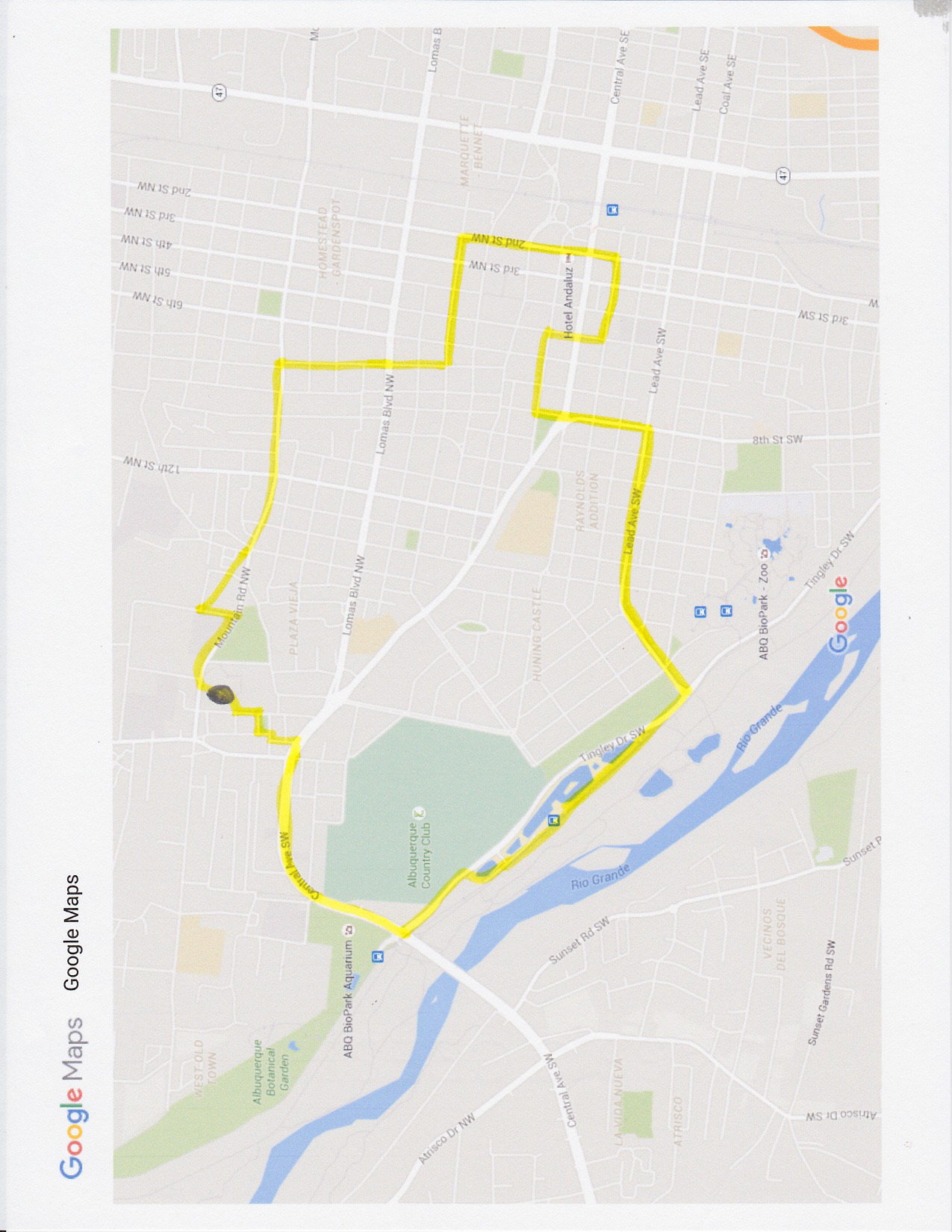 Hike Key:
H10503
Last Updated:
03/10/2021 12:00am
Last Updated By:
Marilyn Fixer
Hike Class:
B (Moderate)
Hike Distance:
5.1 mi
Minimum Elevation:
4951 ft
Elevation Change:
10 ft
Total Uphill:
10 ft
Total Downhill:
10 ft
Avg. Grade:
%
Route Type:
CW Loop
On Trail:
Yes
Paved or Gravel Roads:
Yes
GPS Advised:
No
Drive Distance Round Trip:
16 mi
Drive Time One-Way:
0:15
Hiking Seasons:
Spring, Fall, and Winter
New Mexico Game Unit:
9
Hike Status:
Published
Highlights
Stroll through downtown and Old Town Albuquerque to see public art, sculpture, architecture and historic features.
Cautions
Bring your smaller packs–at the Federal Courthouse we will be going through security, and a huge pack is inconvenient.
Trailhead Directions
From I-40, exit on Rio Grande Boulevard and travel south to Mountain Road. Turn left/east and, just past the Albuquerque Museum of Art and History, turn right/south on 19th. Park on 19th Street near the museum.
Actual Hike
Start at the Albuquerque Museum sculpture garden, go north to Mountain Road and view sculptures near the Natural History Museum and Explora!. Continue along Mountain Road to 7TH and turn right/south to see the Harwood. At Roma, turn left/east, to Second, for an old mural on the laundry building. Go south on 3rd to COPPER, turn right/west on Copper and go to the Main Library at 5th. Go south on Second to the Convention Center tile murals, the historic Hotel Andaluz, and more wall murals. Turn west on Gold to see Amy Biehl, the Federal Courthouse, and the white ceramic bank. Turn north on Fifth to pass the Kimo, and view art at the parking garage and the Public Library at Fifth and Copper. Continue west on Copper to the corner of Robinson Park, and turn south on Eighth. Pass the Fire Station 3-dimensional mural. Turn right/west on Lead, which becomes Alcalde Place when it turns southwest. Cross Tingley Drive and turn right/northwest. Continue through Tingley Beach Aquatic Park to see several sculptures. Continue to Central and turn right/northeast. Notice the Beach Condominiums. Pass the El Vado and Turquoise Museum. Cross Rio Grande Blvd. and turn left/north on Romero. Walk through Old Town, viewing the Virgin of Guadalupe tree and the small chapel. Return to the back entrance of the Museum, viewing the rest of the sculpture garden and mosaic pathways.
Comments
This hike explores the museum district, downtown, Tingley Beach and Old Town, focusing on art and historic buildings. Highlights are creations installed through the city's 1% Public Art Program, started in 1978. Albuquerque was one of the first U.S. cities to have such a program. It sets aside 1% of voter-approved general obligation and revenue bonds for art in public spaces. An Urban Enhancement Trust Fund, created in 1983, funds capital and cultural projects. Today there are more than 650 works of public art city-wide.
Map Filename:
art hike map_2.jpeg
Additional File 1 Link
Click
link
to download an additional file.
Text Author:
Joan Weissman
Map Author:
Joan Weissman
Waypoints Author:
Track Author:
Maintainer:
Joan Weissman
Editor:
Howard Carr