Valle De Oro National Wildlife Refuge Short Hike
In Albuquerque Region
Map File Source: DeLorme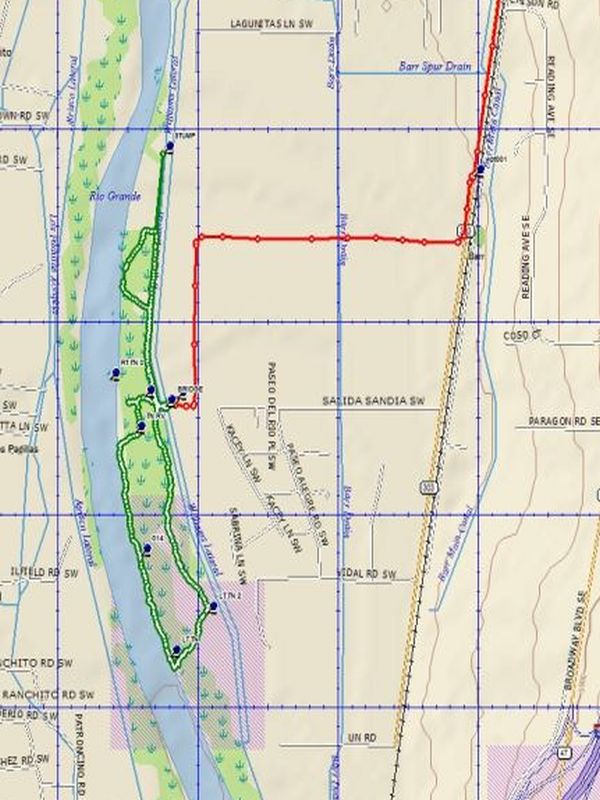 Hike Key:
H10590
Last Updated:
03/19/2021 12:00am
Last Updated By:
Marilyn Fixer
Hike Class:
B (Moderate)
Hike Distance:
4 mi
Minimum Elevation:
4800 ft
Elevation Change:
20 ft
Total Uphill:
20 ft
Total Downhill:
20 ft
Avg. Grade:
%
Route Type:
Figure8
On Trail:
Yes
Paved or Gravel Roads:
Yes
GPS Advised:
No
Drive Distance Round Trip:
25 mi
Drive Time One-Way:
0:30
Hiking Seasons:
Spring, Summer, Fall, and Winter
New Mexico Game Unit:
9
Hike Status:
In Process
Highlights
Great foliage in foliage season and/or birds in flight or resting in bird season. See birds feeding in tthe open fields on the way to the trailhead.
Cautions
Do not fall in the water or trip over the weeds.
Trailhead Directions
From Albuquerque go South on I-25 to the Rio Bravo Exit. Exit I-25 at Rio Bravo and travel west. At 2nd Street go south for 3 1/2 miles. (Do not turn left onto Desert Road and cross the railroad tracks.) Note the sign on the right side of 2nd street for Valle de Oro. Enter the parking lot and make an immediate left turn so that you are traveling south parallel to 2nd street. After 0.2 miles the road turns right (west) and in 0.9 miles note the large white gate on the right. At this point turn left (south) for 0.5 miles to a "T" intersection. Turn right (west) and travel for 0.1 miles and park.
Actual Hike
Pass through the gate and hike the figure eight choosing to traverce it in one of seversl ways.
Comments
The Valle de Oro has been made a national wildlife area. See the Valle de Oro website.
Map Filename:
ValDeOroShortAccess.jpg
Text Author:
Dick Brown
Map Author:
Dick Brown
Waypoints Author:
Dick Brown
Track Author:
Dick Brown
Maintainer:
Frank Ernst
Editor:
Marilyn Warrant