Tingley Beach South to Bridge Hike
In Albuquerque Region
Map File Source: GPS Visualizer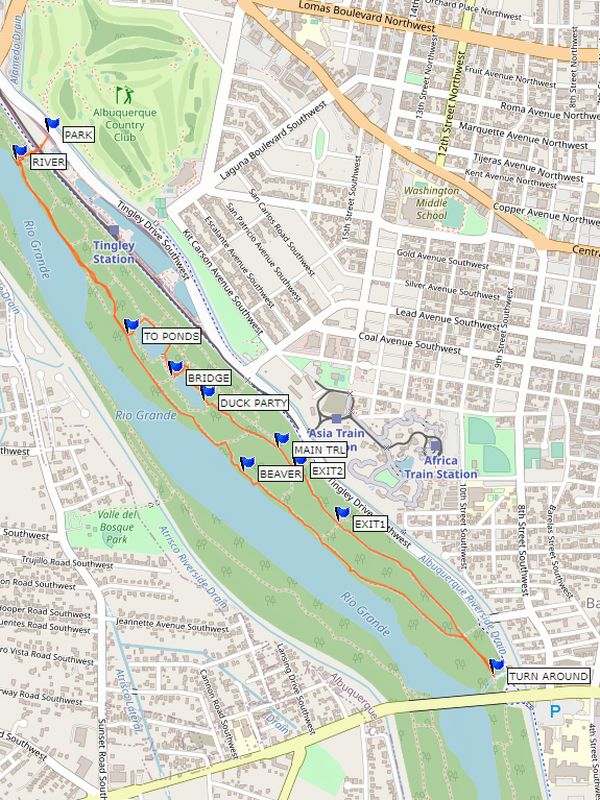 Hike Key:
H10668
Last Updated:
01/02/2023 8:56pm
Last Updated By:
Marilyn Warrant
Hike Class:
A (Easy)
Hike Distance:
3.8 mi
Minimum Elevation:
4930 ft
Elevation Change:
20 ft
Total Uphill:
20 ft
Total Downhill:
20 ft
Avg. Grade:
0 %
Route Type:
CW Loop
On Trail:
Yes
Paved or Gravel Roads:
Yes
GPS Advised:
No
Drive Distance Round Trip:
25 mi
Drive Time One-Way:
0:30
Hiking Seasons:
Spring, Summer, Fall, and Winter
New Mexico Game Unit:
9
Hike Status:
In Process
Attractions:
Fall Color, Forest, Water Features, and Wildlife
Highlights
A fun walk along the river and through the trees to several ponds. You may see a bald eagle, some cranes, and many ducks and geese.
Cautions
None.
Trailhead Directions
From I-40 take the Rio Grande exit. Go south to Central Ave. Turn right (west) on Central to Tingley Blvd. Turn left (south) on Tingley. There are many entrances on your right into the Tingley parking and ponds area. Take the first one available, and as you get into the parking area, go right (back north toward Central Ave.) PARK in the farthest north section, a dirt lot.
Actual Hike
Start out with a view of the RIVER. Go south from there until you reach TO PONDS which takes you over a berm to the first of two ponds. In warm weather, expect to see many turtles. Continue over to the second pond. At DUCK PARTY you may see a raft of shoveler ducks rotating as they stir up the bottom of the pond. From there, take the MAIN TRL all the way to the TURN AROUND point. On the way there are several locations (EXIT1 and EXIT2) where you can reach the river trail and head back if the weather is bad.
During your trip back along the river trail, you may signs of recent BEAVER activity. There are places where you can see the remnants of the old flood control measures (Jetty Jacks) along the bank.
Waypoints
PARK: N35 05.330, W106 40.578
RIVER: N35 05.276, W106 40.656
TO PONDS: N35 04.924, W106 40.379
BRIDGE: N35 04.839, W106 40.272
DUCK PARTY: N35 04.790, W106 40.192
MAIN TRL: N35 04.695, W106 40.009
EXIT2: N35 04.653, W106 39.965
BEAVER: N35 04.645, W106 40.096
EXIT1: N35 04.544, W106 39.861
TURN AROUND: N35 04.236, W106 39.479
Map Filename:
TingleyBeachSBridge.jpg
Hike GPS File Name:
TingleyBeachSBridge_MW.gpx
Hike GPS File:
Click
link
to download hike waytrack file
Text Author:
Marilyn Warrant
Map Author:
Marilyn Warrant
Waypoints Author:
Marilyn Warrant
Track Author:
Marilyn Warrant
Maintainer:
Not Assigned
Editor:
Howard Carr