South Crest from Canyon Estates To Bathtub Hike
In Sandia Mountain South Region
Map File Source: NG Topo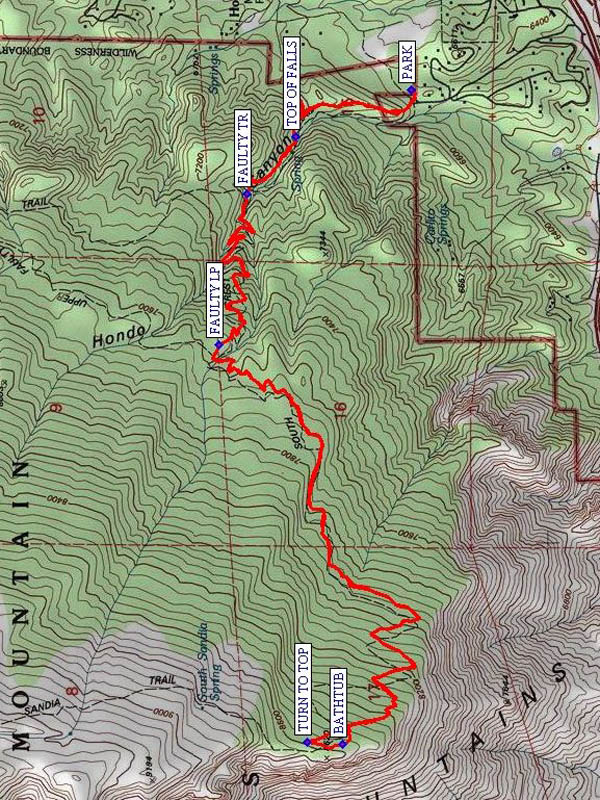 Hike Key:
H10334
Last Updated:
03/20/2023 2:39pm
Last Updated By:
Marilyn Fixer
Hike Class:
D (Difficult)
Hike Distance:
9.1 mi
Minimum Elevation:
6566 ft
Elevation Change:
2042 ft
Total Uphill:
2067 ft
Total Downhill:
2067 ft
Avg. Grade:
11 %
Route Type:
InOut
On Trail:
Yes
Paved or Gravel Roads:
Yes
GPS Advised:
No
Hiker Limit (NF/BLM/NP):
15 (Sandia Wilderness)
Drive Distance Round Trip:
40 mi
Drive Time One-Way:
0:30
Hiking Seasons:
Spring, Fall, and Winter
New Mexico Game Unit:
8
Hike Status:
Published
Highlights
Interesting views to the east and south. An east mountains hike fairly close to Albuquerque. The Bathtub, a large hole in the rock, is interesting and unusual.
Cautions
Trail is steep and rocky at times, so trekking poles are recommended.
Trailhead Directions
I-40 east, then take Tijeras exit 175. DO NOT FOLLOW ROAD TO CEDAR CREST. Instead, go left, back under the highway and then right into Canyon Estates, follow main road all way to end at the trailhead.
Actual Hike
After 15-20 minutes into hike follow sign to Travertine Falls and caves, then southeast and then west joining main Crest Trail 130 again. You will pass the TOP OF FALLS (0.6 mi)), and intersections with FAULTY TR (0.9 mi)) and Faulty Loop (FAULTY LP (2.0 mi)). The trail becomes steeper. Take a southerly turn at TURN TO TOP (4.4 mi) to go by a rock that has a nice seat (BATHTUB (4.6 mi)). Then find a nice place for lunch and return the way you came.
Comments
After the switchback climb from Travertine Falls up to the second half of Faulty Loop, the trail becomes very gradual and easy. Views of the cement factory complex and town of Carnuel off to the south. If you go far enough you will get great views of Three Gun Spring Canyon, and Albuquerque.
Waypoints
PARK: N 35 05.388, W 106 23.475
TOP OF FALLS: N 35 05.711, W 106 23.636
FAULTY TR: N 35 05.851, W 106 23.834
FAULTY LP: N 35 05.928, W 106 24.351
TURN TO TOP: N 35 05.680, W 106 25.715
BATHTUB: N 35 05.581, W 106 25.721
Map Filename:
SouthCrestfromCanyonEstatesToBathtubImage_RC.JPG
Hike GPS File Name:
SouthCrestfromCanyonEstatesToBathtubWayTrack_RCRC.gpx
Hike GPS File:
Click
link
to download hike waytrack file
Text Author:
Roger Holloway
Map Author:
Rodger Carlson
Waypoints Author:
Rodger Carlson
Track Author:
Rodger Carlson
Maintainer:
Nancy Carr
Editor:
Marilyn Warrant