Red Rocks Crossover Hike
In Northwest New Mexico Region
Map File Source: Garmin BaseCamp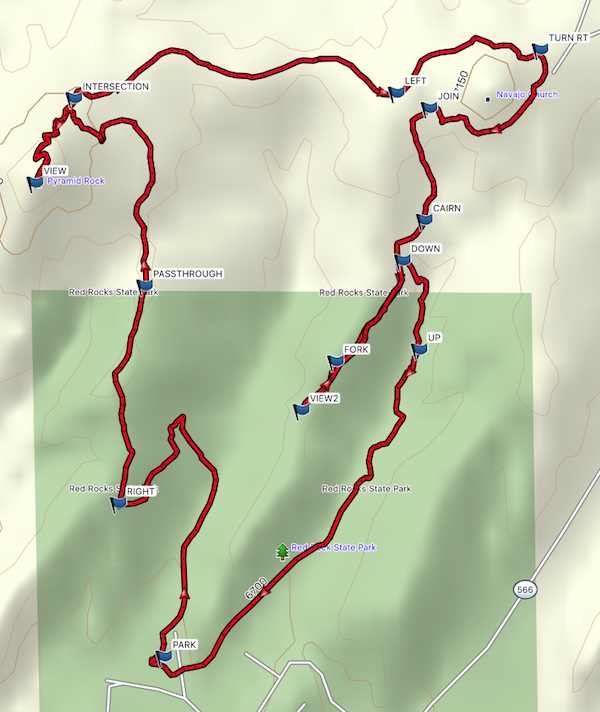 Hike Key:
H10572
Last Updated:
12/15/2020 12:00am
Last Updated By:
Marilyn Warrant
Hike Class:
C (Challenging)
Hike Distance:
6.1 mi
Minimum Elevation:
6669 ft
Elevation Change:
798 ft
Total Uphill:
1465 ft
Total Downhill:
1446 ft
Avg. Grade:
5 %
Route Type:
CW Loop
On Trail:
No
Paved or Gravel Roads:
Yes
GPS Advised:
Yes
Drive Distance Round Trip:
280 mi
Drive Time One-Way:
2:00
Hiking Seasons:
Spring, Fall, and Winter
New Mexico Game Unit:
10
Hike Status:
Published
Highlights
Great far views from Pyramid and lots of formations and mesas to be seen on the crossover and back down from Church Rock.
Cautions
The use of hiking poles is recommended. The use of a GPS for leading this hike is recommended.
Trailhead Directions
From Albuquerque take I-40 to the Fort Wingate exit (Exit 33) at 134 miles. Take route 66 west for 4 miles to SR-566 and turn right. Go over the railroad overpass and on to the Red Rocks Entrance on the left, about 0.6 miles, and turn left. Continue Straight to the Convention Center parking lot and [PARK]
Actual Hike
Follow the Pyramid Rock Trailhead signs to the dirt barrier and information board where the formal trail begins. Follow this trail as it winds upward, enjoying the views as you go. Be sure to turn RIGHT (0.8 mi). Continue through the PASSTHROUGH (1.3 mi), continue to INTERSECTION (1.8 mi) where you turn left to proceed upward to the peak of Pyramid Rock to enjoy the VIEW (2.1 mi) at the top. (You can shorten the hike if necessary by turning right at the INTERSECTION and skipping the peak.)
After summiting the peak, return to INTERSECTION (2.3 mi) and go straight, following the path that becomes an ATV two track. You will see great views of Church Rock straight ahead. Ignore the official looking signs that say Church Rock Trail with arrows as these will take you on an alternate trail back to the museum. Watch your GPS, stay on the two track, and head straight for Church Rock. When reaching the base of Church Rock, the two track becomes a trail that veers LEFT (3.0 mi) and circles the north side to TURN RIGHT (3.4 mi). Go around the east side of Church Rock and continue to the south side where you will see spectacular column formations. Follow the track to JOIN (3.8 mi) and turn left to connect to the main trail. Continue south to CAIRN (4.0 mi) and to DOWN (4.1 mi).
At this point, there is an option to go to a viewpoint with interesting rock features on a series of swirl rock mesas. This detour is 0.8mi. Go straight to FORK (4.4 mi), then to VIEW2 (4.5 mi), the termination point, then return.
Otherwise, go left at DOWN (4.1 or 4.9 mi) and find the cairns that lead to the ancient steps carved into the rock. It looks worse than it is! Poles are recommended! Carefully follow the trail downward to the bottom of a small canyon, follow the trail until you reach UP (4.3 or 5.1 mi), and this will take you to the main trail. Turn right and follow this trail to the campground. Turn right at the large rock face, and you are back to PARK (5.3 or 6.1 mi).
Waypoints
PARK: N35 32.484, W108 36.772
RIGHT: N35 32.749, W108 36.869
PASSTHROUGH: N35 33.124, W108 36.813
INTERSECTION: N35 33.448, W108 36.962
VIEW: N35 33.302, W108 37.044
LEFT: N35 33.458, W108 36.282
TURN RT: N35 33.532, W108 35.979
JOIN: N35 33.431, W108 36.213
CAIRN: N35 33.238, W108 36.223
DOWN: N35 33.168, W108 36.269
FORK: N35 32.994, W108 36.410
VIEW2: N35 32.909, W108 36.483
UP: N35 33.014, W108 36.233
Map Filename:
RED ROCKS CROSSOVER MAP.jpg
Hike GPS File Name:
RedRockCross_DMDM.gpx
Hike GPS File:
Click
link
to download hike waytrack file
Text Author:
Dawn McIntyre
Map Author:
Dawn McIntyre
Waypoints Author:
Dawn McIntyre
Track Author:
Dawn McIntyre
Maintainer:
Dawn McIntyre
Editor:
Randy Simons