Nogales Ruins Hike
In Rio Chama Region
Map File Source: NG Topo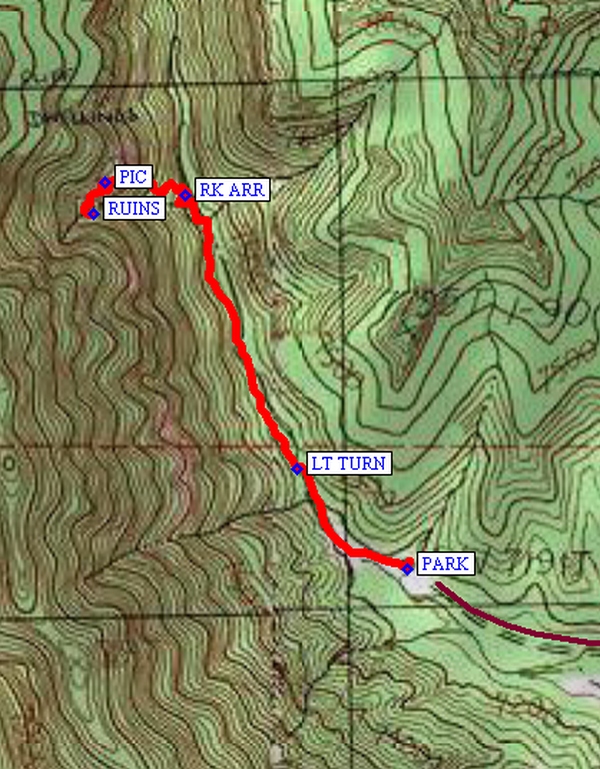 Hike Key:
H10560
Last Updated:
03/07/2021 12:00am
Last Updated By:
Marilyn Fixer
Hike Class:
C (Challenging)
Hike Distance:
1.7 mi
Minimum Elevation:
7250 ft
Elevation Change:
260 ft
Total Uphill:
280 ft
Total Downhill:
280 ft
Avg. Grade:
9 %
Route Type:
InOut
Protected:
Yes
On Trail:
Yes
Paved or Gravel Roads:
No
GPS Advised:
Yes
Drive Distance Round Trip:
258 mi
Drive Time One-Way:
2:45
Hiking Seasons:
Spring, Summer, and Fall
New Mexico Game Unit:
5B
Hike Status:
Published
Highlights
Mysterious ruins of the Gallina people.
Cautions
The ascent to the ruins is tough but not dangerous and requires good boots, good footing, hiking poles, and attention to the trail. The rating was changed to a C because of the tough climb.
Trailhead Directions
I-25 north to Bernalillo exit 242, take US 550 west past Cuba and make a right turn onto NM 96. Continue north and make a left turn on NM 112 (where NM 96 curves to the right). Continue on NM 112 for 11.3 miles and then turn left onto FR 313 (there is a shot up sign on the right). Proceed 0.7 miles and turn right onto dirt road (after large gas tanks). Proceed up dirt road for 1.1 miles and then turn left on another dirt road for 0.6 miles to the end where there are two large gas tanks and the parking area.
Actual Hike
From PARK (0.0) go west on main trail to LT TURN (0.2 mi.) and follow main trail to RK ARR (0.6 mi) where there is a faint arrow carved on a large rock bolder. Turn left and ascend the steep trail (20% grade) to the ruins behind trees at RUINS (0.9 mi). Tour around the entire end of this canyon to see what you can find. On the way back down, stop at PIC (0.9 mi) to see 2-3 pictographs of turkeys on the rocks to your left. When you arrive back to RK ARR, you could go left up the arroyo to extend the hike or right to go back to PARK.
Comments
Although this seems like a short hike to drive 20 miles north of Cuba, the 110 foot elevation gain in the last 600 feet of trail to the ruins will give you a good workout. The dirt road at the end could be muddy and/or have deep ruts so high clearance vehicles might be needed. You could park before the rutted part. Much of the trail is in an arroyo, so watch the weather. The Gallina people who occupied this area from about 1100 AD to 1275 AD are not reported to be ancestors of today's Pueblo people. Remains of these people show they met a violent end. This site is located on public land in the Santa Fe National Forest and because of increased visitations and vandalism, it might be closed in the future. See some photos and descriptions of the ruins on the Spring (Nogales) Canyon Cliff Dwellings website.
If the last part of the road is too rutted or muddy, you can park and do an extra two mile round trip to and from the trail head.
Waypoints
PARK: N36 24.178, W106 52.365
LT TURN: N36 24.280, W106 52.505
RK ARR: N36 24.561, W106 52.648
RUINS: N36 24.541, W106 52.763
PIC:N36 24.574, W106 52.749
Map Filename:
NogalesRuinsMap_MW.JPG
Hike GPS File Name:
NogalesRuinsWayTrack3_FE.gpx
Hike GPS File:
Click
link
to download hike waytrack file
Text Author:
Frank Ernst
Map Author:
Marilyn Warrant
Waypoints Author:
Frank Ernst
Track Author:
Frank Ernst
Maintainer:
Not Assigned
Editor:
Howard Carr