Mesita De Ricardo Hike
In Ojito Region
Map File Source: DeLorme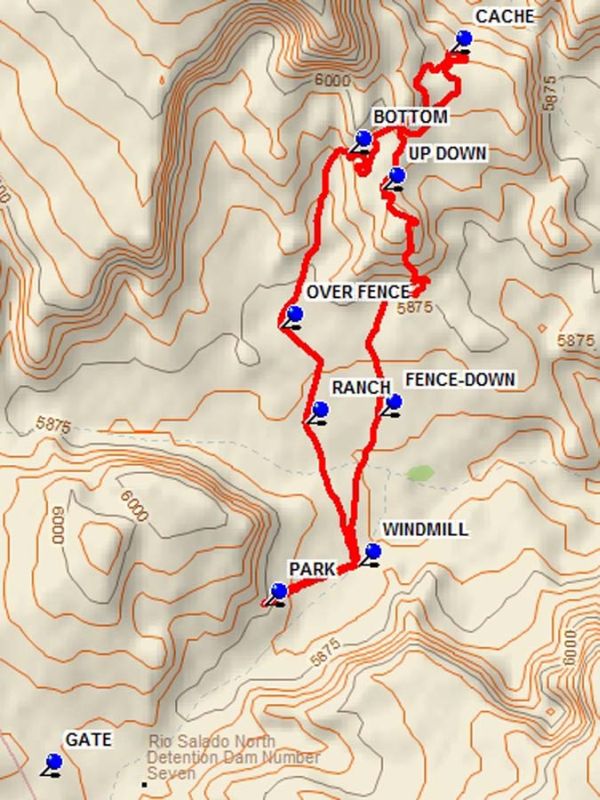 Hike Key:
H10080
Last Updated:
03/11/2021 12:00am
Last Updated By:
Marilyn Fixer
Hike Class:
B (Moderate)
Hike Distance:
3.8 mi
Minimum Elevation:
5825 ft
Elevation Change:
190 ft
Total Uphill:
280 ft
Total Downhill:
280 ft
Avg. Grade:
4 %
Route Type:
Loop
On Trail:
No
Paved or Gravel Roads:
No
GPS Advised:
Yes
Drive Distance Round Trip:
100 mi
Drive Time One-Way:
1:30
Hiking Seasons:
Spring, Fall, and Winter
New Mexico Game Unit:
9
Hike Status:
Published
Access Description:
Ojito Wilderness Area Access
Highlights
Many sandstone formations, colorful rock layers and badlands make this a visual treat.
Cautions
The hike is off trail. Poles may be useful.
Trailhead Directions
From Albuquerque take I-25 north to Bernalillo. From the intersection of I-25 and US 550 (formerly SR 44) in Bernalillo go northwest on US 550 for 20.9 miles to Cabezon Road. This intersection is about 2 miles before San Ysidro. Turn left onto Cabezon Road. Almost immediately there is a Y in the road, go left. At 10.9 miles there is a gas pipeline compression station. Turn right onto Pipeline road, and go 1.4 miles to a small corral on your right. Go right and open the wire GATE (close it) and go about 0.7 miles and PARK (0.0 mi).
Actual Hike
From parking go down the road to the WINDMILL (0.2 mi) fence pass through. Go north to visit the RANCH (0.6 mi) ruins after about 0.4 miles from the windmill. Then go about two tenths of a mile further to pass OVER FENCE (0.9 mi). Continue north into the canyon, following the arroyo bed to the BOTTOM (1.3 mi) of a small notch on the right. On the right side of this notch there is a way up over the ledges. At this point an area is entered with a number of interesting formations. There are a number of ways to pass upward toward the small freestanding mesa. The base of the mesa contains interesting material. Continue, bearing northeast toward the CACHE (1.9 mi). Interesting reddish slabs rest on top of sandstone in this area. Turn west to find more formations. This is a good place for lunch. To start the return, go to the UP DOWN (2.4 mi) point which is just beyond a downed fence. There is a way to ascend to the rock formation above. Just find it. Once on top go south and eventually find a way off and down a badlands slope to the bottom. Many rocks are strewn about. Try to find the baker's loaves in this area. Then go south to FENCE-DOWN (3.2 mi) and through the windmill pass through to parking.
Comments
Parking at the gate by the corral will lengthen the hike by 1 mile. The hike description is for a clockwise hike. For a different view of the area, do the hike in the other direction.
Waypoints
GATE: N35 30.221, W106 57.393
PARK: N35 30.567, W106 56.838
WINDMILL: N35 30.647, W106 56.604
RANCH: N35 30.933, W106 56.736
OVER FENCE: N35 31.126, W106 56.796
BOTTOM: N35 31.481, W106 56.626
CACHE: N35 31.684, W106 56.380
UP DOWN: N35 31.407, W106 56.543
FENCE-DOWN: N35 30.949, W106 56.554
Map Filename:
MesetaDeRicardoImage_DB.jpg
Hike GPS File Name:
MesetaDeRicardoWayTrack_DBDB.gpx
Hike GPS File:
Click
link
to download hike waytrack file
Text Author:
Dick Brown
Map Author:
Dick Brown
Waypoints Author:
Dick Brown
Track Author:
Dick Brown
Maintainer:
Randy Simons
Editor:
Marilyn Warrant