La Leña Southeast Loop Hike
In Cabezon Region
Map File Source: DeLorme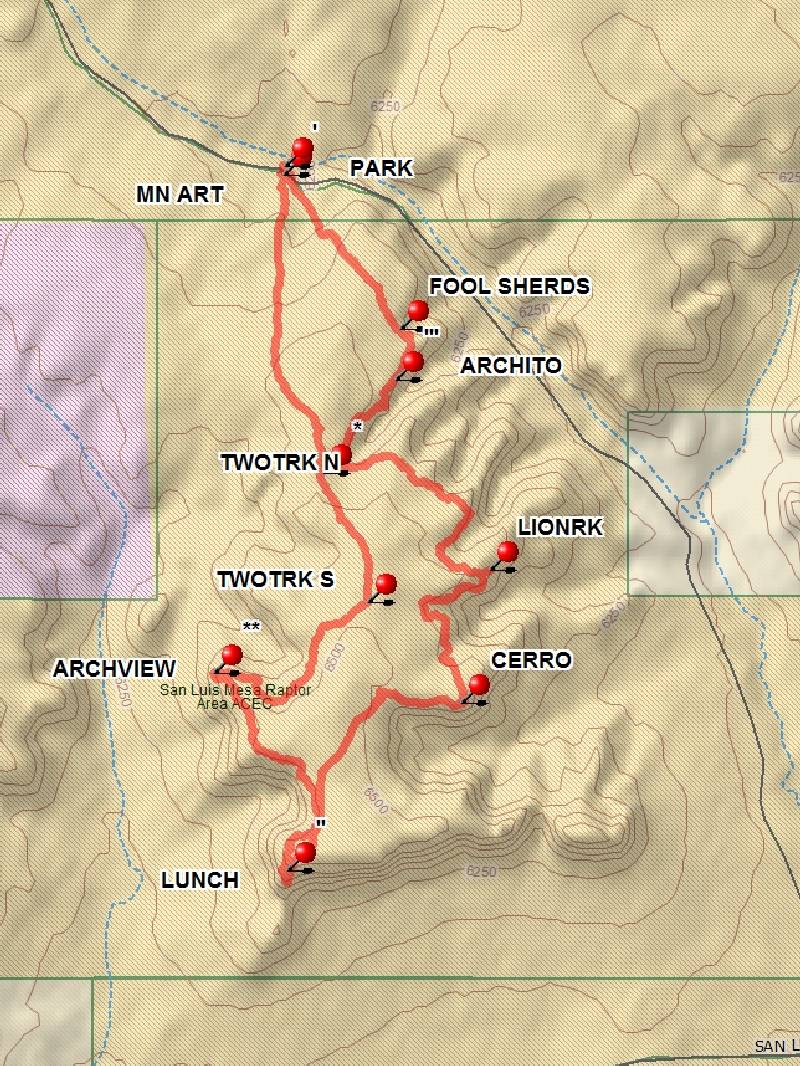 Hike Key:
H10479
Last Updated:
06/29/2021 12:00am
Last Updated By:
Marilyn Fixer
Hike Class:
B (Moderate)
Hike Distance:
6.1 mi
Minimum Elevation:
6267 ft
Elevation Change:
254 ft
Total Uphill:
475 ft
Total Downhill:
475 ft
Avg. Grade:
5 %
Route Type:
CW Loop
On Trail:
No
Paved or Gravel Roads:
No
GPS Advised:
Yes
Drive Distance Round Trip:
150 mi
Drive Time One-Way:
1:45
Hiking Seasons:
Spring and Fall
New Mexico Game Unit:
7
Hike Status:
Published
Access Description:
Cabezon Area Access
Highlights
A wander along the edge of a low mesa. There are spectacular views of the Rio Puerco Valley, Cabezon Peak and various rock formations.
Cautions
Bring hiking poles for the steep sections.
Trailhead Directions
From Albuquerque take I-25 north to Bernalillo. At Bernalillo take US 550 to San Ysidro. Drive west 18 mi. past intersection of SR 4 and US 550 in San Ysidro to San Luiz Rd (aka CR 279). Turn left and drive 12 mi. on CR 279(past Torreon Rd.), turn right at BLM 1102. Go uphill for another 3.0 mi, and PARK (0.0 mi) on the northeast side of the road (off the La Leña WSA).
Actual Hike
Start the hike PARK (0.0 mi) going southeast (no trail) gradually climbing onto the mesa, where you may see an area containing FOOL SHERDS (0.6 mi) and shortly thereafter, ARCHITO (0.7 mi). Continue following the mesa edge enjoying great views of the Rio Puerco valley to LIONRK (1.9 mi) where hikers will enjoy an expansive view to the east viewing Cabazon and the other volcanic plugs. The track continues along the mesa edge and then cross the mesa south to the CERRO (2.5 mi), a small hill with spectacular 360 degree views. Follow the canyon rim west until there is a straight cross mesa track toward the LUNCH (3.4 mi) spot, where there are fascinating giant cracks in the Earth and fabulous views to the south and west.
After lunch, head mostly northwest to ARCHVIEW (4.1 mi) where one will see a photogenic rock arch to the south and nice views to the west. This is also the San Luis Mesa Raptor Area, an Area of Critical Environmental Concern (ACEC). Watching the raptors soar within the thermals near the mesa edge is quite a treat. Next, hike mostly east around the canyon rim area and then overland toward TWOTRK S (4.7 mi) where the bushwacking ends and path is easy follow to TWOTRK N (5.1 mi) and on toward the vehicle.
Don't miss the MN ART (6.0 mi) (an incredible sculpture by Mother Nature) just 40 yards before reaching the vehicle. It is a unique sight at eye level on the side of a wall facing south. After this marvel it's a short skip to the vehicle and an easy hour drive home.
Comments
Most of the hike is off-trail. There are spectacular views of the Rio Puerco Valley, Cabezon Peak and various rock formations.
The hike includes the San Luis Mesa Raptor ACEC (Area of Critical Environmental Concern). See the markings on the DeLorme map near the ARCHVIEW waypoint. It may be possible to see migrating hawks and/or eagles in the spring and fall.
Waypoints
PARK: N35 40.186, W107 09.599
FOOL SHERDS: N35 39.812, W107 09.271
ARCHITO: N35 39.695, W107 09.287
LIONRK: N35 39.258, W107 09.020
CERRO: N35 38.953, W107 09.100
LUNCH: N35 38.567, W107 09.591
ARCHVIEW: N35 39.021, W107 09.799
TWOTRK S: N35 39.186, W107 09.364
TWOTRK N: N35 39.482, W107 09.490
MN ART: N35 40.168, W107 09.602
BLM 1102: N35 38.168, W107 07.947
CR 279: N35 37.921, W107 07.187
Map Filename:
La_Lena_Southeast_Lp_03.jpg
Hike GPS File Name:
La_Lena_SE_LpBG06_500.gpx
Hike GPS File:
Click
link
to download hike waytrack file
Text Author:
Bill Gloyd
Map Author:
Bill Gloyd
Waypoints Author:
Bill Gloyd
Track Author:
Bill Gloyd
Maintainer:
Bill Gloyd
Editor:
Howard Carr