La Leña South Loop Hike
In Cabezon Region
Map File Source: NG Topo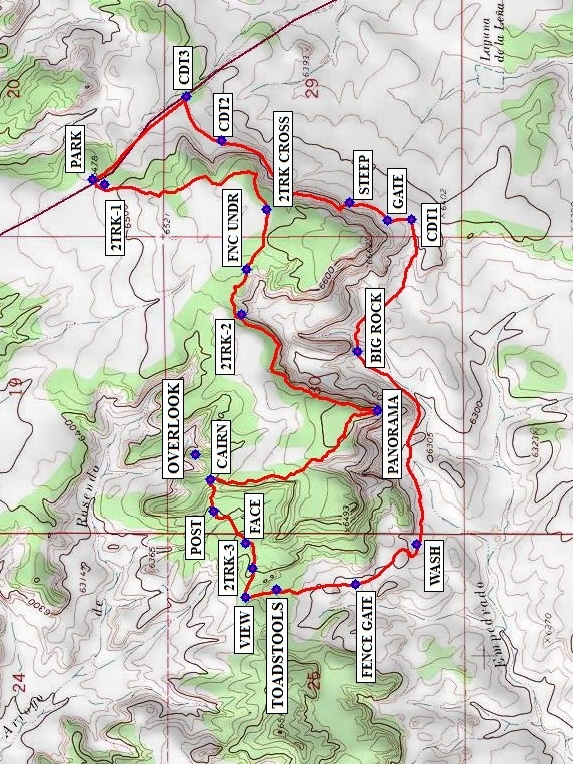 Hike Key:
H10267
Last Updated:
12/15/2020 12:00am
Last Updated By:
Marilyn Warrant
Hike Class:
C (Challenging)
Hike Distance:
6.5 mi
Minimum Elevation:
6260 ft
Elevation Change:
376 ft
Total Uphill:
730 ft
Total Downhill:
730 ft
Avg. Grade:
5 %
Route Type:
CCW Loop
Protected:
Yes
On Trail:
No
Paved or Gravel Roads:
No
GPS Advised:
Yes
Drive Distance Round Trip:
150 mi
Drive Time One-Way:
1:45
Hiking Seasons:
Spring and Fall
New Mexico Game Unit:
7
Hike Status:
Published
Access Description:
Cabezon Area Access
Highlights
Spectacular views of the Rio Puerco Valley, Cabezon Peak and various rock formations, some with odd eggshell forms and hollows or pits in them and some "mushroom" rocks.
Cautions
Most of hike off trail. Bring hiking poles for steep sections. There are 2 under or over crossings of barbed wire fences.
Trailhead Directions
From Albuquerque take I-25 north to Bernalillo. At Bernalillo take US 550 to San Ysidro. Drive west 18 mi. past intersection of SR 4 and US 550 in San Ysidro to San Luiz Rd. Turn left and drive 12 mi. on San Luis Road (past Torreon Rd.), veer to the right at TURN1 then turn right at TURN2 onto BLM1102 after another 2 mi. The road crosses an arroyo at one point, but the bottom is mostly rock. Go uphill for another 4.4 mi, and PARK (0.0 mi) on or slightly off of a two-track road on the right.
Actual Hike
Cross back over the road, and go up a 2TRK-1 (0.1 mi) going south. At 2TRK CROSS (0.8 mi) continue going almost due west. Go under a fence at FNC UNDR (1.0 mi). At 2TRK-2 (1.2 mi), start following the edge of the cliff. There's an almost 360-deg view (everything but directly north of you) at PANORAMA (1.9 mi). Follow the cliffs for a short distance going north, west, then northwest, then head north towards a CAIRN (2.6 mi). From here you can take a short side excursion northeast to an OVERLOOK that provides a view to the north, or go immediately west down a steep trail to a POST (2.7 mi). There are interesting formations here, including one that looks like a FACE (2.9 mi) from one angle. To the west, find 2TRK-3 (3.0 mi) and continue to a VIEW (3.1 mi) to the south. From here, go south, finding more old roads and/or cow tracks to walk on to get down off the mesa. Stop to admire the TOADSTOOLS (3.2 mi). Continue south and cross through a FENCE GATE (3.5 mi), then follow the bottom of the mesa going generally east by a WASH (3.8 mi).Go northeast to a BIG ROCK (4.6 mi), then southeast to a fence to join the Continental Divide Trail at CDT1 (5.15 mi). Pass through a GATE (5.2 mi). Go back up on the lower level of the mesa at STEEP (5.4 mi), then follow the cairns (several are CDT2 (5.9 mi) and CDT3 (6.1 mi)) back to the road. Walk up the road the rest of the way back to parking.
Comments
Most of the hike is off-trail, and there isn't much shade. There are spectacular views of the Rio Puerco Valley, Cabezon Peak and various rock formations, some with odd eggshell forms and hollows or pits in them. Bring your hiking sticks for the steep sections.
The hike data were obtained from a track recorded on a Garmin GPSMap 60Csx.
Waypoints
Access:
TURN1: N35 37.926, W107 06.500
TURN2: N35 38.135, W107 07.938
Hike:
PARK: N35 41.151, W107 10.830
2TRK-1: N35 41.118, W107 10.850
2TRK CROSS: N35 40.643, W107 10.937
FNC UNDR: N35 40.699, W107 11.154
2TRK-2: N35 40.715, W107 11.317
PANORAMA: N35 40.316, W107 11.662
CAIRN: N35 40.806, W107 11.910
OVERLOOK: N35 40.851, W107 11.818
POST: N35 40.798, W107 12.023
FACE: N35 40.703, W107 12.138
2TRK-3: N35 40.682, W107 12.226
VIEW: N35 40.703, W107 12.333
TOADSTOOLS: N35 40.611, W107 12.304
FENCE GATE: N35 40.380, W107 12.284
WASH: N35 40.200, W107 12.141
BIG ROCK: N35 40.374, W107 11.447
CDT1: N35 40.217, W107 10.973
GATE: N35 40.286, W107 10.979
STEEP: N35 40.397, W107 10.914
CDT2: N35 40.775, W107 10.692
CDT3: N35 40.877, W107 10.534
Map Filename:
LaLenaSouthLoopMapRev2_MW.JPG
Hike GPS File Name:
LaLenaSouthLpWayTrackRev2_MW.gpx
Hike GPS File:
Click
link
to download hike waytrack file
Text Author:
Marilyn Warrant
Map Author:
Marilyn Warrant
Waypoints Author:
Marilyn Warrant
Track Author:
Marilyn Warrant
Maintainer:
Marilyn Warrant
Editor:
Howard Carr