La Bajada Hill Hike
In Santo Domingo Region
Map File Source: NG Topo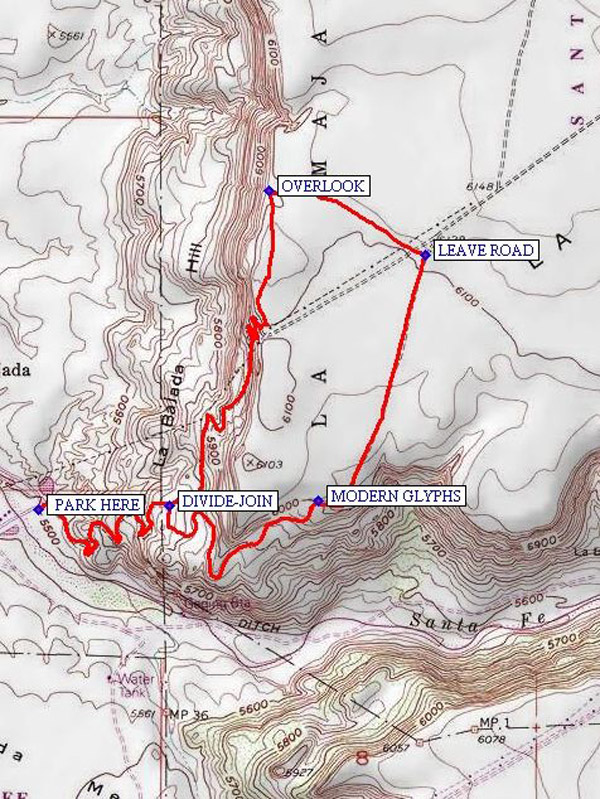 Hike Key:
H10078
Last Updated:
03/07/2021 12:00am
Last Updated By:
Marilyn Fixer
Hike Class:
B (Moderate)
Hike Distance:
4.9 mi
Minimum Elevation:
5500 ft
Elevation Change:
640 ft
Total Uphill:
588 ft
Total Downhill:
588 ft
Avg. Grade:
6 %
Route Type:
Loop
On Trail:
Paved or Gravel Roads:
GPS Advised:
Drive Distance Round Trip:
100 mi
Drive Time One-Way:
1:15
Hiking Seasons:
Spring, Fall, and Winter
New Mexico Game Unit:
6C
Hike Status:
Inactive
Highlights
Experience the old road to Santa Fe before I-25. Petroglyphs on the lava rocks. Views in all directions from the mesa.
Cautions
Rocky road that is steep in places. Hiking poles recommended.
Trailhead Directions
I-25 north to Cochiti Pueblo exit 264, west on SR 16 about three miles between MP 5 and then turn right (signs say "Tetilla Peak"), following power lines, and go about one mile to turnoff to right onto dirt road. Cross Santa Fe River and take road going off to the right. PARK (0.0) off to right at a turn around area.
Access to historic Route 66 at La Bajada has been blocked by the land owner. Additional info about the closure may be found in an article from the Santa Fe New Mexican.
The closure is said to be indefinite effective July 2017.
Actual Hike
Go uphill to DIVIDE-JOIN (0.8) and take the right-hand (south) option. Look for petroglyphs. At least there are some modern painted Santa Fe railroad type symbols at MODERN GLYPHS (1.6). Continue north on the mesa on the old road, then LEAVEROAD (2.4) and go west northwest to an OVERLOOK (2.8) for lunch. Then head south back to DIVIDE-JOIN (4.0) and continue back to the van the way you came.
Comments
This was the original Rte 66 in gravel (from 1931-1936) before the shortcut through Tijeras Canyon was made. The Bajada (descent) marks the boundary between Rio Arriba (Upper River) and Rio Abajo (Lower River) administrative areas (back then). It remains quite an engineering marvel with its mortarless rockwork buttressing the downhill sides of the narrow switchbacks. There are two roads, the eastern one was built later, but they meet about a mile past the top of the mesa and again 3/4 of the way to the bottom, so we make a loop out of this part of history. There is an interesting building foundation at the top, perhaps an old service station, or food vendor? Some good petroglyphs can also be seen near the bottom. The 500 ft. drop was an obstacle even for those using the Camino Real (original Santa Fe Trail.) Many trails were created to overcome it. It was built with convict labor. Model T type cars going between Albuquerque and Santa Fe would often back up the hill because fuel lines were gravity fed, and they had more power in reverse. The switchbacks are so sharp they sometimes drove up one switchback and then backed up to the next. Backing up the hill was also helpful if gas tanks were low (gravity feed). They took along a lunch because the trip took many hours. Of course there were always breakdowns and flat tires to contend with.
Waypoints
PARK HERE: N35 33.091, W106 14.202
DIVIDE-JOIN: N35 33.099, W106 13.831
MODERN GLYPHS: N35 33.110, W106 13.407
LEAVE ROAD: N35 33.683, W106 13.103
OVERLOOK: N35 33.833, W106 13.546
Map Filename:
LaBajadaHillImage_MW.JPG
Hike GPS File Name:
LaBajadaRoadLoopHikeWayTrack_ksks_orig.gpx
Hike GPS File:
Click
link
to download hike waytrack file
Text Author:
Roger Holloway
Map Author:
Marilyn Warrant
Waypoints Author:
Ken Smith
Track Author:
Ken Smith
Maintainer:
Ken Smith
Editor:
Marilyn Warrant