Golden Open Space – Outer Arroyos Hike
In Golden Region
Map File Source: NG Topo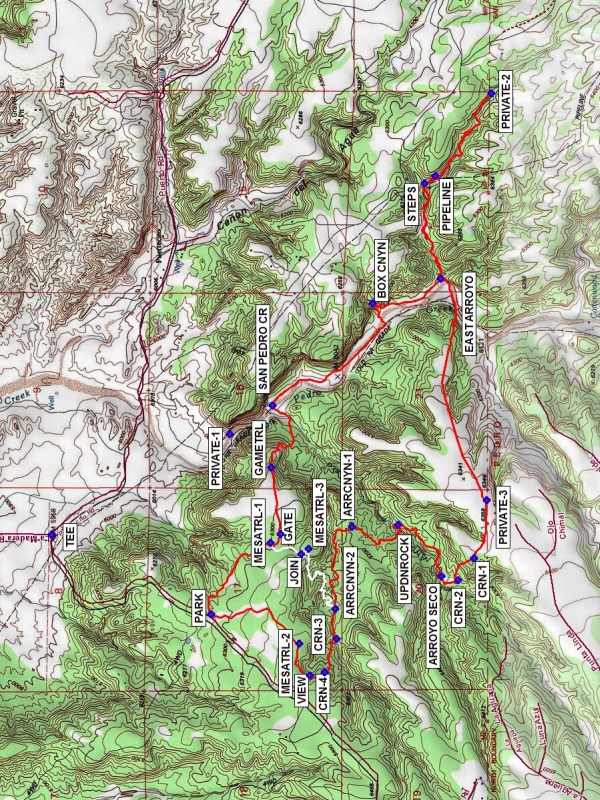 Hike Key:
H10488
Last Updated:
12/15/2020 12:00am
Last Updated By:
Marilyn Warrant
Hike Class:
D (Difficult)
Hike Distance:
10 mi
Minimum Elevation:
6012 ft
Elevation Change:
376 ft
Total Uphill:
834 ft
Total Downhill:
834 ft
Avg. Grade:
5 %
Route Type:
CW Loop
Protected:
Yes
On Trail:
No
Paved or Gravel Roads:
No
GPS Advised:
Yes
Drive Distance Round Trip:
70 mi
Drive Time One-Way:
1:15
Hiking Seasons:
Spring, Fall, and Winter
New Mexico Game Unit:
8
Hike Status:
Published
Access Description:
Golden Open Space Access
Attractions:
Forest
Highlights
Views from mesa, colorful canyons in arroyos, some slick rock. Touches most open space boundaries.
Cautions
A relatively long hike, with much of the uphill to get out of the arroyo system at the end. Hiking poles recommended.
Trailhead Directions
From Albuquerque, take I-40 to North 14. In Cedar Crest just after the school on the left, turn left onto LA MADERA Road (the road to East Mountain High School). Stay on the windy but paved road until it turns to dirt at a cattleguard in less than 8 miles. It is about a mile from this point to [PARK] (0.0 mi). Even though the road has curves, most of it is paved.
If there are any concerns about the last part of the access road, park at ALT-PARK and walk about 0.7 mi to PARK (or go under the fence).
Actual Hike
Hike the Mesa Loop Trail to your left. Leave this trail at MESATRL-1 (0.6 mi), and go through a GATE (0.7 mi). Hike east to the edge of the mesa and find a GAMETRL (1.0 mi) going down into SAN PEDRO CR (1.5 mi). If you'd like, you can take a half-mile jaunt to the northern boundary with private property (PRIVATE-1). Otherwise, go gradually uphill southeast following the streambed. The BOX CNYN (2.45 mi) is a good place for a snack. Take a long detour into the colorful EAST ARROYO (2.9 mi), past rock STEPS (3.5 mi) and a PIPELINE (3.6 mi) to the eastern boundary with private property (PRIVATE-2 (4.1 mi)). Have lunch somewhere near there. Head back down to EAST ARROYO. Go due west, leaving the arroyo and heading uphill again. Try to find a narrow animal trail that crosses this mesa. Eventually start going southwest until you reach the fence at the southern boundary with private property (PRIVATE-3 (6.6 mi)). From there, go a short distance west with a turn to the north to find CRN-1 (7.0 mi). Continue along the path to CRN-2 (7.2 mi) and a steep trail downhill to ARROYO SECO (7.3 mi). Hike down (east) this arroyo until you reach the UPDNROCK (7.8 mi). Go up this rock then go generally north to an intersection with the Arroyo Canyon Trail at ARRCNYN-1 (8.2 mi). It's better not to join the trail here but instead continue going north to another (unnamed) large arroyo. Go up (west) this arroyo. You'll come to a second intersection with the Arroyo Canyon Trail at ARRCNYN-2 (8.7 mi).
If you want to cut the hike short, take the white track (track is labeled "ArroyoCnyn-MesaLp" in the waytrack file) uphill back up to the mesa, then return the way you came. Otherwise, continue going west in the arroyo to CRN-3 (8.9 mi). Leave the arroyo here, and follow a series of cairns to CRN-4 (9.1 mi) and VIEW (9.2 mi). At VIEW, take a sharp right to go northeast again, then east to join another part of the Mesa Loop Trail at MESATRL-2 (9.45 mi), and complete the CW loop back to PARK.
Comments
This hike goes down then back up three times. If you've wondered where the arroyos end up that you see on the Golden Open Space – North West hike, you'll find out on this one. Expect to be about 30 min late.
Thanks to those who explored this area with me to develop this hike.
Waypoints
LA MADERA: N35 10.421, W106 20.225
ALT-PARK: N35 15.870, W106 20.137
PARK: N35 16.289, W106 19.695
MESATRL-1: N35 16.028, W106 19.311(0.6 mi)
GATE: N35 15.985, W106 19.265 (0.7 mi)
GAMETRL: N35 16.027, W106 18.906 (1.0 mi)
SAN PEDRO CR: N35 16.019, W106 18.573 (1.5 mi)
PRIVATE-1: N35 16.207, W106 18.727
BOX CNYN: N35 15.580, W106 18.026 (2.45 mi)
EAST ARROYO: N35 15.281, W106 17.893 (2.9 mi)
STEPS: N35 15.350, W106 17.381 (3.5 mi)
PIPELINE: N35 15.305, W106 17.344 (3.6 mi)
PRIVATE-2: N35 15.059, W106 16.902 (4.1 mi)
PRIVATE-3: N35 15.080, W106 19.083 (6.6 mi)
CRN-1: N35 15.135, W106 19.393 (7.0 mi)
CRN-2: N35 15.205, W106 19.509 (7.2 mi)
ARROYO SECO: N35 15.278, W106 19.491 (7.3 mi)
UPDNROCK: N35 15.470, W106 19.213 (7.8 mi)
ARRCNYN-1: N35 15.671, W106 19.224 (8.2 mi)
ARRCNYN-2: N35 15.743, W106 19.663 (8.7 mi)
CRN-3: N35 15.737, W106 19.824 (8.9 mi)
CRN-4: N35 15.792, W106 20.004 (9.1 mi)
VIEW: N35 15.855, W106 20.021 (9.2 mi)
MESATRL-2: N35 15.903, W106 19.851 (9.45 mi)
JOIN: N35 15.895, W106 19.371
MESATRL-3: N35 15.863, W106 19.343
Map Filename:
GoldenOpenSpace-OuterArroyosMap1_MW.JPG
Hike GPS File Name:
GoldenOpenSpace-OuterArroyosWOptionWayTrack.gpx
Hike GPS File:
Click
link
to download hike waytrack file
Additional File 1 Link
Click
link
to download an additional file.
Text Author:
Marilyn Warrant
Map Author:
Marilyn Warrant
Waypoints Author:
Marilyn Warrant
Track Author:
Marilyn Warrant
Maintainer:
Marilyn Warrant
Editor:
Howard Carr