Embudo Foothills Loop Hike
In Sandia Mountain West Region
Map File Source: NG Topo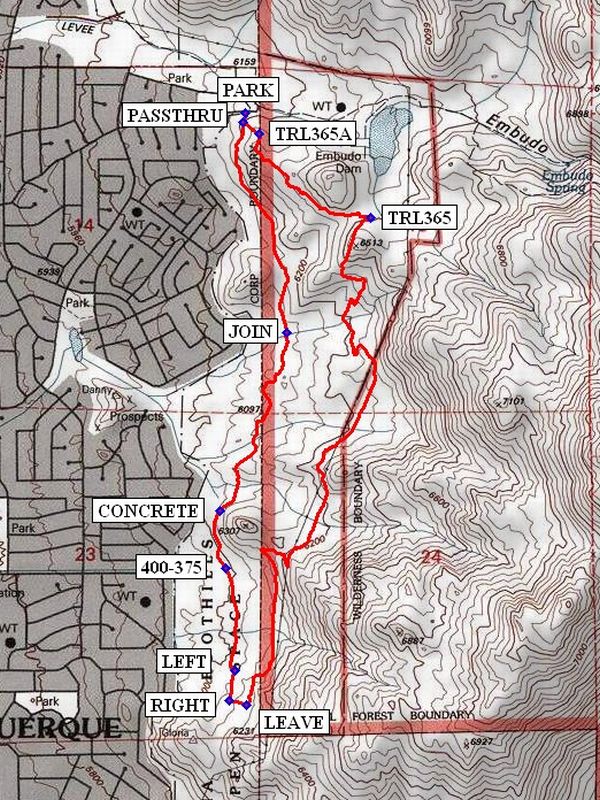 Hike Key:
H10118
Last Updated:
11/23/2021 12:00am
Last Updated By:
Marilyn Warrant
Hike Class:
B (Moderate)
Hike Distance:
4.6 mi
Minimum Elevation:
5970 ft
Elevation Change:
420 ft
Total Uphill:
550 ft
Total Downhill:
550 ft
Avg. Grade:
6 %
Route Type:
CW Loop
On Trail:
Yes
Paved or Gravel Roads:
Yes
GPS Advised:
No
Drive Distance Round Trip:
20 mi
Drive Time One-Way:
0:30
Hiking Seasons:
Spring, Fall, and Winter
New Mexico Game Unit:
8
Hike Status:
Published
Highlights
Views of the city and the Sandias; wildflowers in season.
Cautions
None.
Trailhead Directions
In Albuquerque take Tramway to Indian School and go east to the gate and PARK (0.0 mi) on the right in the small parking area before the gate.
Actual Hike
A trail starts from PARK (0.0 mi) and goes south to a round wooden post and fence pass through after about 100 feet. Go through the PASSTHRU (0.0 mi) and head east up the hill to TRL365A (0.1 mi) after about 300 feet. Take the trail to the right, rather than straight up. This trail circles around the side of the small peak to the Saddle where you join TRL365 (0.6 mi). Bear right and then go south on this trail. The trail runs south for about 2 miles along the eastern side of a ridge, meandering up and down and continues to where it switchbacks down, flattens out and arrives at LEAVE (2.6 mi). Turn right and go for about 200 feet to RIGHT (2.7 mi). Turn right again and head back north. Go left at a branch LEFT (2.8 mi). At 400-375 (3.1 mi) the trail to the Copper street trailhead is crossed. The trail now becomes Trail 401. At CONCRETE (3.3 mi) be sure to keep to the east of the concrete lined arroyo. At this point the Trail 401 signs stop and an area of many trails is entered. The objective is to get to the point JOIN (3.9 mi) and many left and right turns will be required to reach that goal. Then continue north until you arrive back at the PASSTHRU.
Comments
By going for the backyards after CONCRETE many barking dogs can be enjoyed.
Waypoints
PARK: N35 05.925, W106 28.879
PASSTHRU: N35 05.901, W106 28.888
TRL365A: N35 05.874, W106 28.839
TRL365: N35 05.661, W106 28.491
LEAVE: N35 04.415, W106 28.876
RIGHT: N35 04.427, W106 28.929
LEFT: N35 04.503, W106 28.914
400-375: N35 04.764, W106 28.939
CONCRETE: N35 04.911, W106 28.959
JOIN: N35 05.365, W106 28.753
Map Filename:
EmbudoFoothillsLoop_Nnew.JPG
Hike GPS File Name:
EmbudoFoothillsLoopWayTrack_DBDB.gpx
Hike GPS File:
Click
link
to download hike waytrack file
Text Author:
Dick Brown
Map Author:
Marilyn Warrant
Waypoints Author:
Dick Brown
Track Author:
Dick Brown
Maintainer:
Marilyn Warrant
Editor:
Marilyn Warrant